How to wear RED on the RED carpet

Think you can't wear RED? The timing is perfect, Valentine's Day and usually award ceremonies! Well none of those this year but there are brighter days to come! 
Everyone can wear red if you choose a shade that flatters your natural coloring. The important factor is not to be overpowered! There's a shade in every palette and if you don't know your Color Family try the Free Color Quiz.  
If you're not ready to dazzle head to toe never underestimate the power of a new lipstick or nail polish. Find the best shades for you and choose with confidence!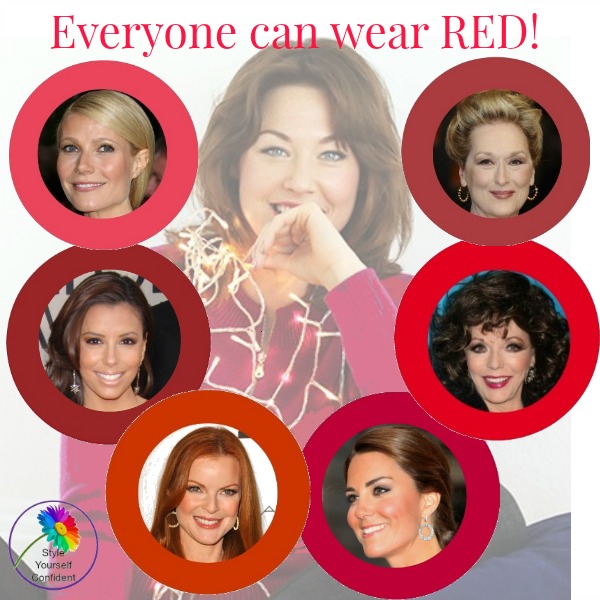 What is Red?

It's the strongest and longest ray in the visible spectrum. It quickens the pulse and increases the rate of breathing. 
It's the color of EXCITEMENT and DANGER - parties and balloons, passion and sexy red hearts - but also blood and fire!
This is all highly energizing but too much of the color can affect us adversely causing us to become irritated, frustrated or even angry. 
In the world of advertising, red stimulates the appetite and promotes impatience - ideal for a quick turnover of customers in one famous fast food chain!
How YOU can wear red...

If your coloring is LIGHT

If you're very fair, yes you certainly can still wear red. You just don't need it to be overpowering.
A LIGHT RED is perfect for you - that means you need a color with less pigment, so it's less saturated. Coral red, bright clear red, Watermelon and Bittersweet - all will allow your gentle coloring to shine. Avoid heavy blue reds and deep tomato.
Your color icons: Cate Blanchett, Gwyneth Paltrow, Dakota Fanning.

You are strong and DEEP

The strongest boldest reds are all yours - nothing wishy washy here! 
Your DEEP exotic coloring demands strength and intensity - these reds have intensity and a heavy amount of pigment. True red through to Bright Burgundy and beautiful mahogany.   
Your color icons: Michelle Keegan (right), Eva Longoria, Penelope Cruz.

MUTED for softer tones

RED doesn't have to be 'in your face'!  If you have soft coloring with no obvious undertone, choose a softened richly blended shade that's classy and classic. Elegance without harshness.
Avoid garish tones, choose deep rose and a soft brick red.
Your color icons: Olivia Palermo (right), Meryl Streep, Giselle Bundchen.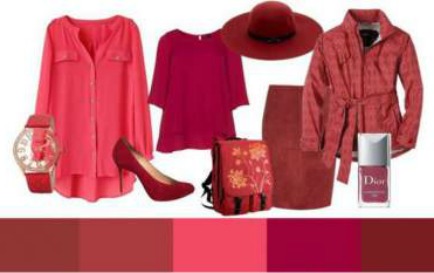 If your coloring is BRIGHT

Your reds are the brightest and clearest.
Your natural coloring has such complete clarity with no apparent undertone that only the true reds will do to balance your brilliance. 
True primary Red, Bright Clear Red and glorious Scarlet - through to Bright Burgundy.
Your color icons are: Katy Perry (right), Andie McDowell, Joan Collins.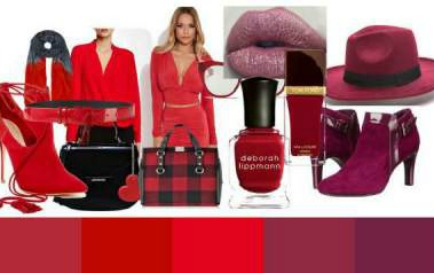 WARM for golden tones

Warm golden coloring needs to be echoed in reds with a warm golden undertone.
Your best reds are Orange toned, brilliant Pillar Box through to Dark Tomato Red and into the Rich Rusts.  Avoid Blue reds which will look cold against your skin.
Your color icons are: Amy Adams, Marcia Cross, Sarah Duchess of York.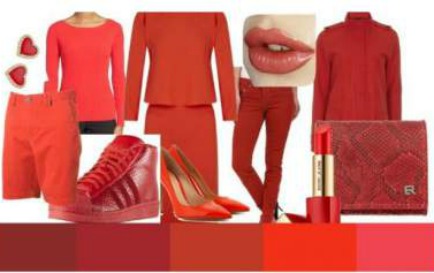 COOL an English rose

A blue undertone to your skin, then you need reds with a Blue undertone too. Scarlet, Crimson, Blue Red, Burgundy and the beautiful Berry shades look fabulous.
Avoid pillar box red and anything with a yellow undertone as it may react against your cool complexion and drain your color or give you a sickly glow.
Your color icons: the Duchess of Cambridge (right), Elizabeth Hurley, Helen Mirren.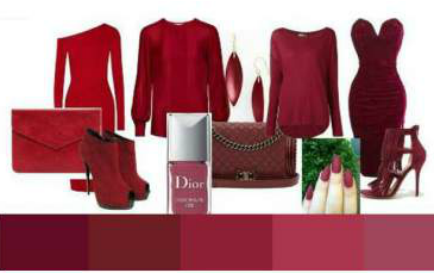 Ready to make a splash!
Wear brilliant red for fun in the sun or make your entrance for a special garden party or wedding. Feeling a little shy? then a floaty fabric will sit more gently on your figure and the color will be less strident. 

or just add a dash...
If a dress or top is too much, consider a red bag or shoes to turn an otherwise boring work look into a stylish outfit.
Pop a pair of red sunglasses on your head or add a slim belt to a neutral outfit. You'll feel energized!

Still don't know your color family, Color Analysis

Homepage >> Understand your Colors >> You can wear RED