GYPO Style Challenges -
SALE
Know the feeling? Open the wardrobe and pull out the same old things? It's difficult to remain objective about the way you look when you're caught up in the 'busy-ness' of life, work, family and the needs of others.
And often the budget just isn't available so it's ultra-important to spend wisely. 
These capsules show you how to SHOP YOUR CLOSET! 

SALE! Summer Workwear Capsule 2018


was $29 now $19.00



Can't wait for Summer? Take advantage of the 2018 Summer Workwear Capsule Wardrobe at a 30% reduction. 
The 2019 Workwear Capsule will be out end May/early June and if this is your first purchase of a Style Challenge take advantage of this big reduction to get the flavor!
Closet basics will continue from season to season.

This capsule is work appropriate but also works for the Retired Woman with both casual, smarter and slightly more feminine outfits. 
33 pieces (including accessories and shoes) that mix and match to create 20 days of outfits + bonus outfits. 
Full shopping list and all outfits immediately available on digital download. Shop your closet first to find suitable substitutes and then identify what you actually need.  
Bonuses: 3 ways to wear it closet staples edition; Color Palette Resource and Daily Outfit Calendar. 
Casual Capsule for Spring 2019
The Style Challenges Spring 2019 Capsule Wardrobe is 38 pieces (including accessories and shoes) which mix and match to create 31 days of outfits + 3 bonus outfits. Full shopping list and all outfits are available for immediate download upon purchase.
Begin with what you have in your closet and just identify the add-in pieces to create mix and match outfits that work for YOU and your lifestyle!

Bonuses: Spring 2018 Capsule Wardrobe, Three Ways to Wear It Closet Staples Edition, Color Palette Resource, and Daily Outfit Calendars.

What people are saying about the new SPRING CAPSULE...
"I've been doing these challenges for 5 years and in that time, I've always enjoyed myself and loved a lot of the outfits, but this capsule might be my favorite yet. I am loving all of the new and fresh things to try and the various options for different people's styles."
"I was a little scared of the capsule at first glance but was able to break each piece down to fit what I currently own and love. I love having the option to try new things or stay in my comfort zone with my pieces by putting them together in a fresh way."

"I love the fact that this challenge incorporates so many options making it easy to see how a new trend can be tried, or a tried and true classic can be used instead. I love reading how everyone breaks it down to make it manageable and fun!! Awesome job once again!!"

2 Capsule Wardrobes that works for every Season
Join stylist Alison Lumbatis and build a casual CAPSULE WARDROBE for every season of the year!
This is the ultimate capsule wardrobe builder covering all 4 seasons. When you sign up you get a closet staples shopping list + 64 days of mix and match outfit ideas created from pieces on the list. You'll never walk into your closet and wonder what to wear again.
The ultimate guide to a functional, fashionable wardrobe that works for all your daily activities; running errands, days at home, even lunch with girlfriends or casual date nights. 
It features a 20 piece capsule from your favorite stores and you can spend as much or as little as you like. Most people shop their closet first.
You'll get 20 days of outfits and a handy printable of all outfits to hang in your closet for daily inspiration. You'll never again wonder what to wear.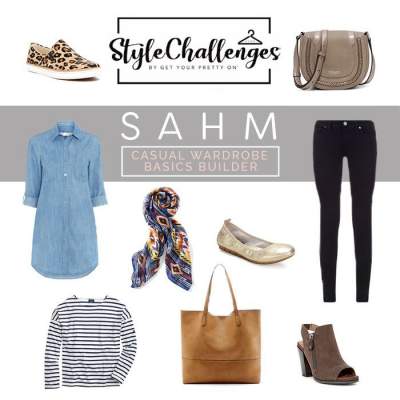 Please share your comments with us...

Come and join the Style Yourself Confident Group Board on Pinterest?

To be included just Contact Me with your email address...


Return to Top of Page
Homepage >> GYPO STYLE CHALLENGES