Coronation Recipes

We all love a party and I've got some luscious Coronation recipes ready for the big day.
On Saturday 6th May King Charles III and his wife Queen Camilla will be crowned in Westminster Abbey, London. The UK will be in full celebration mode and London will come alive with pomp and pageantry.
Whether you're holding a street party or just want to treat yourselves I've got a good collection of Royal recipes that span nearly 200 years.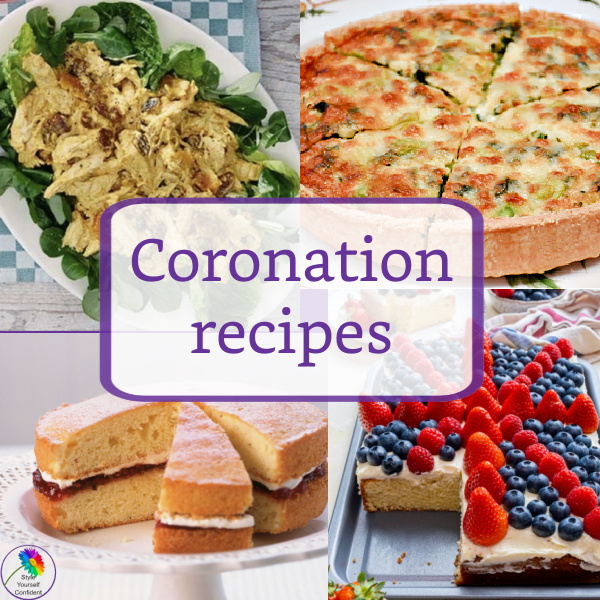 Royal Victoria Sponge Cake          
The Victoria Sponge was named after Queen Victoria, who regularly ate a slice of sponge cake with her afternoon tea.  
It was the Victorian invention of baking powder which allowed the addition of butter to the traditional sponge resulting in the creation of the Victoria sponge. This is the recipe from the Buckingham Palace chefs!
Preheat oven to 180C (375F, gas mark 4) and grease and line two 8 inch cake tins. Cream the sugar, vanilla essence and softened unsalted butter until light and fluffy. In a separate bowl whisk the eggs then, a little at a time to avoid the mixture curdling, add to the creamed mixture.

Sieve the flour and fold into the mixture, divide the cake mix between the 2 cake tims and smooth. Place on middle shelf of the oven and bake for approximately 20 minutes, until the cake appears golden brown. Insert a skewer and ensure it comes out clean. Remove the sponges from their tins and leave to cool. 
Assemble the cake: Cream the softened butter with the sieved icing sugar, add vanilla essence. Ensure both cakes are completely cold before spreading a layer of jam on the surface of one sponge. Spread a thick layer of buttercream on top of the jam and gently place the second sponge on top. Press down gently. Sprinkle with icing sugar and serve with a pot of fresh English tea!
Coronation Chicken 
This recipe is an all-time favorites and was created for the Coronation of Queen Elizabeth II in June 1953. Although it is often used as a sandwich filling nowadays, at the time it was a luxury. Post-War rationing was still in place in the UK and it was some time before chicken became an everyday ingredient.
This is a very easy recipe for using up roast chicken and could serve 4 - 6 as part of a salad lunch. It's the perfect dish for summer lunch parties, picnics and/or Coronations! 
6 Tbspn mayonnaise
3 tspn milk curry powder
½ tspn ground cinnamon
2 Tbspn Mango chutney
3 Tbspn sultanas/chpd apricots
500 gm cold chicken bite sized
Mix the mayonnaise, curry powder, cinnamon, chutney and sultanas/apricots together and season with black pepper. Add the shredded chicken and stir to coat in the sauce. Stir in 2 tbsp water to loosen if needed, then season and serve as desired. 

Coronation Quiche 
The Coronation Quiche has been personally chosen by the King and Queen, in the hope that it will be a centrepiece to many a coronation 'Big Lunch' at street parties and community events on 6th May.
For filling: 
125 ml milk
175 ml double cream
2 eggs
1 Tbsp choppd fresh tarragon
100 g cheddar cheese grated
180g cooked spinach
60g cooked broad beans
This is a not a difficult recipe but the method is quite lengthy, you'll find it all in detail HERE....
If the filling is not to your taste, then swap it out with mushrooms or peppers perhaps. But a quiche is perfect to eat and share at any time of the day. 
Coronation Cake - a fun and easy traybake
My thanks to US food blog www.easypeasiefood.com for this fun traybake. Want to cut corners I'm sure you could find a rectangular ready made cake in store! 
Vanilla Traybake Cake
350 g butter or marg, softened
350 g caster sugar
6 large eggs room temperature
2 teaspoons vanilla extract
350 g self-raising flour
4 tablespoons milk
Union Jack Icing and Decoration
150 g butter or marg softened
300 g icing sugar sieved
1 teaspoon vanilla extract
300 g blueberries 
100 g raspberries 
400 g strawberries top cut flat 
Preheat oven to 180C/160C fan/gas 4/350F. Grease and line pan 33 x 23cm. In large bowl beat togethe butter and sugar thoroughly, 'til pale. Add in one egg at a time and stir until it's completely mixed in before adding the next one. 
Add vanilla extract and stir to ensure it's evenly mixed, add in half flour and stir gently 'til mixed, add remaining flour, stir gently 'til mixed in. Add 4 Tbspn milk and stir 'til mixed in. 
Tip mixture into lined pan, smooth the surface and put cake into preheated oven for 35-40 mins. After 35 mins remove from oven and check to see if it's done using skewer inserted into the center of the cake. If the skewer is clean, it's cooked. If covered in batter return to the oven for a further 3 mins and test again. 
Allow the cake to cool in tin for 10 mins, then turn out and allow to cool completely, approx 1 hour.  
When the cake is completely cold, put the softened butter, icing sugar and vanilla extract in a bowl and beat together 'til smooth. Trim top of the cake if necessary so you have a good flat surface. Smooth icing over the cake as neatly as possible, finally use the fruit to create a Union Jack flag. You may need to have slightly more berries than quantity mentioned.  
And... now you're here it would be great if you'd like to look around at COLOR MAGIC, SHAPES, and STYLES that help you to Style Yourself Confident.
Allow 'Your Style' to visit you!
The latest features on Color Analysis, Body Shape and Style to your Inbox, twice monthly.
Plus a Free copy of my book 'Shortcut to Style', it works for you, whatever your age shape or size! 
Pamela x
Sitemap or locate all features relating to...
Homepage - Coronation Recipes