Your Style 099 - February 2021


Hi there - Better late than never to wish you a Hopeful New Year! In spite of the crisis we're living through I do approach it with hope and positivity.  
After a non-Christmas we've been back under 'house arrest' in Lockdown 3 for most of January eating the Christmas goodies as the family weren't able to come. I say that lightly as I'm so grateful for the infra-structure that allows us to remain safe. As we hope to return to normality one day we're happy to play by the rules!
So lucky to have my other half and feel deeply for those who have to face it alone, but I miss the family.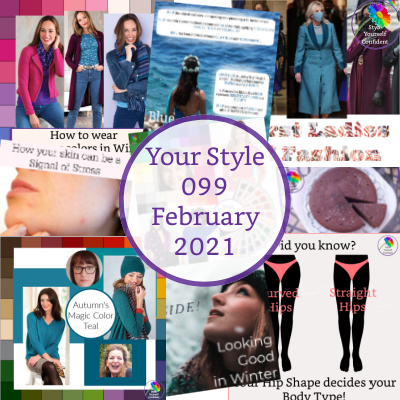 I'm not the best at self discipline but a short 'to do' list helps and, of course, keeping the website going is my main interest, thank you for keeping me sane! I've even started my second online history course and am deep into the Wars of the Roses (British history). I hated history at school so how come I'm doing it for fun!!
In the first lockdown I discovered that universities around the world offer innumerable free courses at every level on every imaginable subject from opera and languages to makeup and beauty! Initially, I did a short course in childcare alongside my grand-daughter to encourage her studies. If you want something to focus on why not find something that interests you? Try futurelearn.com

I've been looking for Magic Colors! ONE color that will suit absolutely everyone within a  particular Color Family.
This month it's Autumn so if your coloring is Warm, Deep and Soft, then TEAL is your Magic Color. I've never met a single Autumn complexion which doesn't look gorgeous in TEAL. 
Your Hip Shape is quite magical too! It's the most important part of your body structure because your hips decide your Body Type. 
It's really easy to identify your own shape and it will solve so many problems.

If you have a Seasonal color family, don't ever think that it limits you to that season of the year. 
For example, the beautiful Summer color palette isn't just for the floaty or lightweight garments of high Summer!
This wide range of subtle almost sensual shades lends itself happily to heavier fabrics perfect for the colder months.

The third Monday of January has been awarded the title of Blue Monday due to a combination of post-Christmas blues, cold dark nights and the arrival of unpaid credit card bills!
This year, in the middle of a worldwide pandemic, could it be any worse?

But actually BLUE is quite a serene color not the doom and despondency Blue Monday suggests! 
Firstly, let me please say that it was suggested on Facebook that I ignored Melanie Trump. 
I am not American, and this is not politics - it's Color Analysis! I merely looked at Inauguration Day 2021. 
I did enjoy looking at the color palettes of the 3 ladies (right) and seeing what they choose to wear. 

If you have traces of both Warm and Cool color characteristics you will never find your comfortable place within the Seasons.    
Spring and Autumn are Warm while Summer and Winter are Cool. All glorious color palettes but they'll never provide your perfect fit.  
This is where the Tonal color families come in because LIGHT, DEEP, BRIGHT/CLEAR and MUTED all contain elements of both Warm and Cool color. In this case, undertone is not the most important factor! 
Julia (left) has amazing clarity and responds to the clearest colors - nothing too Warm and nothing too Cool - just pure clear color for both neutrals and accents.
Although most people with Bright coloring are brunettes like Julia (left) that's not always the case. Gail on the right (she blogs at Is This Mutton) has equally clear coloring and responds to the clearest tones of both Warm and Cool i.e. those that have little to no undertone. Very bright jewel-like eyes are a common feature.

Check out what other Color Analysis clients say HERE. 
This year can only get better, let's all hang in there..
with my love
Pamela x
Don't miss a thing! Get 'Your Style' to visit you...

Not subscribed? Please stay with us. This free newsletter is issued monthly straight to your INBOX. It covers all new pages/updates through the month. Sign up here...
All the FREE Resources here for you ...

Please share your comments with us...

Return to Top of Page
Homepage >> Newsletters >> Your Style #099 February 2021