Your Style 098 - December 2020

Hi there!
Did I ever realize when I was young how quickly the years would fly past? In spite of this ghastly year it seems to have sped by just as quickly.
But I am privileged to be spending Christmas with loved ones who have all survived the storm.
Although my family can be as noisy as any, it will be a 'quiet' time overall with just a couple of days of mixing households.
The vaccine has already started to roll out in my village and both Maurice and I will welcome it once we're eligible. As our Prime Minister says 'the cavalry is coming'.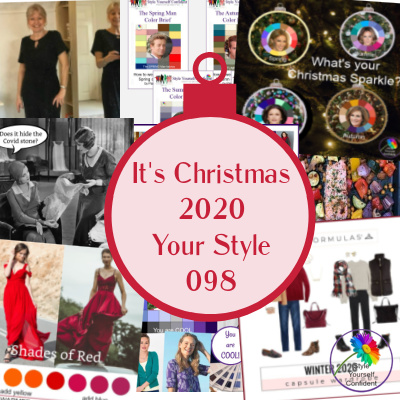 Many people face this festive season with an empty chair and my heart and love go out to them.
Enjoy the merriest of Christmas' but please continue to be careful and keep safe. xx
Christmas is different this year!

This is perhaps the year to dig out a forgotten sparkly top teamed with velvet pants or even your favorite jeans. On the one day I'm cooking, it will probably be last year's Christmas dress for comfort. 

In the UK we are limited and there'll be just 4 of us on 'the' day. Nice in a way, no-one to impress means you can dress entirely for yourself and comfort.
But it is Christmas so why not agree to dress up. I may pull out the sparkly jumpsuit worn once last year that the family haven't even seen. I was never entirely sure that it was age appropriate. But who cares?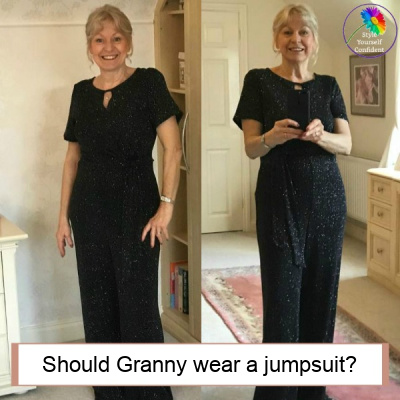 Let the Style Challenge come to your rescue and inspire you to get up and get going in the morning whatever your lifestyle.
This Winter Capsule is so cosy and looks warm all ready for Christmas. The wardrobe plan will show you how to mix and match your existing wardrobe and how to plan ahead. Invaluable!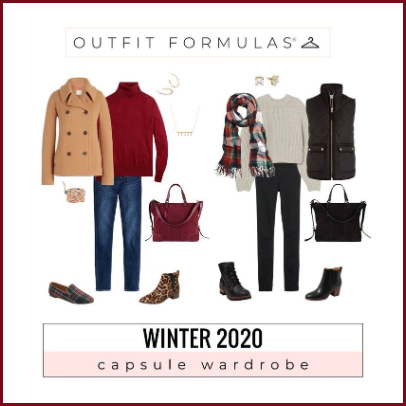 Fewer parties yes, but you certainly want to look your best! Let the right piece of body shapewear sort out the extra few pounds that being kind to yourself inevitably creates! Or the 'covid stone as it's been referred to!

After a horrible year it's time to break out some color and sparkles for the Christmas season! We're perhaps only with our nearest and dearest but we can still make a splash?
Do you know which red looks best on YOU!

If he hasn't yet discovered his Color Analysis Season, encourage him to take the FREE Quiz. It will lead through to all the information he needs to look his best.

The NEW Color Brief e.books are an optional purchase with lots of additional information and include 2 color swatches - that's the Seasonal swatch and the specific Mens swatch showing how to choose the appropriate fabrics.
If he already knows his Season you can access the Mens Color Briefs HERE showing him how to save TIME and MONEY and priced at just £4.00.
We all love a bit of Christmas sparkle and, this year, we're quite desperate for it!
We may not be able to celebrate in the usual way but let's not forego the positive feelings we can promote at home with the tree and the trimmings. Even if you're pulling out the decorations of years past like me, we tend to fall into two different groups!
What's your taste SILVER or GOLD?
December recipe
One Pan Salmon and Mediterranean Vegetables 

In the midst of the festive 'meat-fest' I like to have something lighter to hand and this is a goodie!
I keep individually frozen salmon fillets for easy defrost and always have a tin of chickpeas to hand. Any of the other vegetables can be substituted for your favorites but do give it a go!
Many thanks to April of https://apriljharris.com/ for the recipe.  

All of us, at some point, have to cope with the transition into grey or white hair. Whether we determine to embrace it gracefully or fight it to the death is very much a personal decision but it is a time when self esteem can take a nosedive!
Both Kathie and Karen were content with the natural changes but, suddenly, neither were quite sure what colors looked good on them anymore.
As natural coloring changes it may or may not affect your contrast and often, what's needed, is a good old dose of self confidence in the form of Color Analysis. 
You will see that, once teamed with their most flattering color palette, the ladies' coloring is completely different and their hair tones have adjusted perfectly. The Cool palette echoes Karen's silver and the Warm palette brings a golden glow to Kathie's white hair. See what they both have to say HERE. 
See below for a Seasonal 10% OFF GIFT VOUCHERS!

Last minute gifts? No problem! The perfect gift that lasts a lifetime can be sent at the touch of a button worldwide!  It's that time of year again, take advantage of 10% off GIFT VOUCHERS for Color Analysis only with this link for one week only.

Whether it's a gift or to treat yourself, you can redeem Gift Vouchers from 1st January 2021.  NB. Your Gift Voucher will NOT have the discounted label! 
I wish you a very very Merry Christmas
but most of all STAY SAFE and WELL
with my love
Pamela x

Don't miss a thing! Get 'Your Style' to visit you...

Not subscribed? Please stay with us. This free newsletter is issued monthly straight to your INBOX. It covers all new pages/updates through the month. Sign up here...
All the FREE Resources here for you ...

Please share your comments with us...

Return to Top of Page
Homepage >> Newsletters >> Your Style #098 December 2020