Your Style 085 - December 2019

Hi there!
I'm currently on vacation and, by now, we'll have celebrated Thanksgiving with some like-minded holidaymakers in Mexico. 
We don't have the same reason to celebrate this particular Holiday in the UK, but the pull of loved ones is the same the world over whatever your culture or religion.
Holiday times mean families, friends and feasting. So whether your celebration is large or small, I hope it includes the people that care. 
Happy December - Cheers!

Can Granny wear a glittery jumpsuit?

I rarely talk about age - because it simply doesn't matter as long as you're healthy. But today I'm sharing my new party wear for the over 50's, 60's - and even 70's!

My new jumpsuit fits beautifully and it didn't enter my head whether it was 'age appropriate'. I mean, is there a reason why Granny can't wear a glittery jumpsuit?
I'll have to ask my grand daughter!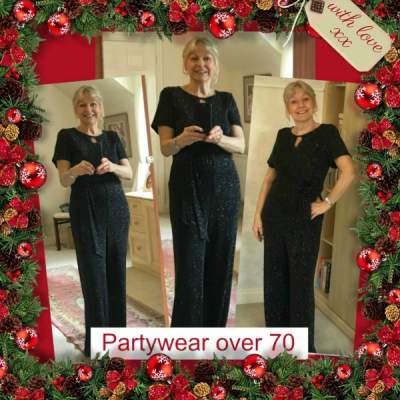 I'd really forgive you if you never wanted to read about fashion and style ever again!
Every new season there's the inevitable list of must-haves - the items simply everyone has to be wearing this year. You weren't feeling bad about your wardrobe until then...
Advice appears to be for the young, the trendy or the affluent - but actually all you need to do is by-pass the most common mistakes. 
It's getting colder so get out that very very useful Chunky Knit sweater. 
Whether you're using an old favorite or looking for a sure-fire sales buy this season, a cream or Winter white sweater will earn it's keep as one of the most versatile items in your wardrobe.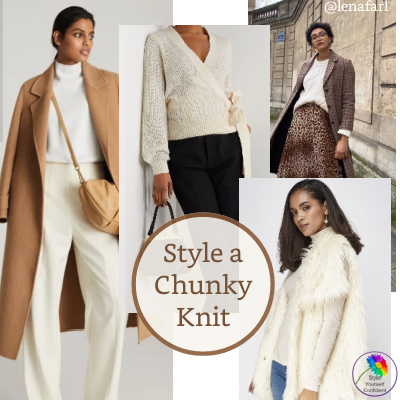 £10 off Color Analysis for 2 weeks only.   NOW £50  !!

Very little time to arrange Color Analysis prior to Christmas BUT you can get yourself a bargain with a Gift Voucher.
It's the gift that lasts a lifetime or treat yourself for just £50. There's no price printed on the voucher so you can use as required. 

Available literally while I'm on vacation until December 11th and ONLY available here to you readers. 

Last time ever at this price, it must rise in the New Year. 

The only link available at this price

A Cool skin used to mean a choice of only Summer or Winter but for many people the Seasons are too restrictive.
For both Kristen and Christina neither is right. SUMMER (a mix of Light Cool and Muted) is overall too soft; WINTER (a mix of Deep, Cool and Bright) is overall too harsh.

The COOL Color Family takes the True Cool colors from both Seasons and excludes Light and Muted, Deep and Bright which don't relate. The COOL palette has a blue undertone and a medium contrast with a wide range of shades offering sufficient choice for mood and occasion.

December is a hectic month, don't forget to take care of yourself!
Pamela x

Don't miss a thing! Get 'Your Style' to visit you...

Not subscribed? Please stay with us. This free newsletter is issued monthly straight to your INBOX. It covers most new pages/updates through the month. Sign up here...
All the FREE Resources here for you ...

Please share your comments with us...

Come and join the Style Yourself Confident Group Board on Pinterest?

To be included just Contact Me with your email address...


Return to Top of Page
Homepage >> Your Style Newsletter #085