How to dress an APPLE shape

Do you find it a problem to dress an APPLE SHAPE and flatter your figure to best advantage? 
I'm sure you know that body shape has nothing to do with your size or weight, it's just your bone structure that dictates your frame.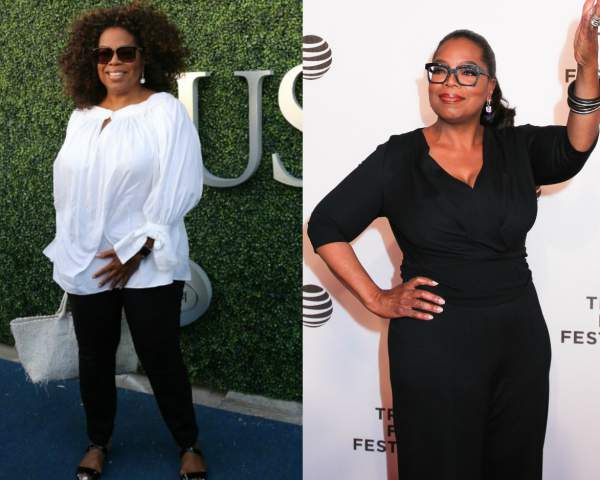 Identify the formula...

Every body shape has pros and cons so let's major on the positives - you've got plenty of those - and ensure that you enjoy those womanly curves.

It's a bit like putting together a jigsaw to get the most pleasing effect. With a careful choice of colors and shapes you can minimize the curvier parts of your figure and visually bring your figure more into balance.

Just identify the formula of shapes that works best to achieve a shape you're happy with.

Wow - look at your positives..

So enjoy your curves with...

high rise pants to keep the waistline trim
you have a curved upper body so choose fluid fabrics that drape the body not cling
and maximize your assets...

tunic tops that flare from under the bust

longer is better for tunics and tops

elongate your top with a V neckline

empire lines/tops create a high waistline
tunics/jackets that shape in under the bust will create slimmer profile

straight or wide leg pants balance a larger upper body

assymetrical lines or ruching across the torso keeps the eye moving
wrap dresses with ruching are amazing and create a waistline
Camouflage the curvier parts where necessary to...

create a more balanced figure
and sculpt your midriff to create a shapely waist area

What to avoid...

avoid tops that finish at the waist this is your widest area
skinny pants or leggins may accentuate your heavier upper body
anything that is tight or clingy
anything that makes your upper body look rounded

Melissa getting it right...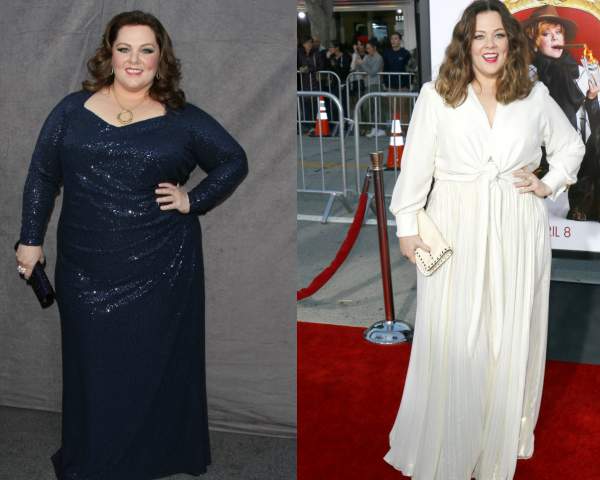 Melissa McCarthy is only 5ft 2" and, like many women, learning to dress an apple shape means that she can create a longer leaner line altogether.
An early photograph (left) shows Melissa in a dress that does nothing but emphasize 'width' and the softness and roundness of the upper body. 

The dress pulls tightly across the sleeves and shoulder line, the neckline is wide and a limited amount of ruching pulls across her tummy. 
OK she's lost a bit of weight in the next photo but everything now is streamlined and vertical making her look so much taller.
A structured shoulder line with soft fabric allows plenty of movement in the sleeves and it skims over the bustline drawing in neatly at her slimmest part.
The drape of the fabric, the pleats in the skirt and the tie under the bust all create a vertical line which slims and lengthens the figure overall.
More than any other the Apple Body Shape needs to be conscious of the overall silhouette. Slightly wider shoulders create a more slender waistline.
Dress an apple shape with Oprah...

Like many of us Oprah Winfrey's weight goes up and down but, more than weight, it's shape and balance that create a pleasing figure. 
In the top picture left, Oprah wears a voluminous white top making her look completely top heavy and adds to the bulk at midriff area. 
While on the right, the smooth fitting and ruffled V neck draws the eye up and keeps attention focused high on the body. The crossover style makes the most of the slimmest part of the figure and creates a high 'waist' to balance the slim hips and thighs. Ruching around the midriff is always flattering.  
Who says Dolly Parton is an Apple Body Shape

?


Now let's not insult anyone's intelligence by suggesting that Dolly Parton and Liz Hurley are typical APPLE body shapes which is what most websites will throw up!

Being an APPLE BODY SHAPE with a protruding tummy can be a real worry to some women. But fortunately, some of the best modern lines are perfect for your shape.

Wrap dresses and/or tops are always amazing and this one creates the perfect shape for stately model and actress Queen Latifah.

Ruching at the neckline and below the bust keep the interest high and define a waist. Fluidity in the lower dress helps to balance the figure. 

But... if you are a Petite Apple Shape there are a few further styling tips that might be helpful.  And of course there are loads more styling tips for other figure problems if you check out Dress for your Shape.

Like this Website?
Please share your Comments...
Homepage >> Body Shape >> Straight Hips >> Apple Body Shape