Petite Apple Shape

A petite Apple shape has two lots of styling points to consider.  
An Apple Shape has good proportions with a shapely bust, slender hips and good legs and will carry any additional weight around the midriff. 
But if you're also Petite (considered to be 5ft 3" and under) you need to be equally aware of how you can elongate your silhouette at the same time.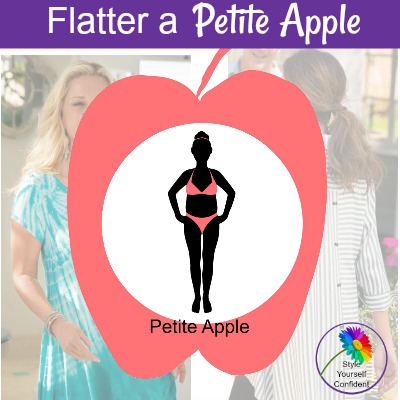 Think proportions...

The body is 'considered' to be perfectly proportioned if it divides in half at the leg break. But we all know that there's no such thing as a 'perfect body'!
However, if clothes are cut to that kind of standard specification it helps if we know how to cope with the inevitable problems that are caused when buying 'off the peg'.
Chico's have a fabulous range of Petite clothing as do Soft Surroundings, giving you a wide of choice of styles all cut and specifically proportioned for the shorter figure. 
How to balance

The majority of shorter ladies have a torso that is longer than half the body length with shorter legs. 
Don't be over-critical of your figure but if you'd like to look taller there are simple ways to visually balance your proportions and help your legs to look a bit longer. 
In this image the legs are all the same length but you can see how easy it is to influence the eye with color. Where the color is taken right up to under the bust it appears to make the legs look longer.   

Style tips for a Petite Apple Shape

Everyone is different but take the basic petite style advice to elongate the silhouette. Then balance top and bottom halves for the Petite Apple Shape.
Keep the focus high on your body
Fluid fabrics keep movement around your mid section
Avoid anything tight around the middle
You have great legs, enjoy shorter skirts
Where to find Petite styles
Both Chicos Petite and Soft Surroundings produce a range of styles that are perfectly proportioned for the petite apple shape with:

reduced inseams and length

Dresses to flatter...

should fit well on the shoulders and bustline - a V neckline is flattering
will shape in to define the narrowest part of your body just below your bust
will be in a fabric that drapes and flows over your curves, no stiff fabrics

will elongate your figure

will keep the attention high on the body
will have the hem length in proportion and flatter your legs
Choose tops...

with stunning color and detail, long necklaces too to keep interest high

a tunic style will flare over the tummy of a petite apple shape
that blouse over the tummy and sit on your slim hips

to cover your middle but not too long so it shortens your bottom half
in a fluid fabric that glides over your curves

avoid anything too clingy, too big or shiny over your larger middle
avoid halter neck, cut-in shoulder line and styles that rise up in the front

Skirts and trousers...

keep detail to a minimum below the waist with pants or skirts
wear deeper colors below the waist

avoid tapered trousers it will shorten your legs
an A line skirt is flattering and works well for fuller calves

good jeans are rigid and good for holding in the tummy
match skirt, dress, trousers with hose and shoes or boots. One color elongates
A heavy bustline needs a well fitted bra and this will help your waist to look smaller 
Don't be afraid to wear Shapewear for a smoother silhouette

Allow 'Your Style' to visit you!
The latest features on Color Analysis, Body Shape and Style to your Inbox, twice monthly.
Plus a Free copy of my book 'Shortcut to Style', it works for you, whatever your age shape or size! 
Pamela x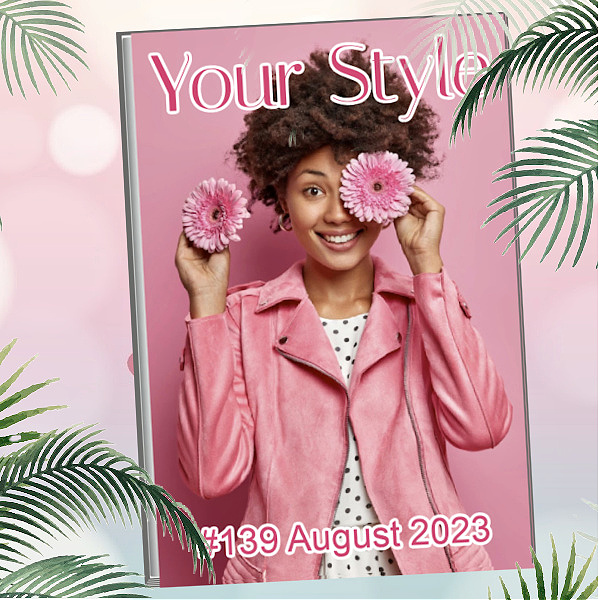 Sitemap or locate all features relating to...
Homepage >> Apple Body Shape >> Petite Apple Shape