DIY Face and Body Scrubs

(straight from your fridge!)
A DIY face and body scrub is just what your skin needs during the months of high Summer.
When the temperature rises the increased humidity stimulates the skin's oil glands and your skin may begin to feel heavy and clogged. But it can also be dehydrated at the same time and you get drawn into a cycle of classic combination skin!
During the Summer months when your makeup begins to literally slide off, a DIY face scrub allows your skin to breathe!
All skin types will benefit from weekly exfoliating increasing hydration, softness and radiance - they will NOT make your skin oily but they will your moisturizer to reach the cells that need it to keep healthy. 
These scrubs can be used anywhere on your body that needs a refresh!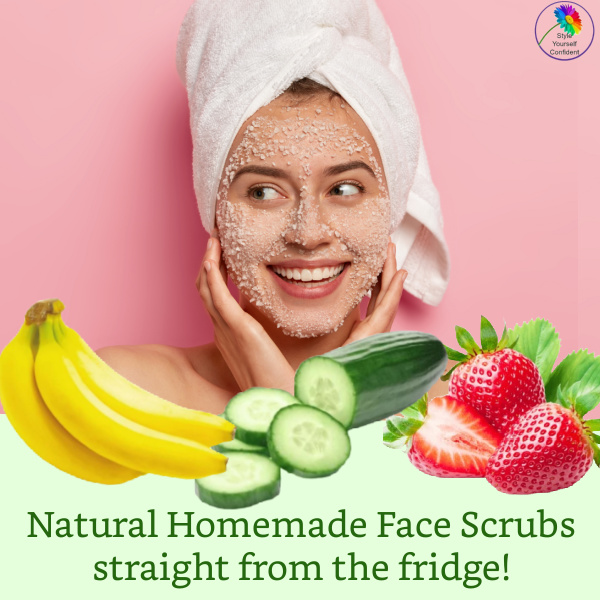 DIY face and body scrubs
I was given these recipes a couple of years ago and I consider it a real treat for my skin when the weather gets warm. The scrubs are so incredibly pure and smell absolutely luscious!
Forget unhealthy chemicals and preservatives, what could be better than a delicious recipe with BANANAS, CUCUMBER or STRAWBERRIES with 100% edible and organic ingredients straight from your fridge.
Most of these ingredients are probably sitting in your kitchen at the moment, so why not give one of them a try? Fresh, clean, healthy, edible and delicious!
I'm a fan of oatmeal and it seems the perfect ingredient for a scrub so those are my favorites. I make them using a stick blender and wow what a delicious mix they make.
It leaves my skin soft and refreshed and if it generates new cell growth it's a huge bonus!
Strawberry face and body scrubs

Strawberries contain salicylic acid, which is a beta hydroxy acid useful for problem skin - particularly acne and blemishes.
Strawberries are high in vitamin-C and highly moisturizing. The powerful antioxidants promote new cell production keeping skin healthy and radiant, particularly good for ageing skin.

Blend the ingredients 'til creamy with no big chunks of strawberry. Apply to wet skin in a circular massaging motion particularly to any dry areas. Rinse with warm water. Great for smoothing your complexion and adding a radiant glow!
Blend all ingredients 'til smooth. Lightly massage into wet skin then rinse off with warm water. The cream nourishes and gives your skin softness and shine while the honey provides antiseptic, helping to cleanse the skin of microbes and dirt.

Banana face and body scrubs

Bananas are excellent to maintain the freshness and softness of the skin on your face and body.
Banana scrubs contain vitamin E, ascorbic acid and antioxidants, all great for normal, dry and even sensitive skin. These ingredients will help to restore cellular exchange and contribute to the regeneration of new cells. Hence small wrinkles appear less noticeable.

Mix ingredients in a blender or food processer until smooth and massage lightly on wet skin for 2 to 3 minutes, then rinse with warm water.
Blend everything in a blender or food processor until smooth. Massage lightly onto wet skin, and then rinse with warm water.
NB Banana scrubs are not recommended for storage in the fridge, they are best if used fresh, right after all ingredients are blended together. 
"DIY face and body scrubs containing banana can tighten the skin and promote moisture retention in the deep layers of the dermis. Usin banana in your scrubs can help your complexion improve considerably, giving you a healthy glow and promote circulation in the skin. You may notice your cheeks becoming rosier and calmer, leaving skin smooth, tender, and velvety. These scrubs can also help reduce the visibility of marks and scars on the skin."
Cucumber DIY face and body scrubs
A wonder in the beauty world. Who hasn't put a slice of cucumber on their eyes to refresh and revive?
Cucumber has a similar ph balance to human skin making it a gentle and natural safe ingredient. It brightens skin as it tones and moisturises; helping to reduce blemishes and keeping the skin youthful, fresh and elastic. 

Mix ingredients thoroughly then let it stand for 15 minutes. Massage into wet skin then rinse with warm water. This scrub reduces skin irritation, removes oil, and refreshes the skin.
Mix ingredients and apply to wet face, carefully avoiding the eyes. Leave it on for 15 mins then rinse with warm water. This mask aims to improve the appearance of wrinkles.

Allow 'Your Style' to visit you!
The latest features on Color Analysis, Body Shape and Style to your Inbox, twice monthly.
Plus a Free copy of my book 'Shortcut to Style', it works for you, whatever your age shape or size! 
Pamela x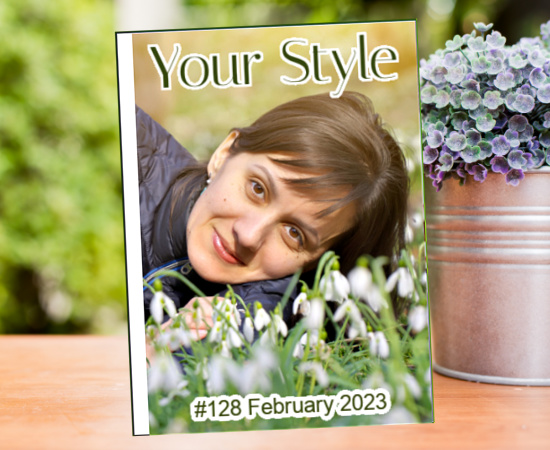 Sitemap or locate all features relating to...
Homepage >> Beautiful Skin Care >> DIY Face and Body Scrubs