6 steps to wear Winter colors

Ok so you're a Winter – but how do you actually begin to wear Winter colors?
When you first look at the color palette you'll see a host of dramatic colors and, at first glance, it can all look a bit vivid. 
So how do you begin to dress in your colors and get to look fabulous? As many of you know, this is when panic sets in!
Let's clarify...
So many consultants determine your color palette and leave you with no idea where on earth to begin.

Fortunately, you have lots of good strong neutral tones and I imagine that you have most of these strong tones in your wardrobe already. This is your jumping off point.
So it's time for a bit of clarification and a step by step guide!
First of all forget all about whether you are DEEP, COOL or BRIGHT WINTER, that just causes frustration and dilutes your palette. If you're a TRUE WINTER you need all these color variations to do you justice. 
Winter is cool toned

Looking at the Winter swatch for the first time can be a little alarming. But, although you have one of the brightest Seasons, it usually turns out to be the simplest of all to put into practice.

So before you panic, slow down and have a thorough look at the colors. Rather than looking at the whole wallet at once, look at the neutral tones and I bet you have lots of these strong deep colors in your closet already.
Then take a glance at the brighter shades and I suspect you will find a few favourites in there too. You're likely to automatically drawn to bold and saturated colors and you're bound to find the color of a t-shirt or a jumper which always gets you compliments.
WINTER is the only season that has both BLACK and WHITE.

This is reassuring - these colors will feel right!
Every color in the Winter palette has a Cool or Blue undertone - there's a crispness and solidity which will make you feel comfortable with the shades.
The COOL, or blue undertone, echoes your own natural coloring. Cool pinks will echo your skin tone; Cool blues will echo the greyed tones or grey rim of your eyes; and your hair will have little to no natural red tones.
Cool colors, traditionally, are likely to make you feel calm, composed and relaxed BUT, that will only happen if the colors are RIGHT for you!
Your pinks are from icy baby pink through to strong magenta; your blues go from icy blue to strong navy; your greens are blue toned like the sea.
Ready to begin? you'll love it!
So how to begin putting them together for an outfit?
When you look at the images below you'll see that there is probably nothing different to the way you would normally wear your clothes. 
Over thinking can complicate - just enjoy!
1 Neutrals and Brights - natural bedfellows!

Creating strong contrast with your colors will echo the strong contrast in your natural coloring.

Very probably, your existing wardrobe is based on the strong neutrals of the Winter palette anyway and you'll have lots of black, strong navy, grey perhaps. You're in the perfect position to go forward.  
You only need a skirt or pants in one of your favorite dark tones. Adding a top in one of your brights will feel so natural!

Make a top to toe outfit in your neutrals and then add just a splash of color! It might be a top, a jacket or just a scarf but it brings the outfit to life.

The neutrals might not always be deep. In the summer months you will enjoy wearing white or silver grey, you can also add a bright color to these.  Don't they look great?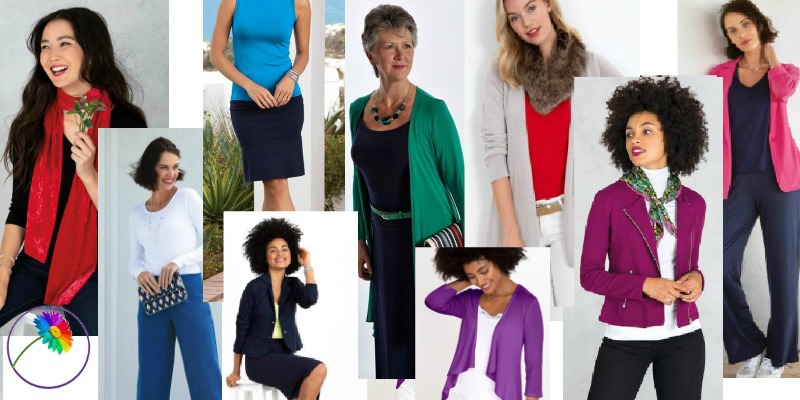 Neutrals and Accent colors. All items from WINTER color collection at Kettlewell Colours

This, to me, is the best way of using the Winter colors. Neutrals and brights - they're natural bedfellows!
Remember, Winter is the only season with both BLACK and WHITE. Wear them together, enjoy and add a bright color too - fabulous!

2 Toe to Toe color

Neutrals not for you? You don't need them, just let your strong colors take center stage.

Winter is a color palette with brilliantly strong tones that love to be the main attraction. One strong color top to toe, fabulous, team them together better still.
DEEP and BRIGHT doesn't actually means bright, it means CLARITY and intensely saturated colors. Nothing weak and wishy washy in your tones.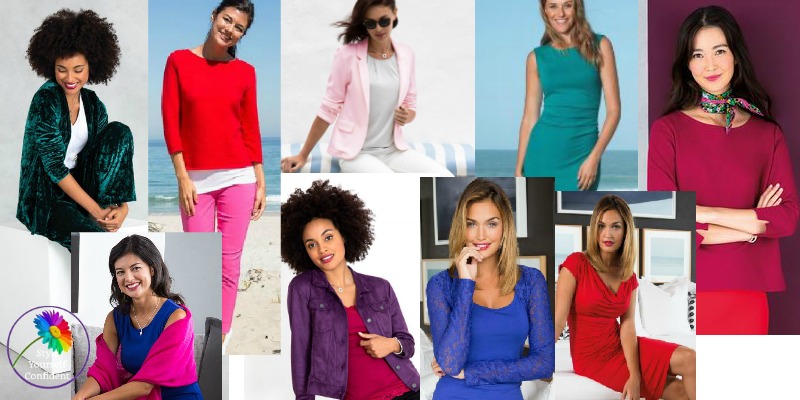 All garments from WINTER color collection at Kettlewell Colours
These colors create DRAMA! The deep sea green, berry tones and more subtle deep red, featured below, all have a richness and intensity of color that matches your dramatic coloring. 

Creating solid blocks of color is the easiest and probably the most effective way of wearing and looking fabulous in your Winter colors. When all the colors have the same undertone you'll have no clash; complete harmony!
3 Stripes

Stripes always add a crispness - a solid color alongside the stripes gives additional strength and contrast. 
Whether you choose a neutral or bright tone, you can be as classic or daring as you like based on your own personal style.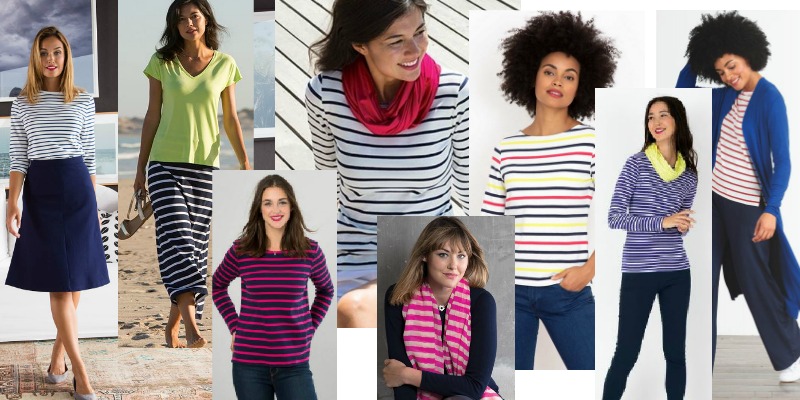 All products from WINTER color collection at Kettlewell Colours
4 Wearing Winter colors in prints

Wearing a print may be an easier way to mix colors initially. All the ones shown below are by Kettlewell Colours and designed specifically for the Winter palette, but what if you're finding it difficult to evaluate a print.
As a rule of thumb, if the style is perfect and the majority of the colors are 'your colors' then trust your judgement. Hold your color swatch over the print and unless any of the colors really 'shout' then it will work. Just a splash of a more slightly subdued color isn't going to detract from a great print.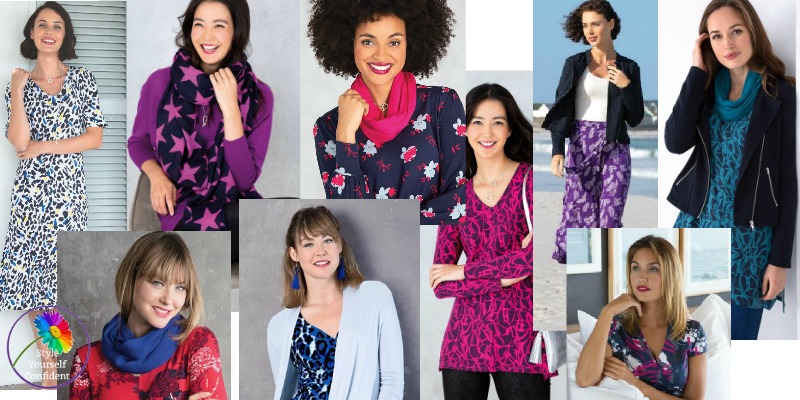 All items from WINTER color collection at Kettlewell Colours
Avoid warm tones such as yellow, orange and anything gingery brown. Earth tones too as they will all dull your overall beautiful brightness. 

5 Does everything I wear need to match my palette?
Color shouldn't be inflexible and whatever you choose you need to feel happy!
Initially wear Winter colors around your face - tops, tees, scarves and jumpers - and apply the best makeup colors to flatter your skin tone. You'll suddenly see that your face and skin tone will sparkle bringing you to life! 
All garments from WINTER color collection at Kettlewell Colours
Long term, if you aim for the colors in your color swatch you'll achieve an effortlessly easy mix and match wardrobe. It doesn't need to be a massive changeover, just gradually replace clothes with better colors as they wear out or budget allows. 
Accessories are your friend and you can add splashes of color to an otherwise neutral outfit.
6 Wear Winter colors but still feel like YOU!
It's important, once you've found your color palette, that you still feel like YOU!
Color Analysis is not the old inflexible and rigid tool it once was and a color swatch is only the beginning. Don't get too fixated on matching an elusive shade  that you forget your own taste and own personal style.
Most people find instinctively that your color palette will include lots of your favorites and you can afford to take your time and enjoy the process.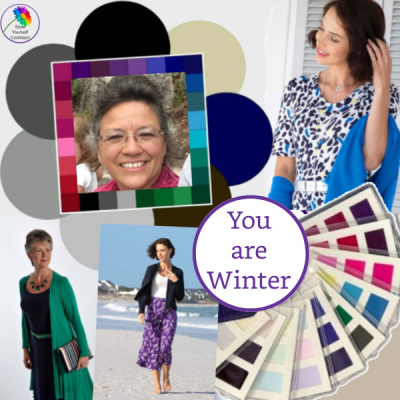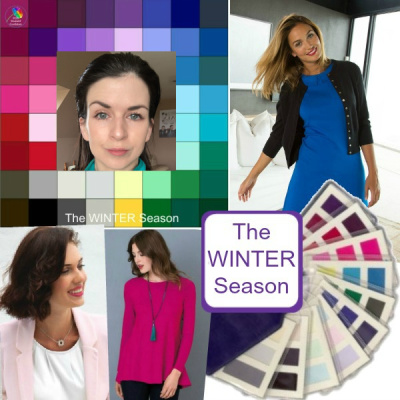 See Testimonials for more satisfied clients. 
Easy ways to begin...
Assess your neutrals and highlight your strong navy and grey separates. Black is always fabulous.

Add a splash of color to your outfit with inexpensive t-shirts and scarves
Makeup in your best shades makes a big difference
Allow 'Your Style' to visit you!
The latest features on Color Analysis, Body Shape and Style to your Inbox, twice monthly.
Plus a Free copy of my book 'Shortcut to Style', it works for you, whatever your age shape or size! 
Pamela x
Sitemap or locate all features relating to...
Homepage >> Winter Color Analysis >> How to wear Winter colors