How to choose Warm makeup

If you have a Warm skin tone, you need Warm makeup.
Have you been determined SPRING or AUTUMN? Or perhaps you belong to the WARM Color Family?  In all cases, you will have a Warm or golden undertone to your skin. 
You might be fair or have much stronger coloring but your look is golden and the yellow undertone, although not always immediately apparent, is certainly there.  

Choose makeup shades to flatter your skin tone and you'll always look your best.
Complement your skintone
By 'dressing' your natural warmth with complementary shades you'll bring your coloring to life with brighter eyes, clearer skin and it will even make your hair color look more intense.
Just follow the golden tones of the WARM color palettes when you're choosing your makeup colors. This is how nature designed you to look your best!
If you look good in these...
If you look and feel good in the fabulous Warm shades shown below - golds, apple green and olive green, coral, russet red and terracotta - then you probably have a Warm skin.
You should complement this natural coloring by wearing similar shades on your face and you'll be amazed at how your coloring comes to life - you're creating Color Balance. 
Whatever your age, this is how nature designed you to look your best!
How to choose Warm makeup to flatter
It's easy to choose Warm makeup colors just follow the colors from the color palettes - they are all influenced by yellow and therefore have a warm/golden undertone. Choose your favorites whether you are fair like the lovely Amy Adams (below left) or have stronger coloring like Jennifer Lopez whose skin is deep and rich. 
I've put lighter colors with Amy and stronger colors with Jennifer, but the choice is yours.

Ready to complement your skin
When you choose makeup colors with the same Warm undertone as your own, they will complement your warm and golden skin.

FOUNDATION: Look for a foundation with a yellow/warm undertone to complement your skin. Match it as closely as possible on the jaw line. Avoid a 'flat' beige which will flatten your coloring.  

LIPSTICK: Natural peach or copper, shiny bronze or terracotta, rustic or natural earthy tones; deeper skins can enjoy a deep rusty red. Your pinks are peachy, always avoid harsh blue toned pink and burgundy.
EYES: Natural tones of taupe, beige or warm brown for shaping and creamy highlighter for the lid. Choose beautiful dusky shades from the colors below for added color - subtle teal, olive, sage and warm purple.

BLUSH: Choose blusher with a peach or brown undertone. Stronger skintones can choose deep terracotta and rusty browns. 
Warm makeup collection

Look Fabulous Forever, who make cosmetics to suit a more mature skin, have made it easy and put together the Warm toned Makeup Collection to specifically flatter a Warm skin. You can choose your favorite shades for your makeup bag.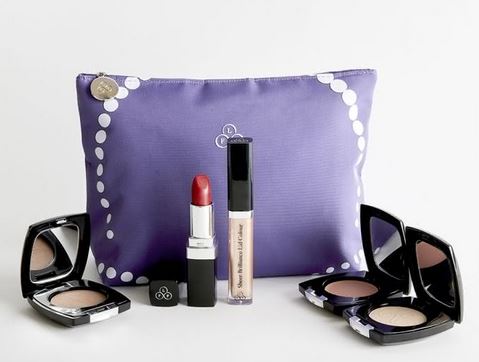 Middle age...
When we reach middle age, skin pigment begins to fade a little and it's even more important to choose the best colors for your complexion so that your color isn't completely flattened.
Warm skins will always look their best when wearing a foundation that complements their golden warm undertone - neutral bordering on a yellow undertone. 

Nature shows us how...

Color Analysis in Nature shows us how the natural world works. Every leaf complements the flower and the surroundings.
Just see how all the colors in the leaves and flower of the glorious lily (left) come from the same Warm Color Family.
This is natural harmony and Color Analysis works in exactly the same way to help you get your 'foliage' looking good!
If you don't know your color palette you need Online Color Analysis.
This is natural harmony and Color Analysis works in exactly the same way.  
The natural coloring of the gorgeous Marcia Cross is echoed and complemented by the Warm color family. Wearing clothes and makeup in shades from your own color family ensures that you're creating Color Balance and will always look your best.  
In fact, Nature designed us so we could always get our 'foliage' right too!
Allow 'Your Style' to visit you!
The latest features on Color Analysis, Body Shape and Style to your Inbox, twice monthly.
Plus a Free copy of my book 'Shortcut to Style', it works for you, whatever your age shape or size! 
Pamela x
Sitemap or locate all features relating to...
Homepage >> Makeup tips >> How to choose Warm makeup