Wardrobe Planning? time to look ahead!

Wardrobe planning sounds daunting but more organized means more confidence and you will save yourself so much time!  
Whatever the current state of your wardrobe and however you've managed it in the past, you now have the opportunity, by following my step-by-step guide, to completely re-vamp the way you think and the way your wardrobe works.
Look and feel more attractive as you discover how to make your clothes work for you.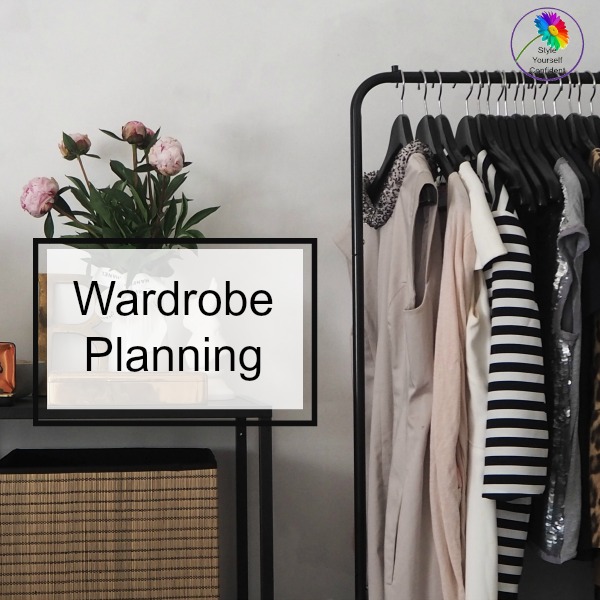 Before you take the first step...
Before you begin to plan do you know what you hope to achieve? 
Why I need to plan?

I've got nothing to wear!
I want to feel more confident
I want to save morning time
I want to feel more put together
I can't afford to waste money

A special occasion is looming

What it will do for me?

I will see exactly what I've got
I will discover what looks good
I will streamline my routine

I want to see my accessories
Planning saves TIME and MONEY
Planning means being prepared
Wardrobe Planning? Let your imagination run riot!

When it comes to the initial stage of Wardrobe Planning, you need to let your instincts have full rein.
Don't even think about budgets at the moment. But...if money was no object, how would you like to look? How would you like to feel? What's your ideal for the office? What sort of impression would you like to make at the school gate? What would you choose to wear for shopping trips or lunching with friends?
It all depends on your lifestyle, perhaps you'd like to throw caution to the wind and dress for a Caribbean hideaway!

Make your fashion collage

Never made a Fashion Collage? Play along and enjoy getting a feeling for your 'look'. It will guide you towards the Style Personality that suits you best. 
I would be happy to wear any of these looks (right) - not that I'll ever look like any of those gorgeous ladies, but it shows me that I'm drawn to neutrals and a minimalist look. 
I can't wear the killer heels but I can wear the best shoes for the job that accommodate my feet!

When I look in my wardrobe I see plain colors and stripes, hardly ever a print or floral. I love color but it comes in link items, tops, accessories and makeup, occasionally for a jacket but not for other wardrobe essentials.   
Take a look in your closet, what do you see? If you can't see, have a tidy up!

Perhaps there is someone whose style you admire. Make a folder on Pinterest or even do it the old fashioned way and cut pictures out of a magazine or catalogue.
You probably have a good idea by now about what suits your figure and your coloring.
It sounds almost too easy but building a wardrobe that works for you and your lifestyle is just about having a small collection of clothes that work for your every day life.  To feel good you will need them to fit properly and flatter your figure.
Begin to trust yourself and your own judgement. Your style is your taste, what makes you feel good about yourself. Remember, no-one else knows how you want to LOOK and FEEL - only YOU!
Not sure about it all then check out how to find your best color palette; your generic body type; and how you can cope with any 'figure challenges' you might have. 
Even if you're not a shape expert, you can still follow the step-by-step guide to sorting out your wardrobe, just be honest when you ask yourself whether something really flatters you or not!
Space is at a premium for most of us and although few of us are in the position to build a brand new closet, we can all manage something simple and neat even if you have only one straight rail! It's all to do with tidying, sorting and organizing.
Perhaps you're a 'just in case' hoarder like me! But there's no need to feel nervous because you're the one in control. You can be your own Wardrobe Consultant!

Allow 'Your Style' to visit you!
The latest features on Color Analysis, Body Shape and Style to your Inbox, twice monthly.
Plus a Free copy of my book 'Shortcut to Style', it works for you, whatever your age shape or size! 
Pamela x
Sitemap or locate all features relating to...
Homepage >> Wardrobe Makeover >> Wardrobe Planning