A sensible Closet Makeover!
Does a Closet Makeover make you nervous?

Think getting rid of clothes means you'll have even less to wear?
Think you'll need an open ended budget?
Well none of this will happen because you are completely in control!

Tidying up, sorting out by all means - but it's not necessary to actually get rid of anything until you are certain that it's right to do so.
Put them to one side; stick them in the spare bedroom; push them into the loft; even hide them in the car boot - but never get rid of anything on the spur on the moment.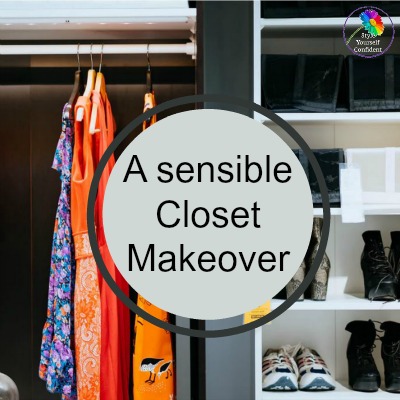 A Closet makeover will work for you because...

clothes that you don't wear waste valuable space
you'll discover what makes you look / feel good

once everything is tidy you'll save time
when you're organized you'll see the possibilities
you'll have more to wear rather than less!

A wardrobe full of 'nothing to wear' is useless...

So what if you find lots of items that aren't fit to wear? Finding just a few outfits that fit and flatter your figure is far more use to you than a wardrobe full of clothes but 'nothing to wear'.
Anything that makes life easier has to be good. Once you are organized, you have time to get on with the much more important things in life. 
What you need for your lifestyle will be different to everyone else. But what you already have in your wardrobe is where you have to begin.
READY...
It's not necessary to have an extensive and expensive wardrobe - it only has to work for you and your lifestyle.
It's not necessary to spend a fortune on clothes, good organization and a bit of planning can work wonders on a 'shoestring' budget.
You don't need to be a fashionista to do a closet makeover - it's merely getting organized. 
A few garments that suit you and fit well are far more useful than lots of clothes that do nothing for you.
Good grooming can make the simplest of outfits look a million dollars.
You won't need to worry about colors at this stage.

Just be honest with yourself about what suits you and what doesn't.
STEADY...
Have a long mirror so you can be perfectly honest with yourself. Just because something doesn't fit or suit you does not mean there is a problem with your figure. Clothes are supposed to fit you - not the other way round.
Invest in some good hangers; sturdy ones for coats and jackets; non-slip for knitwear so you don't distort the shape; and the correct type for skirts and trousers. Your clothes will be cared for and you will get a sense of pride from seeing your closet looking so good.
Don't get rid of anything that you might need occasionally. The suit or jacket for a funeral or the evening dress that will 'do' the job if you can't afford a replacement. A one off purchase is a waste of money!
Just make space in another room or the attic for the items you're putting to one side, it's silly to throw anything out that you might regret.

Consider the possibility of re-cycling unwanted items at the secondhand shop or perhaps you could give them to a friend who they might suit better.
Have black bin bags ready for the real rubbish.
GO...
Make time for yourself, no children, no other half and no interruptions.
Have an easy meal prepared for the end of the day when you might be too exhausted to bother and a nice bottle of wine as a reward for hard work..
Allow 'Your Style' to visit you!
The latest features on Color Analysis, Body Shape and Style to your Inbox, twice monthly.
Plus a Free copy of my book 'Shortcut to Style', it works for you, whatever your age shape or size! 
Pamela x
Sitemap or locate all features relating to...
Homepage >> Wardrobe Makeover >> Closet makeover