Tex-Mex Soup

If you like a 'bowl of red', you will love TEX-MEX SOUP! It's Chilli con Carne on a spoon!
The minimum of chopping, open a few tins and voila, a soup that's big enough for the hungriest worker.
This is the soup I recommend for my 2-day Slim Plan, try it for a quick boost when a special occasion is looking!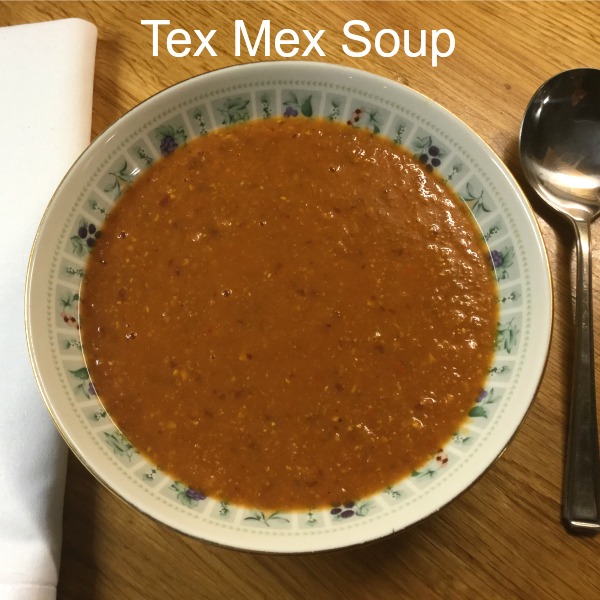 Tex-Mex Soup
Ingredients

1 large onion
2 sticks celery
1 red pepper
2 cloves garlic
1 tspn each cumin and oregano
1/2 tsp chilli powder
1.5 litres vegetable stock
4 Tbsp tomato puree
1 400g tin chopped tomatoes 
1 400g tin red kidney beans in chilli sauce
1 tin sweetcorn 
seasoning to taste
Method
Peel and chop onion, celery and red pepper finely, saute in low calorie spray for 5 minutes. Stir in herbs and spices, pour in stock, tomato puree and tin of tomatoes. Bring to the boil then reduce heat, cover and simmer for 15 mins. Drain and rinse beans and sweetcorn, add to pan. Simmer 5-10 mins to heat them through. Blend as much or as little as you like for your choice of texture.
I like to add half the beans and sweetcorn before blending the soup to a thick pureee. Then I add the rest of the beans and sweetcorn for texture. I always double the quantity as it freezes brilliantly or feeds the family for days at a time!
Add additional seasoning if necessary. 
* I recommend Tex-Mex Soup for my 2 day Slim Plan. Substitute for your main meals for just 2 days and you will notice a big difference to your weight.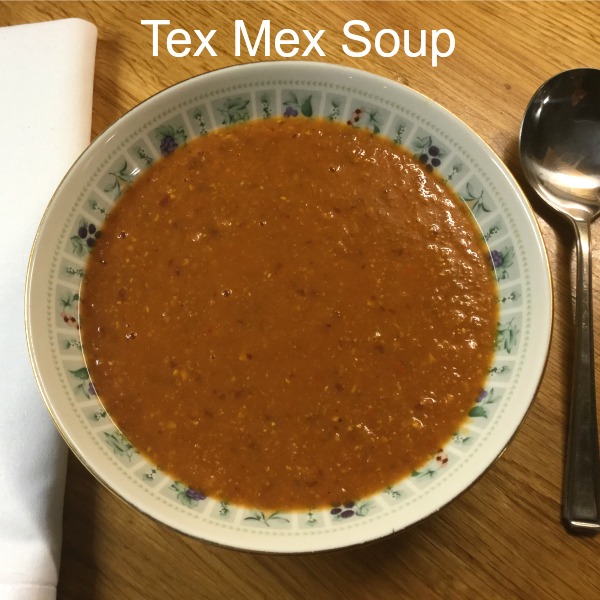 Allow 'Your Style' to visit you!
The latest features on Color Analysis, Body Shape and Style to your Inbox, twice monthly.
Plus a Free copy of my book 'Shortcut to Style', it works for you, whatever your age shape or size! 
Pamela x
Sitemap or locate all features relating to...
Homepage - Low Fat High Fibre - Tex-Mex Soup