Kilworth House and Theatre
Kilworth House and Theatre is only 30 minutes from home and yet we'd never visited. It proved the perfect choice to celebrate our wedding anniversary.
I loved the graceful country house hotel and accommodation but I was completely entranced by the open air theatre in the 38 acres of parkland!  
After buying and restoring a neglected Kilworth House to it's former glory, owner and producer, Celia Mackay, opened her unique theatre in 2007. Set in a pretty wooded glade close to the lake, the theatre is dedicated to presenting professional musical theatre to a standard rarely seen outside of London.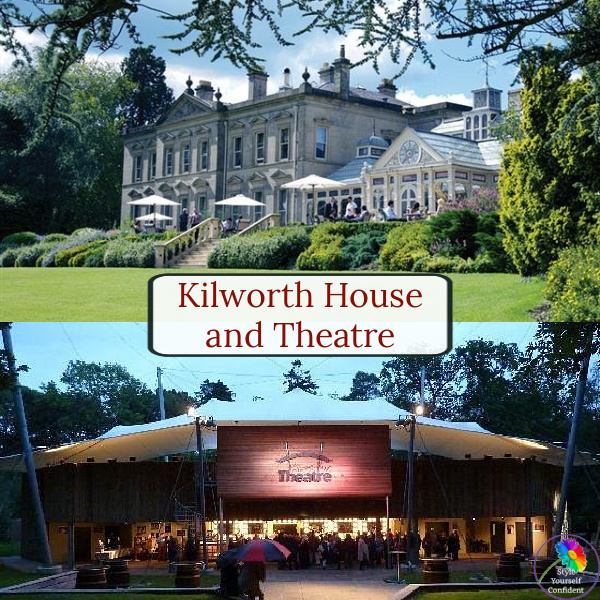 Musicals to West End standard
We're a long way from the capital for top quality theatre and, to be honest, musicals are not really Maurice's thing. It's also his birthday so I booked it hoping for the best - after all it's my anniversary as well!
We arranged an early dinner as the show started at 7.30 pm, and it was so infectiously joyous that, after 5 minutes, I knew he was enjoying it as much as me (well nearly) and the rest of the audience.   
Over the years Kilworth House and Theatre has presented 25 musicals to 'West End standard' and recently, after a long enforced closure, they launched 'Memories of the Musicals' with song and dance routines from every one. It's a jubilant return to live audience for the performers too with new and innovative musical arrangements. 

English Country House - yes I can live with that! 
I can adapt to an English country house atmosphere very easily - particularly when someone else is doing the house-keeping and nothing disappointed!
The bedroom was delightful (four posters are also available) and the Victorian orangery where we ate was particularly charming. Both looked out over the terrace and extensive grounds.  

Kilworth House and Theatre - a hidden gem
We took tea in one of the period drawing rooms on arrival and a drink on the terrace just before dinner while the sun was still out.
As it happened, the heavens opened during the performance but the theatre is well covered and golf buggies were on hand to transport everyone back to the hotel or car park. They even had blankets to tuck round your knees if necessary. 
It's difficult to capture the elegance of Kilworth House and Theatre in just one or two images and, haha, yes we should have had the photograph taken before we demolished the delicious starters so I popped a pic of my lovely dessert in! 

What did I wear? 
As we've had so little Summer and we were going 'out out' I took the opportunity to wear a dress. A couple of years ago I tried on a Ralph Lauren dress in store but the occasion wasn't worth the expense. Then, by chance, I saw this one on Ebay in exactly the same style. Ralph Lauren for £20 was a no-brainer! OK not my absolute preferred color but I do feel that this dress is quite sophisticated and can take me anywhere. 
Fortunately, as it rained, I did change into trousers and sensible shoes for the evening event! 
And our second visit...
We've just returned for our second visit to Kilworth House - this time for my birthday treat!
Dinner first and then a real blast from the past with a spectacular performance by a Buddy Holly tribute band in the Victorian Orangery. I confess that I remember many of the Buddy and the Crickets hits from my childhood and they were brilliantly brought to life. It was great fun to see couples taking to the dancefloor.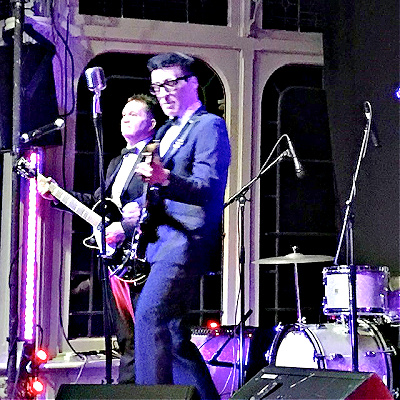 It's lovely to stay the night at Kilworth but you can also book theatre tickets without the added expense. There's also the possibility to visit for some beauty treatments with a daughter or girlfriend - but I think the theatre will always be top of my list. 

Allow 'Your Style' to visit you!
The latest features on Color Analysis, Body Shape and Style to your Inbox, twice monthly.
Plus a Free copy of my book 'Shortcut to Style', it works for you, whatever your age shape or size! 
Pamela x
Sitemap or locate all features relating to...
Homepage >> Kilworth House and Theatre