English Afternoon Tea

at Rushton Hall
English afternoon tea is always an occasion! It's a superb idea for getting friends and family together, a birthday treat or a 'just let's celebrate the end of Summer' occasion!
When you're lucky enough to be taking afternoon tea in such an imposing and graceful building as 16th century Rushton Hall, then it's pure indulgence! 
This luxury country hotel and spa set in 25 acres of beautiful English countryside is only 15 miles from my Northamptonshire home. The historic home of the Tresham family, it has entertained Charles Dickens and staged the last concert of the great Glenn Miller. 
Rushton Hall, Northamptonshire
I've visited Rushton Hall once before for a dinner bed and breakfast break with my daughter when we indulged in a few 'gentle' spa experiences. If I'm honest, it mostly consisted of sitting in a hot tub with a glass of Prosecco to hand! 
This visit was a birthday gift and Maurice and I saved it for a perfect Summer's day outing. Rushton Hall and it's beautiful grounds certainly didn't disappoint. 
Afternoon tea, an historic tradition in itself, is taken in the Great Hall with it's huge stone fireplace, sun streaming through the stained glass windows and an impressive array of historical and royal portraits.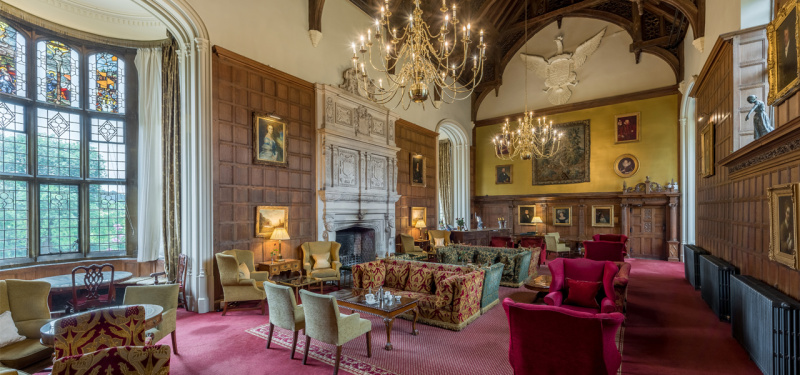 What is English Afternoon Tea? 
Afternoon tea is a ritual, introduced to Britain in the 1840's by the Duchess of Bedford, to stem the hunger between luncheon and an evening meal at 8 pm. A selection of dainty bites were served with tea in the late afternoon and the idea became very fashionable, particularly with Queen Victoria.
Our English afternoon tea was equally elegantly served on delicate china with spotless linen and three-tiered cake stands. Finger sized sandwiches (no crusts) with luscious fillings, freshly made scones with clotted cream and jam, and the most sumptuous selection of tiny cakes. 
Perhaps we let ourselves down by opting for English breakfast tea rather than the upmarket selection available, but we did appreciate the Laurent Perrier champagne! As I'd shared my birthday treat Maurice had to buy me additional champagne and, as the barman poured two by mistake, I actually did rather well! Just as well as I wasn't driving!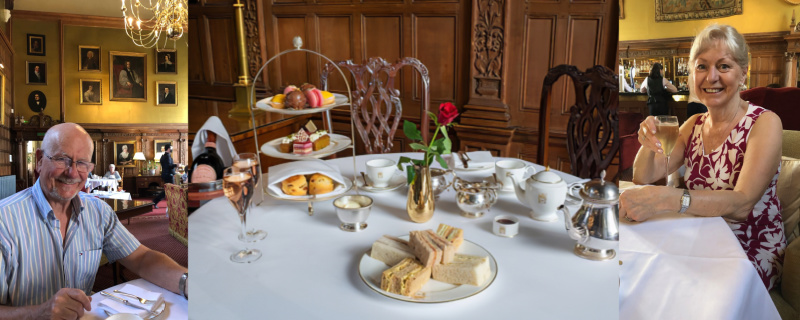 How to enjoy your own English Afternoon Tea
It's simple to create your own English afternoon tea. Whether you have a family occasion, a ladies afternoon or just friends in the garden, it's always a celebration. Keep food servings dainty and china pretty. Old mismatched china looks lovely! 
What you should serve?
Finger sandwiches - thinly sliced white or brown bread (no crusts), fresh butter and plenty of filling. Queen Elizabeth takes afternoon tea at 4 pm every day and favors cucumber, ham, egg mayonnaise and smoked salmon. 
Freshly baked scones - try Mary Berry's recipe - served with clotted cream and preserves. Alternatively, you could serve fresh berries with cream or ice cream.
A selection of cakes - slices of fruit or chocolate cake, individual sponge or fruit tarts, tiny luxurious patisseries.

The building of Rushton Hall was developed by the wealthy and well respected Tresham family over several generations. Entertainment in this grand country house was expensive and lavish as they forged close connections with the Tudor Monarchs.  

However, this was an era of religious conflict and ultimately the Tresham family was involved in the notorious Gunpowder Plot of 1605, a failed scheme to end Catholic persecution.
Over the centuries Rushton Hall changed hands many times. The cellars served as bomb shelters during World War II and, in the 50's it became a school for the blind.
In recent years, however, this luxurious country hotel has achieved the highest reputation for everything from romantic weekends to weddings and corporate events.  
Allow 'Your Style' to visit you!
The latest features on Color Analysis, Body Shape and Style to your Inbox, twice monthly.
Plus a Free copy of my book 'Shortcut to Style', it works for you, whatever your age shape or size! 
Pamela x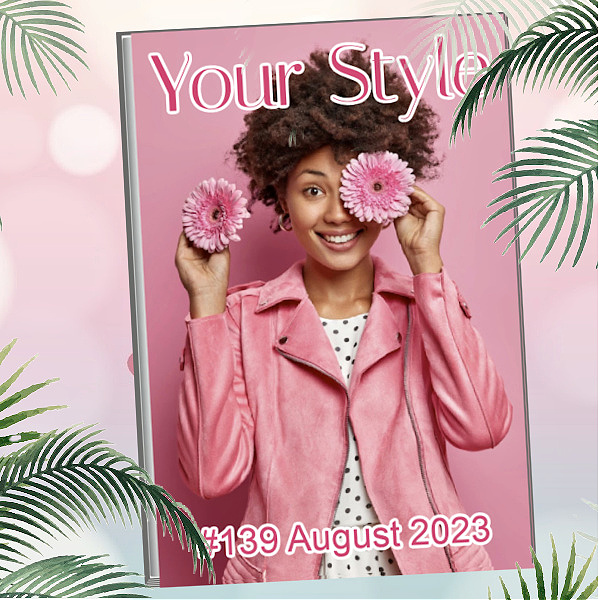 Sitemap or locate all features relating to...
Homepage >> English Afternoon Tea