How to Wear Pearls Casually

Forget only wearing pearls with a little black dress, we're starting to wear pearls casually too. They're fashionable again and even fun!

After featuring the colorful wardrobe of our Rainbow Queen recently and seeing how much her beautiful pearls light up the face prompted me to treat myself to a double strand. Although inexpensive, I find they work with evey neckline and give even a simple outfit a touch of pizazz! 
Classic pearls were always associated with formality and 'dressing up'. They matched simply every outfit and were never out of style. Like diamonds, pearls are a classic and should be in every woman's wardrobe.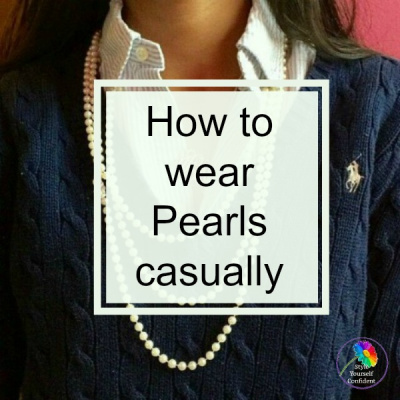 How Pearls can lift a look!

The reason pearls work so well with casual attire is because their formality provides an interesting contrast.
Wearing one special piece, like a pearl necklace, elevates the everyday into what we like to call 'Smart Casual'. A polished but relaxed look that's elegant, comfortable and always ladylike!  
It's said that you should only wear one item of pearl jewelry at a time - that's really if you're wearing complicated pieces - but, in any case, keep your other jewelry to a minimum and allow the pearls to take center stage.
The Duchess of Cambridge wears pearl drop earrings and brings femininity to a utility jacket! 
Choosing the right pearl necklace
Of all pearl jewelry, necklaces remain the favorite choice. It's important to choose the right necklace for casual wear, as not all types will suit every occasion.
Choker necklaces are far too formal for casual wear, likewise long pearl ropes over 36 inches unless you want to double them up (right). 
The best size for an everyday single or double strand is 16 to 18 inch. 
Modern pearl necklaces allow you to be creative and fun, offering many options in terms of color, size and shapes. 

Choosing Pearl size and shape

Beyond the traditional and stylish round shape, pearls also come in tear-drops, oval, button, and baroque, or other irregular shapes.
Baroque pearls (right) are modern, fun and have a quirky irregular shape. They are also less expensive than classic pearls and are particularly suitable for everyday wear.
In a range of sizes too, from small 2mm ones to over 12mm and more. Larger pearls are more statement-making and dramatic, not quite so suited for a casual, relaxed look.
It's best to opt for slightly smaller pearls that blend in well with your attire. Pick a size you feel comfortable with and one that works with your outfit.

Choosing your pearl color
Pearls are available in a wide range of colors like gray, pink, gold, lavender, black and everything in between, although white and cream are the most popular and work with any outfit. 
The type of pearl you choose will largely define the color. Freshwater and Akoya pearls are typically white but come in a range of other colors too. Tahitian pearls are almost always dark with beautiful overtones while South Sea pearls, the most prestigious and expensive pearl variety, are white or gold.
To flatter your skin tone it's best to choose White for a Cool skin and a Creamy pearl to flatter a Warm skin.  
Your outfit and neckline

Classic pearls go well with virtually any outfit but you want them to be seen!
If you're wearing a simple outfit, dark jeans and a plain top for example or the stripes (right) then wear a larger pearl to make a statement.

A more complicated outfit or busy pattern needs something neater. A fine single strand, a pearl pendant or even a lariat would work. 
Consider your neckline when picking your pearl necklace length. Avoid having the end of the necklace touch the neckline, instead go over or above to make a better look.

Allow 'Your Style' to visit you!
The latest features on Color Analysis, Body Shape and Style to your Inbox, twice monthly.
Plus a Free copy of my book 'Shortcut to Style', it works for you, whatever your age shape or size! 
Pamela x
Sitemap or locate all features relating to...
Homepage >> Accessories >> Wear pearls casually