Be your own Wardrobe Consultant

We'd all like our own Wardrobe Consultant but if you follow a few basic steps you can do it just as well by yourself. 
The start of a new season is a good time to take control of your closet. Or, anytime, if you're finding it difficult to find everything. 
Or - perhaps you've just had your colors analyzed and want to think about co-ordinating outfits with a color swatch.
Even without tackling anything major, you can very easily take 3 basic steps...
Your aim is to...

tidy and sort your wardrobe to make it all visible
weed out things that don't work for your lifestyle or you don't like
establish what fits, what does you justice and what you will happily wear
try on, appraise and decide whether it's IN or OUT or it needs some work!

1  Clear OUT to make space

Remove all clothes you're not currently wearing - out of season, vacation clothes, big winter coats, sportswear, occasionwear etc.  OUT 

Remove all accessories, scarves etc and sort separately  OUT
Remove all items that are damaged, faded or out of shape  OUT  Remove any clothes that were a complete mistake or that you hate (forget the guilt!)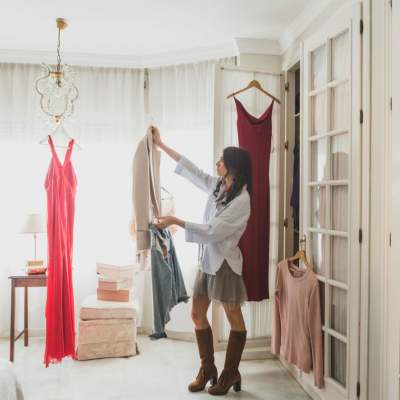 2  Things you like and fit IN

Sort through your trousers and skirts. If you're currently wearing and you know they fit and flatter they're IN.
Do the same for jackets and cardigans ready to co-ordinate with the bottoms. Separate any suits so that you can make more outfits - if they fit and you feel happy with them they're IN. 
Work logically through the rest of your items: shirts, blouses, t-shirts, tanks etc. these are the important LINK items that tie the tops and bottoms together.  Important items to be IN.
3  Reconsider/look forward

A quality garment that doesn't fit could be altered. Evaluate whether it's worth the expense and whether you like it enough to bother - RECONSIDER.
Anything that is good but needs attention like a simple sewing job (hem or buttons) should be put to one side and attended to. Will you do it?  RECONSIDER
If a garment doesn't fit and you don't know why, check out your Body Type to  understand why it doesn't fit. If it's completely wrong then you can justifiably get rid of it and you'll be more aware of shape in the future.  RECONSIDER
A bare wardrobe?

If the wardrobe looks a bit bare now, don't worry, you've managed the first step as a Wardrobe Consultant so give yourself some credit.
It's better to have a few things that look good, fit and flatter you than to have a wardrobe full of clothes that do nothing for you - and that you never wear!
Next you'll be ready to go forward step by step and fill in the gaps with things that DO work!

Well done Wardrobe Consultant - a pat on the back and a glass of something nice! Time to think about a Capsule Wardrobe...
Homepage >> Wardrobe Makeover >> Wardrobe Consultant