Pumpkin Pancakes

Part of my Low Fat Sweet Treats range. You can be healthy and indulgent at the same time! 
I like my food and don't want to feel guilty reaching for a slice of chocolate cake with my cup of tea and when the grand children come to stay I love to join in with yummy breakfast pancakes. We don't eat much pumpkin in the UK so this is a real treat when the season comes around.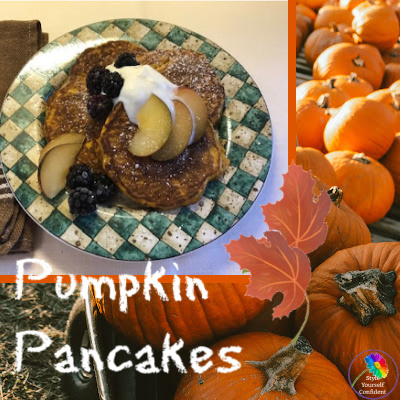 Pumpkin pancakes
Ingredients
40g porridge oats, finely ground

2 eggs

3 Tbsp pumpkin puree

1 tspn mixed spice or cinnamon
3/4 tspn baking powder
1/2 tspn vanilla 
1 tspn sugar or sweetener 
serve with maple syrup, yogurt and/or seasonal fruit
Method
We don't eat much pumpkin in the UK but I love these pancakes. Beat everything together and cook on hot griddle. Makes 5 or 6 pancakes, enjoy with a drizzle of maple syrup! 
What could be easier or more delicious for the whole family.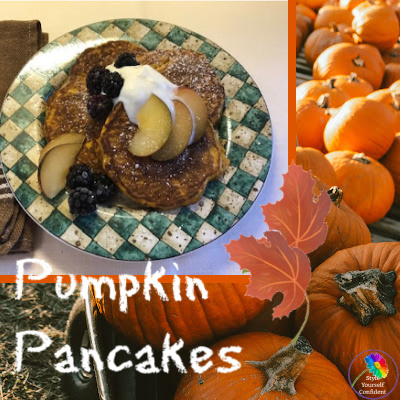 And... now you're here it would be great if you'd like to look around at the COLORS, SHAPES, and STYLES that help you to Style Yourself Confident.
Allow 'Your Style' to visit you!
The latest features on Color Analysis, Body Shape and Style to your Inbox, twice monthly.
Plus a Free copy of my book 'Shortcut to Style', it works for you, whatever your age shape or size! 
Pamela x
Sitemap or locate all features relating to...
Homepage - Low Fat Sweet Treats - Pumpkin Pancakes