The best Neutrals for Spring coloring

Do you know how to use the Neutrals for SPRING coloring?
It's easy to get excited about a Color Swatch and, certainly, the Spring shades are some of the most glorious shades around. But until you clarify your basic (almost boring) neutral shades, it's impossible to begin any kind of co-ordination. 
In fact, this is the time when many people start to panic. You've got a delicious color swatch in your hand but have absolutely no idea where to start!
In the spring color swatch you'll find all the vivid and vibrant colors of Spring plus the calmer more basic neutrals. 
They're still LIGHT, WARM and BRIGHT, the same as your own natural coloring, but they will form a base on which to use the brighter colors as accents.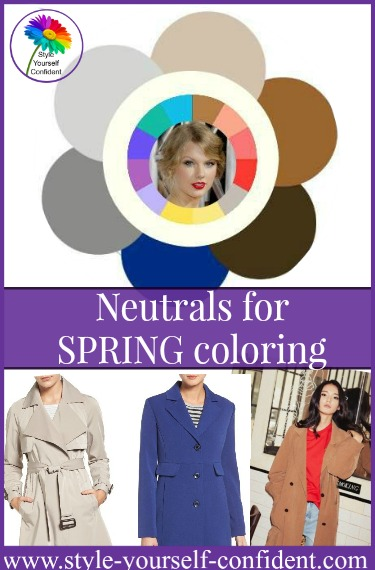 Wardrobe Essentials first...
What you need first are what we call your Wardrobe Essentials. These are  the items you start with every morning - a pair of trousers, a skirt, a jacket or coat etc.  They form the backbone of your wardrobe. 
A small collection of neutral basics will be the most useful items you own, so it's worth paying for quality garments as they will earn their keep many times over. 

Once you've identified the best neutrals for Spring coloring, they will form the base of an outfit and you can add some of the brilliant accent colors that allow your coloring to shine!
A Winter coat, for example, will be worn frequently and needs to sit happily and look good when worn with all your other colors.
See how the colors work...
Be aware that you're looking for colors with a yellow undertone to form a backdrop for the 'brights'. Hold your swatch close to the garment and see if the colors look good together. The Warm toned bright colors will sit happily on a Warm toned neutral.

Choosing the Neutrals for Spring coloring

IVORY
The lightest color that looks good with your coloring and is perfect next to your face is called your 'best white'. 
Ivory has a warm / yellow undertone as have all the colors in your Color Family. Pure white is far too clinical for your golden coloring.
This is your go-to color for staple 'link' items - tops, tanks, shirts and blouses; underwear and nightwear too. Ivory will link together neutrals and bright shades. 
BRIGHT NAVY
Although navy blue is a 'universal' color - that means it suits  more or less everyone - your best navy is brighter than most. 
You can wear a slightly deeper shade and it will always look good but, given a choice, go for the brightest navy as it will enhance your other bright shades and your vivid natural coloring.
GOLDEN TAN or CAMEL
A rich gingery brown or camel will provide more contrast and can be used for tops and link items but it's also a useful color to use when you need heavier fabrics.
This is a beautiful rich neutral to use as a wool fabric for cardigans, jackets, or a winter coat.  A warm wool coat is a wardrobe staple that will last for many years.
STONE or LIGHT BEIGE
This can be your go-to color for any wardrobe basic - use your color swatch to blend so that you maintain some warmth to harmonize with your pretty shades. 
You don't have to match this exactly, there are thousands of shades you can use. Just check that it harmonizes with your brights for essentials such as pants, cardigan, jacket, trench coat etc. 

LIGHT WARM GREY
This is your best grey - Light and Warm - it has a slightly yellow undertone which underpins all the other warm shades. You can also wear a cooler grey but it will bring a sharper note to your outfit.
It can be difficult to distinguish between a Warm or Cool grey - take a look at the different Shades of Grey to get the idea.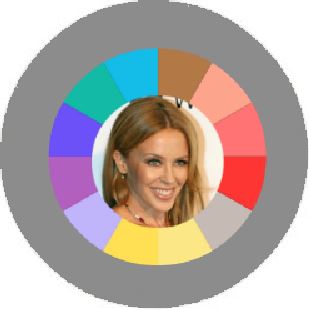 AUTUMN GREY
This is a warm version of Charcoal Grey but is softer with a yellow undertone. 
This is perfect for a rich wool flannel as coat, trousers, jacket etc. This will need to be brightened up to do you justice. 
Homepage >> Color Analysis SPRING >> Neutrals for Spring coloring