A Navy Holiday Capsule - it's a breeze!

Creating a NAVY holiday capsule is the most useful and practical choice for everyone.
No matter your coloring, this will work.
Navy and white (or ivory if you prefer) forms the perfect base allowing you to make it individual and quite unique as you add your own touches of color.

If you've ever worn navy blue knickers and navy blue pinafore dresses to school (they have a lot to answer for!) then, like me, it was probably enough to put you off the color for decades!
Not only that but it was the sort of color that my mother and aunts would wear while I was gravitating towards the much more sophisticated BLACK! 
But in recent years navy has become a mainstay of mine and, for most people, it's actually a lot easier to wear than black.

It's in every color palette...
Navy blue is one of the Universal Colors which means it flatters just about everyone and there is a version in every color palette. 
It's the most useful of all the neutrals because it's so easy to co-ordinate - it can be worn with every other color!
It's certainly earned it's place as a leader in the fashion stakes in it's many different guises and variations. 

Travel in Style

My choice for a comfortable and easy travel outfit forms the base of a simple navy holiday capsule.
Travelling from the UK to sunnier climes means that I change the weight of the jacket according to the season. Sometimes it calls for a proper jacket, but a lightweight linen mix, a light cardigan or even a nautical zip up in the warmer months. This gives extra mileage to your capsule providing a light coverup for the evening or excursions. 
Navy is always an eminently sensible and practical color choice!
Just as wearing denim has become completely acceptable whatever your age, denim blue, whether light or deep, is now considered a neutral color. 

While jeans have traditionally been considered as casual wear, as long as they are classic, dark toned and well fitted they've been promoted to 'smart casual' and will take you to all but the classiest establishments.
If it suits your climate swap out the jeans for linen mix pants. 
It's easy to get hung up about matching colors but not necessary because this is the most easy-going of the neutrals.
A soft marine blue through to the strongest almost black/blue navy, light denim through to the deepest indigo - a change of fabric gives a change of texture and all the colors sit happily together.
A navy holiday capsule is the perfect base

Travel is becoming more and more expensive and many of us will try to cope with just a carry-on rather than paying for additional luggage.
A navy holiday capsule teamed with white is easy to condense down to the minimum. A few simple pieces that mix and match will see you through a week of casual days and informal evenings whatever your coloring.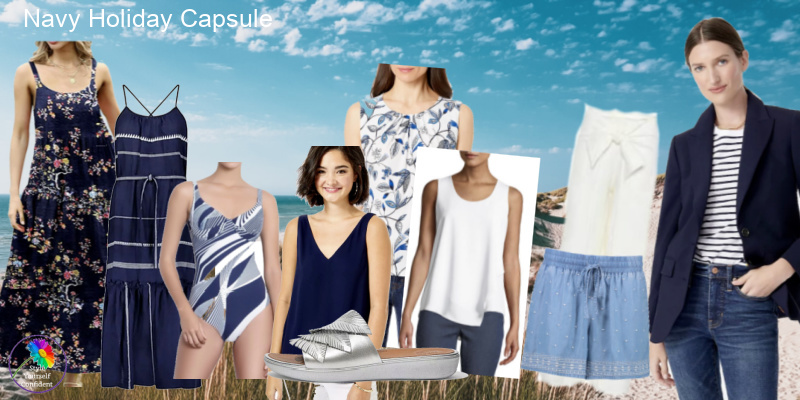 If you've got the weather you'll need little more than a swimsuit and a pretty coverup or beach dress to take you to lunch.
Out and about in the afternoon? Then a pair of comfy shorts with a selection of tops will do the job admirably.
A pair of soft white pants and an elegant sundress for sundown drinks and/or dinner and you're pretty well set.
Just 8 items to pack in your carry on with essential underwear and space left over for a couple of extra lightweight tanks or sun tops to ring the changes. 

A FREE copy of this CAPSULE WARDROBE with mix and match outfits for breakfast, lunch, dinner, excursions, poolside and cocktail hour - all available to

Ezine subscribers

Shop the capsule
Personalize with your own color splash

Navy is part of every color palette so you can always introduce your favorite colors for accessories. 

Choose a neutral metallic bag or add a bright color from your own color palette for bag, scarf, necklace perhaps. 

If you have Cool coloring you might choose a touch of bright pink, jade or purple to perk up the navy holiday capsule.  
If your color direction is Spring or Autumn then your colors are Warm so you might choose a striking orange or coral mixed with turquoise or teal. 

Shop the accessories
 Navy for Autumn and Winter

Although it's often neglected as an Autumn/Winter color, it was featured strongly in designer collections in both New York and London this last season.  
So any Closet Staples that you add to your wardrobe during the Spring/Summer months can be expected to continue to earn their keep and keep on working for you right through the year.

Homepage >> Navy Holiday Capsule