A Navy Holiday Capsule - it's a breeze!

Creating a NAVY holiday capsule is the most useful and practical choice for everyone. Navy flatters everyone, no matter your coloring, this will work.
Navy and white (or ivory if you prefer) makes a perfect base ready for you to make it personal with your own touches of color.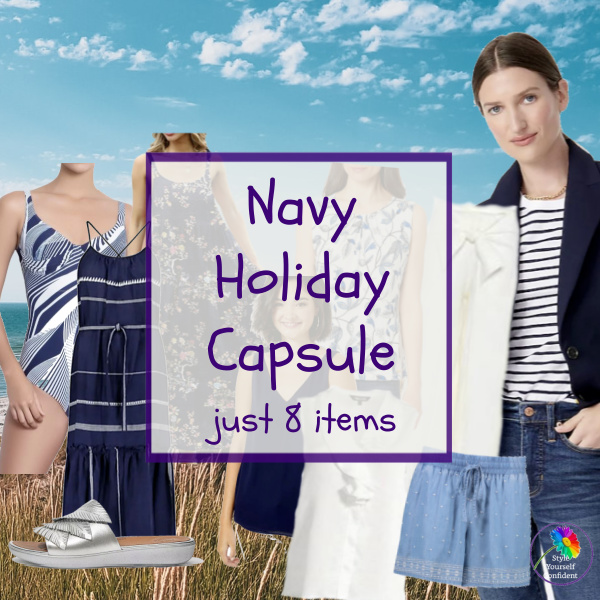 Pack light to save money! 

Travel is becoming more and more expensive and many of us will try to cope with just a carry-on rather than paying for additional luggage.
A navy holiday capsule teamed with white will condense to the minimum. A few simple pieces that mix and match will see you through a week of casual days and informal evenings whatever your coloring.  

Travel in Style

Wear a navy jacket, pants and a t-shirt/top (of some description) for travel - it's an eminently sensible and practical color choice means that you don't arrive looking travel stained at your resort or hotel. And comfortable sandals.
Depending on the climate and your destination choose your jacket accordingly: blazer, linen mix, denim, cardigan, a zip up or even just a pretty pashmina. Whichever you need provides a coverup for the evening or excursions!
Your choice of bottoms could be jeans, lightweight pants, cut-offs, shorts or even a creasefree skirt.   
If jeans are too heavy for travel you might prefer a lighterweight chambray or a linen mix. Although jeans are traditionally considered casual, dark toned classic jeans have been promoted to 'smart casual' and will take you to all but the classiest establishment. Denim blue is now considered a neutral color and fits in with the 'navy' theme.  
Keep packing to a minimum - just 8 items
3 items of travel clothes means that you'll need to pack just 8 items to give you at least 16 outfits. More than 2 different outfits for every day!    
swimsuit
shorts
sun dress
dress for evening
white pants or skirt
3 tops
sandals silver/gold
If you have sunshine you'll need little more than shorts or a pretty beach dress over your swimsuit to take you to lunch. 
Mix and match your separates (see below) giving plenty of choice for excursions, afternoons, cocktail time or dinner. With a more elegant dress available for special events.    
Packing just 8 items means there's space left over for essential underwear and a couple of brighter lightweight tanks or sun tops to ring the changes in your own colorway. 

Personalize with your own color splash

Navy is part of every color palette so you can introduce a bright splash for accessories.  
Adding a small cluster of color extends your navy holiday capsule. For the scrap of space it takes to add one extra tank, you get 3 additional outfits! Choose a bright color from your own palette for bag, scarf, necklace perhaps.
For Cool coloring a touch of bright pink, jade or purple perks up the netural navy holiday capsule. For Warm coloring you might choose a striking orange or coral mixed with turquoise or teal. 
Metallic always boosts a look so silver or gold sandals and a little clutch bag will brighten up your evening outfit.  

Shop Navy Holiday Capsule
Don't get hung about matching shades...
Don't get hung up about matching shades because navy is the most easy-going and useful of the neutrals. It's easy to co-ordinate and can be worn with just about every other color!
A soft marine blue through to the strongest almost black/blue navy, light denim through to the deepest indigo - a change of fabric gives a change of texture and all the colors sit happily together.

It's certainly earned it's place as a leader in the fashion stakes because of it's many different guises and variations. 
 Navy for Autumn and Winter

Although it's often neglected as an Autumn/Winter color, it was featured strongly in designer collections in both New York and London this last season.  
So any Closet Staples that you add to your wardrobe during the Spring/Summer months can be expected to continue to earn their keep and keep on working for you right through the year.

Homepage >> Navy Holiday Capsule