What is a Natural makeup?

A Natural Makeup look is timeless, elegant, relatively simple and will always allow you to look your best. It allows you to look like YOU - only better!

In spite of the sheer extent of cosmetic products on the market today, you might be amazed to know just how many women lack confidence when applying makeup.
Whatever your age, if you're one of the many women who would like some help I suggest some inexpensive products all available from Amazon.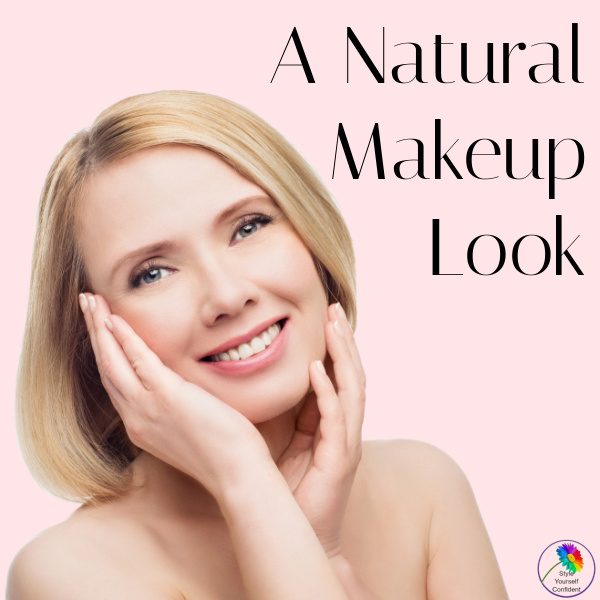 A natural makeup takes minutes

The majority of magazine articles are concerned with the dramatic, the exotic and the unconventional, rather than the basic techniques which allow you to achieve a natural makeup. 
There's no mystique to applying cosmetics and there's no reason why you can't embrace a soft and natural makeup in 5 minutes flat. A few minutes enables every woman to look more attractive and it can become your go-to in no time.  
If you know your color family or at least know your skin tone, then choosing your makeup colors will be a breeze. 
Not sure? then decide whether you are Warm or Cool. Get the colors right and you'll only ever need one set of cosmetics to harmonize with everything you wear. You'll never have to buy a lipstick to match a new dress ever again.
Step 1 - Prime your face
With any makeup look, it's the best move is to use a makeup primer which evens out your skin and prepares it for foundation to last all day long.
Apply a primer base to give your skin an all-over natural glow.  
Step 2 - Create flawless skin
Once you've applied your makeup primer, you want to create the impression of flawless skin, while at the same time not advertising the fact that you're wearing a full face of makeup.
A moisturising foundation with staying power will give your skin a medium all day coverage with a glowing finish. 
Step 3 - Define your features
Continue the natural makeup look by defining your features. Shake off any excess powder on the back of your hands so as not to apply too heavily.  Rimmel
A bronzer applied gently to the hollows of your cheeks, temples and jawline will give your skin a sun-kissed look. Then dip your brush in a neutral blush and apply lightly from your cheekbones in a upswept C shape to level with your eyes. L'oreal
Step 4 - Define your brows
It's essential to define your brows lightly as they frame the face.
All you need to do is tidy them and lightly fill in your arches with a soft pencil. 

Step 5 - Add eye shadow
Give your eyes a natural pop. Avoid glittery eye shadows, matte shadows are more natural and easier to blend. 
A nude eye shadow all over your lid provides a base color ready to add some depth. Choose a medium matte brown shade to the outer corner of your eye and the crease line. Blend the colors until evenly blended.   
Step 6 - Line your eyes
Keep any eye liner simple with a thin pencil line on the outer half of your upper lid. 
If you find that idea harsh then smudge a little deeper eye shadow close to the lashes on the outer half of your eyelid.  
Step 8 - Apply your lipstick
To complete your natural makeup look, you'll want to use a lipstick that is not too far off from your natural lip shade. L'Oreal Color Riche lipstick in Greige Amoreux is moisture rich and looks very natural.  
Step 9 - Set your makeup
Now that your natural makeup look is complete, it's a great idea to use a setting spray to make sure your look lasts. Rimmel Lasting Finish Fix and Go does the job admirably. 
Allow 'Your Style' to visit you!
The latest features on Color Analysis, Body Shape and Style to your Inbox, twice monthly.
Plus a Free copy of my book 'Shortcut to Style', it works for you, whatever your age shape or size! 
Pamela x
Sitemap or locate all features relating to...
Homepage >> Makeup tips >> Natural Makeup