Mauritius Magic
I promised you a little Mauritius magic after our trip to this tropical idyll before Christmas. My love of this beautiful island runs deep and, as it's named specially for my husband (!), Maurice thinks it's his spiritual home!   
Mauritius sits in the turquoise Indian Ocean, about 1200 miles off the coast of South East Africa, and it's worth every minute of the whopping 12 hours it takes to fly. 
History and Religion
Surprisingly, until 1507 when the Portuguese arrived, there were no humans on Mauritius. Due to it's volcanic origin and isolation there were no land-based mammals which allowed the evolution of large flightless birds and reptiles. The arrival of humans brought rapid destruction of habitat and the Dodo, unique to Mauritius, became extinct. It's still home to some of the world's rarest plants and animals. 
Due to colonization and even slavery over the years, Mauritius is a melting pot of race, ethnicity, language and faiths as people have arrived from Africa, India, Europe and Asia. 

Hinduism is the main religion followed by Christianity (mainly Catholicism); also  Muslims and Buddhists. The Mauritian magic extends to the rare ability of these diverse people to live in peace and harmony, sharing and respecting the festivals and beliefs of their neighbours. Everyone equally celebrates Christmas and Diwali! 
The Mauritian smile is wide and welcoming, they're proud of their island. It's ranked as the most peaceful African country with free education and healthcare, and is one of the most developed economies in the African region.

Beaches and Watersports
The white beaches, turquoise seas, swaying palm trees and protected coral reefs are dazzling and plentiful and the climate is .. well.. it's just soft and balmy with just enough breeze, never too hot! 
Although beaches are attached to the big hotels, unlike many countries, all the public beaches are well maintained with facilities like toilets and parking. Sadly, we noticed on this trip that coastal erosion is more evident in the south eastern corner of the island and in some places sea walls are being raised.
I'm a Pisces and yet I hate the water so the plentiful choice of watersports and boat trips are never on my agenda - until now! Maurice was keen so I took my life in my hands and agreed to the 'boat'; the best holiday decision I've ever made. 
We had a full and incredible day out on a Belinda Boat Tour (phew) with two holiday friends; visiting the chattering macaque monkeys in the jungle trees that come right down to the waterside; the prettiest waterfalls, took in a couple of scenic islands, and the others snorkelled off the boat before we had a splendid lunch of lobster and 'champagne' on another deserted island!  
But best of all we were privileged to share our space with a pod of dolphins (the collective term). They were so close and actually I found it really quite emotional, something I never thought I'd get to see! 
Hospitality and tourism
We've found the same Mauritius magic in 3 different hotels and I'm thrilled to say we're going again later in the year. We're getting older and feel we must make the most of good health to travel while we can.
Tourism is important to this island nation and the hospitality and hotels are world class with a warm personal touch. The food is multi-cultural and delicious - a blend of Creole, Chinese, European (mostly French) and Indian influences. 
As with the rest of the world, Mauritius tourism was severely hit by Covid but they sensibly kept the borders closed to limit problems. It was 2 years since we'd taken a vacation and, although we weren't sure whether it would happen, decided that this was where we would feel safest. As it happened we arrived just before the Omicron variant and the rules changed again while we were away! 
We stayed at The Residence in Belle Mare, an established colonial style hotel, who kindly arranged a local doctor to visit for the tourists who needed tests to travel home. 
What is there to see?
It's easy and inexpensive to book a local driver and car to see the sites, your driver will also be a wealth of information. Language is easy too, French or English although the locals mainly speak Creole.  
The landscape, designed by the 'forces of nature', has strangely shaped mountains, waterfalls, gorges, and Crater Lake in the dormant volcano. The colored earths of Chamarel is a 'geological oddity' where volcanic ash has settled into 7 clearly defined layers. 
We're not wild about city visiting but the capital Port Louis, a modern city with a colonial feel, is worth a trip merely to take photos of Umbrella Street. You'll find everything there from colorful local markets to top designer shops. 
The Sacred Lake and temple at Grand Bassin is one of the most important Hindu pilgramage sites outside India. Followers offer gifts but all visitors are welcome to enter and receive a blessing. Offering fruit to the monkeys around the lake is part of the devotions too, they must eat their weight in bananas every day! 
What to wear in Mauritius
Mode of dress in Mauritius is quite laid back but most hotels and restaurants will have a dress code for the restaurants. Smart casual will always work, just ensure that beachwear stays on the beach.
As we're cold most of the time in the UK, most of my holiday wear goes from year to year. During the daytime I like an easy beach type dress to cover a swimsuit, most of mine I've had for years. And for the evening lightweight summer dresses, long pants or jumpsuits are quite dressy enough, again I've had them for ages.  
Men are expected to wear long trousers in hotels in the evening. 
This year I treated myself to a Miracle swimsuit, which I've discussed before in Flattering Swimwear. Take a second look because they really do what they say on the tin - I looked and felt '10 lbs lighter in 10 seconds'. 
To be perfectly honest, it takes a bit of wriggling into so let's make that 20 seconds!!
I love MAURITIUS!!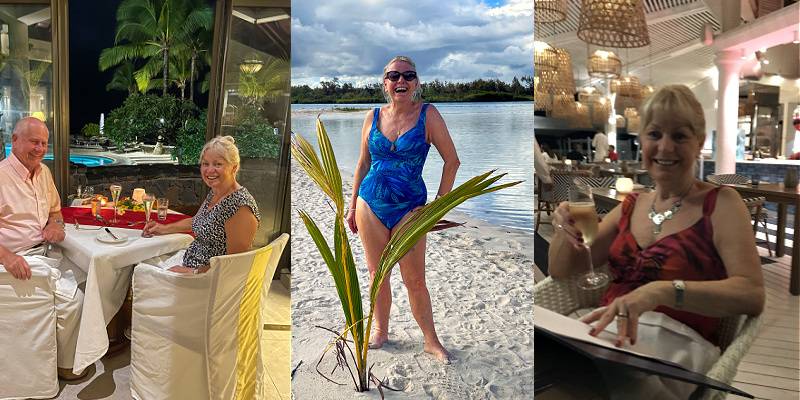 There is no sponsorship attached to any comment in this article
Allow 'Your Style' to visit you!
The latest features on Color Analysis, Body Shape and Style to your Inbox, twice monthly.
Plus a Free copy of my book 'Shortcut to Style', it works for you, whatever your age shape or size! 
Pamela x
Sitemap or locate all features relating to...
Homepage >> Mauritius Magic