How to choose flattering swimwear

Do you know how to select the most flattering swimwear for your body shape?
Center your thoughts on what would make you feel most confident.
Look for a swimsuit that flatters your best figure points and draws the eye away from the bits you'd rather hide.
If you know your Body Type follow my styling tips to minimize where necessary and maximize your assets. 
But, most importantly, when you're baring all (or nearly!), disregard what's supposed to be in fashion and concentrate on finding a look that makes you feel comfortable and look fabulous!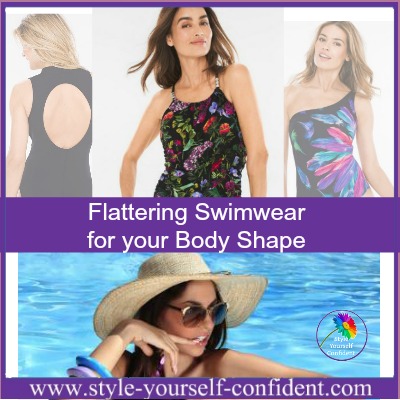 Flattering swimwear should be top of your holiday list...

When you're planning a holiday that involves any kind of swimming, whether it's beach, cruise or even a spa visit, ensure that figure flattering swimwear tops the packing list.
You've got nowhere to hide with swimwear and the ability to relax takes confidence.
Fun and fashion can follow as you dress up your swimwear with a pretty coverup and fabulous accessories.
Wherever you are...

Chicos.com in the US have a fabulous range of eye-catching swimwear and coverups to take you from beach to bar. They ship to many overseas countries.  
A fuller figure? then you can't beat Nordstrom's for the wide selection of Miraclesuits. The motto is '10 lbs lighter in 10 seconds' - sounds good to me.
If you're in the UK then Marks and Spencer's have a wide range of swimsuits called Secret Slimming with tummy control. Top them elegantly with a maxi dress, sarong or, my choice this season, wide legged pants. 
The main things to consider

Flattering swimwear for every figure...

Draw attention to the top of your body.

Accentuate the bustline with pre-shaped or padded cups and wide apart shoulder straps to create a pretty cleavage. If you need additional padding choose under-wired.
Wear light or bright colors at the top and choose a darker tone for the bottom half to slim your hips. 
If your top and bottom are different sizes then a tankini gives the same kind of flexibility as a bikini but with more coverage. 
You can also buy a deeper pant with more tummy control.

Avoid halter necks which will narrow your shoulder line and accentuate your hips.
Long body - swimsuits too short
Find swimsuits too short in the body? Then a tankini as mentioned above is the perfect comfortable solution.
Straight body with little waist definition
Add some feminine curves and softness to a straight figure - rounded patterns and prints mould the figure and accentuate shape.
This swimsuit adds shape and enhances the bust area and the waist is gently sculpted. 
You're likely to have very good legs, show them off with a high leg line.

Broad shoulders, good legs and an athletic looking figure - perfect for showing off in a swimsuit.
Choose wider shoulder straps to balance the figure, thin straps will make the shoulders look wider still.
Turn heads without being overtly revealing with this striking and unusual cut-out on the back of this swimsuit  

I have a SLENDER FIGURE
Wow! We all envy you ... You have the beach figure we all want.
But sometimes you might feel just a little 'too slender'. The brilliant colors on this striking swimsuit add movement, shape and curves.
You could also add frills and ruffles, or for bust definition choose underwired or padded bras. 

A heavy bust doesn't always go with a full figure but needs good support so choose a swimsuit that comes in cup sizes just like choosing a bra - this one goes up to 40G.


This pretty printed swimsuit is specifically designed with a fuller cup for comfort and confidence.

With Secret Slimming and a hidden shaping panel, your curves are gently controlled with ultra-light fabric. Added stretch ensures that this pretty swimsuit will work with your figure to keep you comfortable throughout the day. 

I have a full figure

The pretty design above from Marks and Spencer goes up to a size 28 and offers incredible comfort and a trim silhouette for ladies with a curvier figure.
Worried about your hips and A skirted swimsuit takes the emphasis off

Miraclesuit professes to take 10 lbs off in 10 seconds! Look for diagonal prints, wrap over styles, both of which take the eye across the body to slenderize.  
Something more discreet?

You don't have a full figure but you'd like a little control around the hip and thigh area together with a tad more coverage?
A softly skirted Swimdress is the answer with a panel in front for tummy control.
This is an elegant but discreet style to give you additional confidence. 

Finding all articles relating to:

Like this Website?
Please share your Comments...
Homepage >> Summer Style Tips >> How to choose Flattering Swimwear