Flattering swimwear

Make it no. 1 on your list!
Whether it's a vacation, staycation or the local splash pool, flattering swimwear is a MUST when you're older!
Swimwear is always top of my list when packing for holiday/vacation. Not that I'm a swim junkie (completely the opposite) but, like most of us, I am at my most vulnerable when I'm baring or nearly baring all.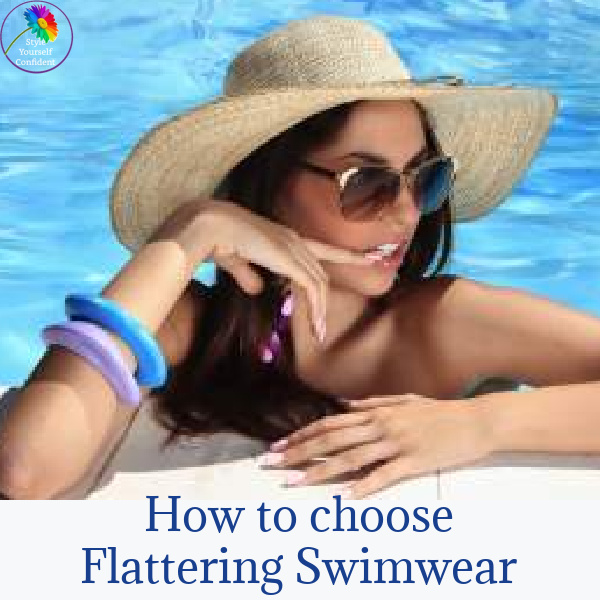 Flattering swimwear should be top of your list

Whether you're lucky enough to be holidaying this year, sharing a pool with friends or just using your local facility, spend your money on the best swimwear to flatter your figure. Once you feel confident with your look you can relax and enjoy! 
Forget what's in fashion - it's important to work with your body shape to accentuate your assets and draw the eye away from any part of your figure that concerns you. 
Fun and fashion can follow as you dress up your swimwear with a pretty coverup and fabulous accessories so you can sashay elegantly after your dip! 

Miraclesuit Swimwear

In the past I've worn the tummy control swimsuits from Marks and Spencers but the styles aren't good anymore and my figure needs more help!
I've been looking closely at the Miraclesuit Swimwear which is now available both sides of the Atlantic. The slogan and the amazing reviews work for me:
Look 10 pounds lighter in 10 seconds! 

Yes they are expensive but Miraclesuit is the best-selling swimwear brand for women of all shapes and sizes. The fit, form and function comes from the exclusive fabric which delivers 3 times the control of other swimwear fabrics - plus an innovative bra support system. 
These miracle swimsuits disappear fast - shop early at: 
MIRACLESUIT SWIMWEAR from Nordstrom will give you a wide selection of styles.
AMAZON you may find different sizes and a bargain.  
AMAZON great for a wide style range of tankini bottoms.  
What's the best shape for you?
Small Bust / Pear Shape

Draw attention to the top of your body.

Accentuate the bustline with pre-shaped or padded cups and wide apart shoulder straps for a pretty cleavage. If you need additional padding choose under-wired.
Tummy control will help to control your hips/tummy and the cross-over style accentuates your more slender waist.   
Avoid halter necks which will narrow your shoulder line and accentuate your hips.
Midriff bulge / Muffin top

A swimsuit with detachable straps is usually cut much higher at the back which controls any back fat and completely eliminate a muffin top.
The centre panel in this one-piece creates a slimming optical illusion.
Don't forget you can easily add the straps for more confidence.  
Straight body little waist
Add some feminine curves and softness to a straight figure - rounded patterns and prints mould the figure and accentuate shape.
This swimsuit adds shape and enhances the bust area and the waist is gently sculpted. 
You're likely to have very good legs, show them off with a high leg line.

Broad Shoulders
Broad shoulders, good legs and an athletic looking figure - perfect for showing off in a swimsuit.
Wider and more widely spaced shoulder straps are in balance with the wider shoulders. Thin spaghetti straps would make them look wider still!
Avoid halter necks which will accentuate the shoulders.

Long body
If your top and bottom are different sizes then a tankini gives the same kind of flexibility as a bikini but with more coverage.
If you find swimsuits too short in the body this is a comfortable solution. 
This surplice tankini top has undewired 'sized' cups, a swingy shape and smooth fabric that beautifully flatters the figure with less restriction. 
Tankini Bottoms
Tankini bottoms comes in various styles for whatever amount of coverage that makes you feel comfortable - from a basic waist high bikini bottom to a swimskirt.  
Smoothes out the stomach and provides a solid base for any type of top with tummy control spandex to lengthen your torso.  
One pair of bottoms, which are extremely quick-drying, could team with a couple of different colored tops allowing you to mix and match
What to consider...so you know what to choose
Homepage >> Summer Style Tips >> How to choose Flattering Swimwear