Find your CAPSULE!

Everyone is talking about building a wardrobe but let's turn this on it's head.
A much more sensible approach is to just FIND YOUR CAPSULE.
When we hear that most women wear 20% of their wardrobe 80% of the time, building a capsule wardrobe sounds exactly what most of us ought to be doing! 
For some reason, the actual concept of putting it together and sorting though the mass of things that we've collected, manages to allude us.
Building always suggests starting at the beginning. Not only is that virtually impossible for most of us but it also suggests that what you already have in your wardrobe is wrong.
Once we think about it sensibly and sort through the 'detritus' in the closet, it's easy to pinpoint the clothes that you really choose to wear most of the time.

What you have is not wrong...

What you have in your wardrobe is not wrong.
At some time or other you bought clothes because you liked them or you needed them.
You might have lost your way with some items, some will be out of date, some won't fit, some you'll be really tired of - but in the middle of this sits YOUR CAPSULE.
Your capsule consists of the clothes you choose or need to wear more than any others.
The real work horse items that you couldn't live without: your most comfortable pair of jeans; the dress that takes you from a wedding to a funeral; the top that lifts your spirits; the bargain bag that makes your outfit look more expensive than it is.
Whatever it is that makes you feel appropriate or works for the occasion.
A capsule wardrobe doesn't have to be...
You see a capsule wardrobe doesn't have to be a cleverly put together collection that includes a white shirt, a little black dress and a trench coat!
12 items may work cleverly on paper but they may not be the most useful for you and your lifestyle. And the most used items you've discovered in your wardrobe will probably be entirely different to the list that you are 'supposed' to need - it's different for each of us.
Your clothes don't have to fit into a pattern, they only have to work for you.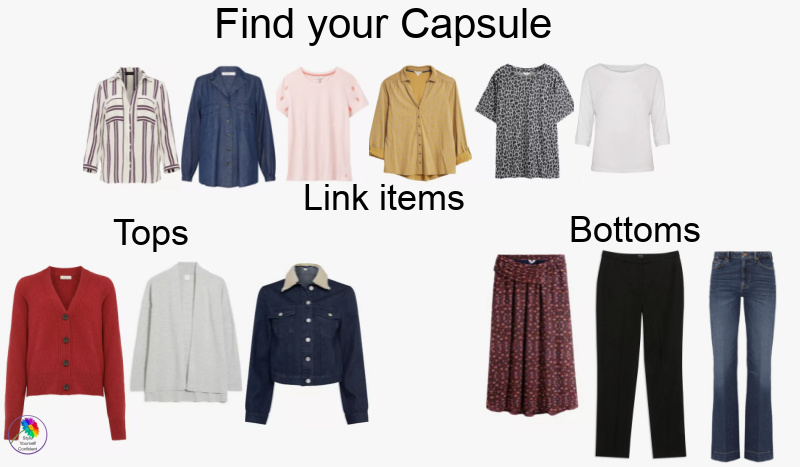 How to FIND your capsule...
Whatever your lifestyle, home based, professional or retired, whether or not you've had a wardrobe tidy, ask yourself a few basic questions.
Regardless of condition, which garment do I wear the most?
Getting up late on Monday morning what kind of outfit is my go-to?
What sort of clothing do I have the most of in my wardrobe? 
What one item (clothes or accessory) do I include nearly every day?
Am I happiest wearing a skirt, trousers, jeans or a dress?

What kind of outfit always gives me confidence?
The answers to these simple questions will enable you to hone in on the core items that form the base of most of your outfits. These items work on a comfort level and they're appropriate for your lifestyle.
You've begun to pinpoint your personal uniform – your personal style.  Your wardrobe has narrowed to a look that somehow WORKS!  Perhaps it's the most comfortable or perhaps it's just the right uniform for your lifestyle!
Your basics really are...

The go-to items you're looking for really are basics...

jackets or cardigan jackets you can't live without
a versatile dress that can be used throughout the seasons

a coat, cape or wrap that covers up and goes with everything
basics tees etc. are next on the list, they're not really the wardrobe essentials basics but 'LINK' items that turn items into outfits!

You'll probably find that most of these garments are in neutral colors - beige, brown, grey, navy or black - that's why neutrals form the backbone of everyone's wardrobe.
A capsule wardrobe plan is amazing because it gives you inspiration to put these 'oh so boring basics' of yours to the test and enlarge them into a working wardrobe.
Clever styling is something that's rarely born into us but it is something that can be learnt!

It's not wrong to feel in a style rut...

It's not wrong to feel in style rut and be dissatisfied with the core items in your wardrobe - because this is only the beginning!
You can replace and upgrade core items; you can look for a more flattering silhouette for your figure; you can add link items to bring basics to life; you can add color – you've found your foundation pieces - you've found your CAPSULE!
Homepage >> Your Wardrobe >> Find your Capsule