Find your CAPSULE!

Instead of talking about building a wardrobe, why not just FIND YOUR CAPSULE.
Turning it on it's head is a much more sensible approach! 
We know most women wear 20% of their clothes 80% of the time so a capsule wardrobe sounds what most of us ought to be heading towards! 
But for some reason the actual concept manages to allude us.
Building always suggests starting at the beginning. Not only is that virtually impossible for most of us but it also suggests that what you have in your wardrobe is wrong.
What you have in your wardrobe is NOT WRONG, at some time or other you bought clothes because you liked them or you needed them.
Let's take a look in your wardrobe...

Let's think clearly and take a look in your wardrobe to find your capsule.   
You'll have lost your way with some items, some are out of date, some won't fit, some you'll be really tired of - but in the middle of this sits YOUR CAPSULE, the clothes you choose or need to wear more than any others.
What items do you repeatedly wear, what are the real workhorse items you couldn't live without? Probably a comfortable pair of jeans; the dress that takes you from a wedding to a funeral; the top that lifts your spirits; the bargain bag that always makes your outfit look more expensive...
If you wear the same things repeatedly there's a very good reason - these are the items that fit you and suit your lifestyle, these are the items that encapsulate your PERSONAL STYLE!
A capsule wardrobe doesn't have to be...
A capsule wardrobe doesn't have to be a cleverly put together collection of a white shirt, a little black dress and a trench coat! 12 items of classics may work cleverly on paper but they may not be the most useful for you and your lifestyle.
Your most used items will probably be entirely different to the list that you are 'supposed' to need - it's different for each of us.
Your clothes don't have to fit into a pattern, they only have to work for you.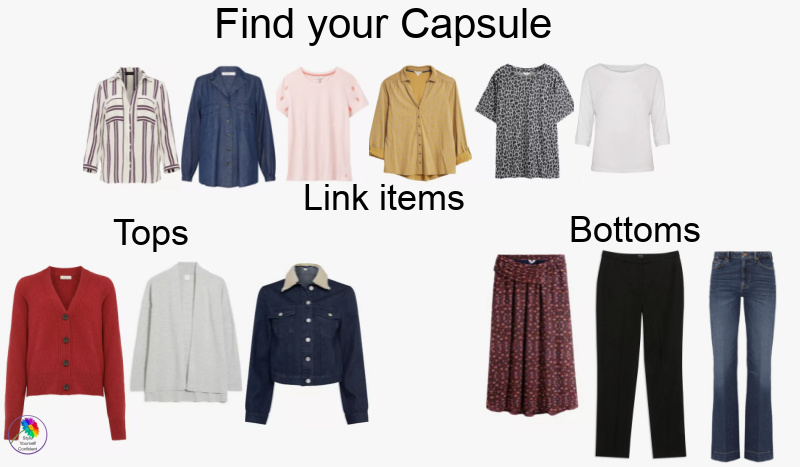 How to FIND your capsule...
Whatever your lifestyle, home based, professional or retired, ask yourself a few basic questions.
Regardless of condition, which garment do I wear the most?
Getting up late on Monday morning what do I grab as a go-to?
What sort of clothing do I have the most of in my wardrobe? 
What one item (clothes or accessory) do I include nearly every day?
Am I happiest wearing a skirt, trousers, jeans or a dress?

What kind of outfit always gives me confidence?
The answers to these simple questions will enable you to hone in on the core items that form the base of most of your outfits. These items work on a comfort level and they're appropriate to your lifestyle.
Isolate these items because this shows you the look that works for you. Perhaps it's the most comfortable or perhaps it's just the right uniform for your lifestyle!
So what have you found?

When you've begun to pick out what you consider to be your most-worn pieces hang them altogether. Then slightly separate them into two sections: 
Wardrobe Essentials
dresses/jumpsuits
skirts and/or pants
cardigans and jackets
coats, trench coat etc.

Link items
tops, tees, blouses, jumpers
accessories

If you have dresses and jumpsuits they are very easy to wear as they need no co-ordination. You might like to dress them up with a belt or jewelry but they need little thought.
Separates, however, need a little more thought but will give you far more mileage as you can wear them in many different ways. 

Most of your separates are likely to be in neutral shades because you've been mixing them with different colors. Neutrals like beige, brown, grey, navy and black form the backbone of most wardrobes because they're so useful. 

Your link items may be neutrals, colors or prints and are used to link the main separates together.

Not much there! Feel in a style rut?

Feel you don't have much to work with, don't worry about it. You've taken the first step towards finding your capsule and recognizing your PERSONAL STYLE! It's not wrong to feel in style rut and be dissatisfied with the core items in your wardrobe - because this is only the beginning!
You've stripped it back now it's time to begin putting together again

Take your favorite item from the separates and put together an outfit using another piece of separates and a link item. Look for an accessory to dress it up a little, perhaps a belt or a scarf.

This is obviously your favorite outfit. 

Using the same two separates see how many other link items you can substitute to make a different look. 

Take each separate in turn and see how many different outfits you can make from your isolated wardrobe essentials.

As you continue to make outfits be open to other items in your wardrobe you could bring into play.
Before long you will have created enough outfits for your first week of wear.

When you've made 4 or 5 outfits, you have actually created a basic CAPSULE WARDROBE. 

Start to make NOTES
As you put outfits together and find your capsule you may see glaringly huge gaps in your collection. You've pared it down finely so focus on the real essentials that you need. It's often something as simple as an ivory/white or black top that will bring separates together.
Make a note so that when you see what you need at the right price you take advantage. Perhaps it's a particular color top to complete an outfit or an animal print belt to add some panache.
If the weather is changing you may need warm cardigans or long sleeved tops. Do you have a sensible coat or good boots to take you into the Winter?
If some of your current clothes are less than perfect you can plan to replace and upgrade core items. This will give you the opportunity to look for a better fit or a more flattering silhouette.
Add link items to bring basics to life; add color, add accessories, up your style – once you've found your foundation pieces - you've found your CAPSULE!
What to do and what not to do!

The ideal scenario is to buy sensibly items that will always fit in with your current wardrobe. 
But the joy of life is such that sometimes we can be women and RECKLESS!  Enjoy! 

Homepage >> Your Wardrobe >> Find your Capsule