Facial Hair Remover - discreet and painfree

Most women don't talk about facial hair removers! In fact, it's the sort of thing that's rarely mentioned even between the best of friends.
Facial hair can be a severe problem for some women and I'm certainly not equipped to give advice in that direction. But for the majority of us it's wispy hairs that, like mushrooms, spring up overnight and regular facial down. 
Not earth-shatteringly terrible but...
Not earth-shatteringly terrible but, nonetheless, it's annoying and it can be embarrassing. 
I've found the most discreet and inexpensive little product that solves the problem at a stroke.
What happens to your eyebrows when you get older? I'm convinced they fall out and take root on your chin!
All is revealed...

I was handed a mirror in the dentist's chair just as the sun streamed through the window and, forget the teeth, I was aghast at the amount of straggly facial and neck hair it showed up.
A pair of quality precision tweezers live on my dressing table and, although I don't bother every day, if I'm going out I make sure I walk to the window with my magnifying mirror to ensure that there are no straggly hairs on my chin or upper lip.
But seeing the full extent of the hair highlighted by the sunshine was a shock!
Time for action...
I quickly bought a small facial hair remover from a local store but it was so painful there was no way I could use it. And because it's not a thing that I've talked to friends about, I was beginning to think there was no alternative to the very expensive No-No product and I certainly wasn't in the market for that kind of expense. 
Sometimes daughters know best...
Fortunately, before going to Las Vegas for Vicki's wedding one of my daugheters said "Mum you really need to do something about the down on your face". Haha, sitting in the sunshine again I suspect - I was very much on a back foot!
Even at their age they were more enlightened than me and 'down free' - one had recommended the Anjou to the other. I explained about the painful one I had at home and they both assured me that this was the one to buy, no discomfort at all!
So instead of wasting any more money, I was able to immediately hone in on a product I knew worked. At half the price of the first one I tried!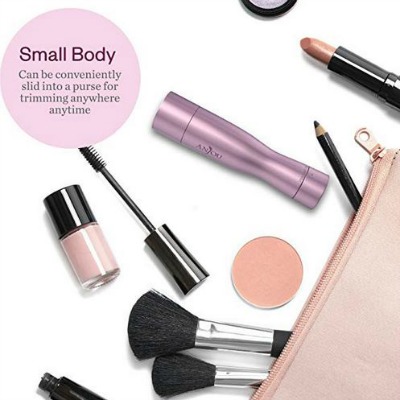 I bought the Anjou and never looked back...

The Anjou facial hair remover is safe, painless and effective for removing even tiny hairs from the cheeks, lips, chin and neck leaving a perfectly smooth surface. There's a built-in light and it glides over the skin with no pulling and, I promise you, absolutely no pain! Vicki even uses it on her arms. 

It's small and discreet, pops into your makeup bag and costs just £12.99 from Amazon.
I didwonder whether stubble would appear but, no, facial down grows naturally again after a while but it's not necessary to repeat frequently. Yes, I still use quality tweezers for the odd longer hair but I now have the best of both worlds and no embarrassment.
I am not being paid or gifted to write about this product, just something I think you might appreciate. 

History repeating itself...
When my mother's eyesight began to fail, she used to ask me to check her chin for stray hairs and I would oblige, not realizing how important it was to her. I've told my daughters that if they ever leave me with a hairy chin I will disinherit them!

Return to Top of Page
Homepage >>Good Grooming >> facial hair remover