Eye Makeup for the mature woman

The change in elasticity and texture of the skin post menopause often means that makeup for the mature woman, eye makeup in particular, needs to be chosen and applied more carefully. 

Although we have to be constantly aware of diet, weight and exercise, a good eye makeup is an INSTANT lift to look and feel younger and more attractive!!
Today I'm pleased to bring you 4 eye makeup tips especially for the mature woman.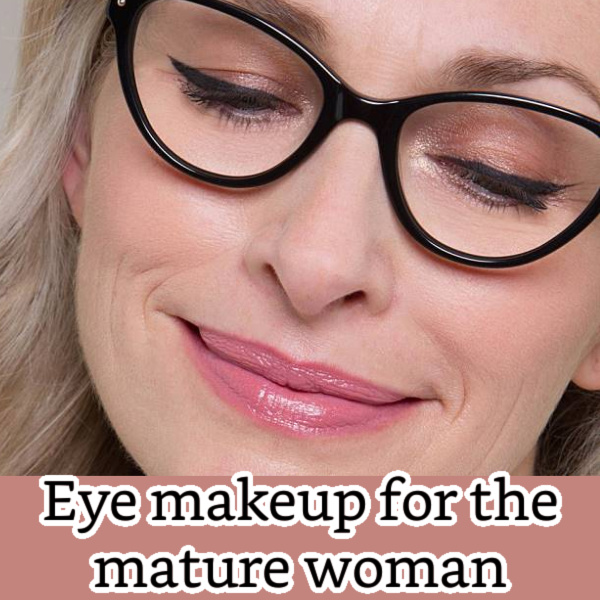 1. The formula of your Concealer matters...
You may not think that concealer is part of your eye makeup routine but it's an essential once you're in your 40's. Think of it as an airbrush filter in a bottle that can make you look younger by:

Instantly brightening undereye circles
Hiding age spots, sunspots, and other unwelcome pigmentation
Reducing the appearance of fine lines and wrinkles.
However, with mature skin not any old concealer will do. Look for a product specially formulated to provide adequate coverage without exacerbating or accentuating dryness or fine lines. 
Choose a creamy formula containing moisturizing ingredients to counteract the lack of moisture that comes with aging skin. The hydrating properties will help decrease the appearance of lines and hyperpigmentation. 
Best for full coverage:Hourglass Vanish Airbrush Concealer ($38)
Best for everyday use: L'Oréal Paris Infallible Full Wear Concealer ($16)
Best for budget: NYX Professional Makeup HD Photogenic Concealer Wand ($5)
2. Look for flattering Glasses Frames

Many women start wearing reading glasses once they reach middle age. 
Your eyeglasses should complement your eye makeup to give you a younger look so make sure you choose flattering frames. 
Larger frames, including aviator, cat-eye, and geometric, are the best frames to look for. They showcase your eye makeup and make your eyes look bigger and brighter.
The frames should bring balance to your face. For instance, if you have a more angular face, you will look best with rounder frames. Conversely, if you have a face with softer curves, consider eyewear with sharper lines, such as rectangular or geometric. 
Choose a glossy finish to enhance your eye makeup and fill your face with vibrancy. 
Mouqy makes it easy to choose the right frames with their Virtual Try-On feature. This feature allows you to try hundreds of glasses to see how they look on your face.
Best for everyday use: Mouqy Rosa glasses ($24)
Best for durability: Lensmart Odette ($20)
Best for lightweight: Eye Buy Direct Amity glasses ($29)
3. A Mascara that adds volume!
Just because you are more 'mature' it doesn't mean you have to stop wearing mascara. Use a volumizing product to keep your eyelashes looking gorgeous. Here are 3 tips:

Focus the mascara on your top lashes and only apply the minimum amount on the lower ones. Your aim should be to create upward-looking lashes that make you look fresh and young. 
Too much color on the lower lashes may make your eyes look droopy and tired. Moreover, mascara on your lower lashes will tend to flake and darken the area under your eyes, undoing the effect of your concealer. 
When applying mascara to your upper lashes, carefully ease the lashes out to make sure there are no lumps. 
Best for volumizing: Benefit Cosmetics "They're Real" Mascara ($14)
Best for everyday use: Honest Beauty Mascara + Lash Primer ($12)
Best for budget: Essence Lash Princess False Lash Effect Mascara ($5)

4. Bring your eyes to life with Eyeshadow!
Even if you choose not to add color, you should always prep your eyes with primer.   
A primer corrects and smooths the dullness of your lids and makes them look fresh and lively. It smoothes the lids before applying eyeshadow helping to prevent crease lines.  

Avoid dull eyeshadows that veer toward gray or brown on the eyelid as these will make your eyes look older and tired. Instead, opt for tones that create a feeling of light and warmth and make your eyes look well-rested. You may choose to add a little deeper tone in the crease line but apply sparingly.  
For a crease-free stunning look, pick an eyeshadow with a matte finish. Shimmer colors do not settle down well and tend to bring out crease lines.
Best for warm tones: ColourPop Eyeshadow Palette ($24)
Best for nude tones: Too Faced Born This Way The Natural Nudes Eye Shadow Palette ($39)
Best for everyday use: Maybelline Nudes For New York Makeup Palette ($14)
Final thoughts!
If you bring your eyes alive with the right concealer and a hint of color in the best places, there's no reason not to look younger and more attractive! Try the above makeup tips to see how they work on you.
Eye makeup tips contributed by Jennifer of Mouqy eyewear. 
Allow 'Your Style' to visit you!
The latest features on Color Analysis, Body Shape and Style to your Inbox, twice monthly.
Plus a Free copy of my book 'Shortcut to Style', it works for you, whatever your age shape or size! 
Pamela x
Sitemap or locate all features relating to...
Homepage >> Makeup Application >> Eyemakeup for the Mature Woman