You have DEEP tonal coloring
DEEP tonal coloring means that your strong deep coloring is the first thing we notice and you belong to the DEEP Color Family
 Your natural coloring:
is very strong almost exotic
your hair, eyes and skin tone are all well defined
this creates high contrast between your hair, eyebrows and skin tone
your skin tone can be from mid beige, through to olive or bronze
your eyes may be green, hazel or the deepest brown / black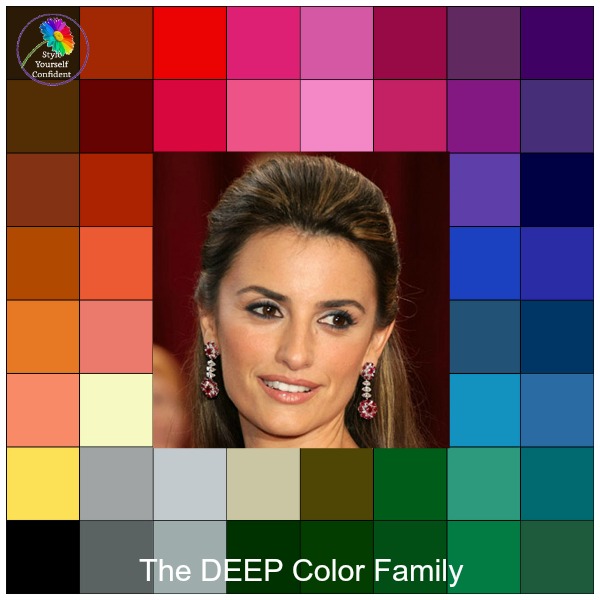 To look your best...

The DEEP Color Swatch includes the deepest tones from both AUTUMN and WINTER palettes
Colors that are pale, dull or wishy washy will not do your justice
When you wear these strong colors you will come to life!
Your best colors are:

Deep true red and Tomato Red

Strong Royal Blue and Cobalt

Hot Turquoise through the Deep Teal

Magenta and deep Burgundy
Emerald Green and Pine Green
Terracotta and deep Pumpkin
and your best neutrals are:

the strongest: Black, Charcoal Grey
Taupe and a Light True Grey for Summer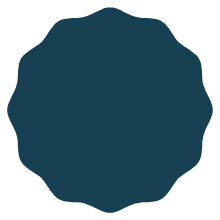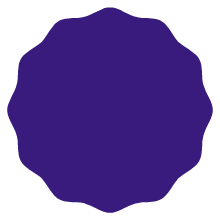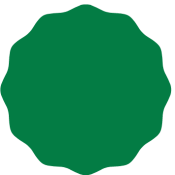 Neutrals form the backbone of your wardrobe - the investment pieces such as coats, jackets, trousers etc. shoes and bag, which will take you from season to season. Your brighter and lighter colors will co-ordinate with these basic garments.
How to visualize your DEEP colors
It can be difficult to visualize how the colors from your swatch come together in an outfit so for real visual inspiration take a look at the range from Kettlewell Colors whose fabulous colors bring your color swatch to life!
It would be easy to say that you are halfway between AUTUMN and WINTER but this is not strictly true. Although Deep is an element of both it is only the TRUE DEEP shades from each that are included in the DEEP color swatch.
But with elements of both Warm and Cool you will find many of your colors in the AUTUMN collection. 
If your coloring is stronger and more defined then the brighter and bolder shades will add to the vitality of your natural coloring - you'll find many of these colors in the WINTER palette.  

But of primary importance is always the DEPTH of the shade. 
Makeup and hair suggestions...

If you are greying, dark eyebrows will support a return to dark hair if you choose to color.

Some familiar faces with DEEP coloring

All you need to enjoy your DEEP colors...

The DEEP Color Brief £3.00
The Deep Color Brief is ready to download and print out with all the concise information you need to start wearing and enjoying your own Color Family - colors, makeup, hair etc.  
15 pages of information including DIGITAL COLOR SWATCH that can be on your Iphone or Ipad for shopping. Or you can make it into a mirror image of the fabric color swatch.

The Tonal Color Brief £6.00
Like to know more about Tonal Color Analysis? I show you an easy way to confirm your Color Family.

There are 45 colors for each Color Family - 60 pages in all.

Of course this isn't the equivalent of a professional Color Analsis but it's a concise reference to anyone interested in the subject - and comprehensive enough to be the starting point into the magical world of color.
| | |
| --- | --- |
| In the UK? Please use this button to purchase, post & packing £1.95 | Outside the UK? Please use this button to purchase, post & packing £5.45 |
The Free Color Analysis Quiz is a good guide
BUT if you'd like an indepth professional analysis choose Online Color Analysis for just £65.00
Like this Website?
Please share your Comments...
Homepage >> Color Analysis >> Deep color family >> Deep tonal coloring