You have DEEP tonal coloring
Your primary characteristic is DEEP which means that you belong to the DEEP Color Family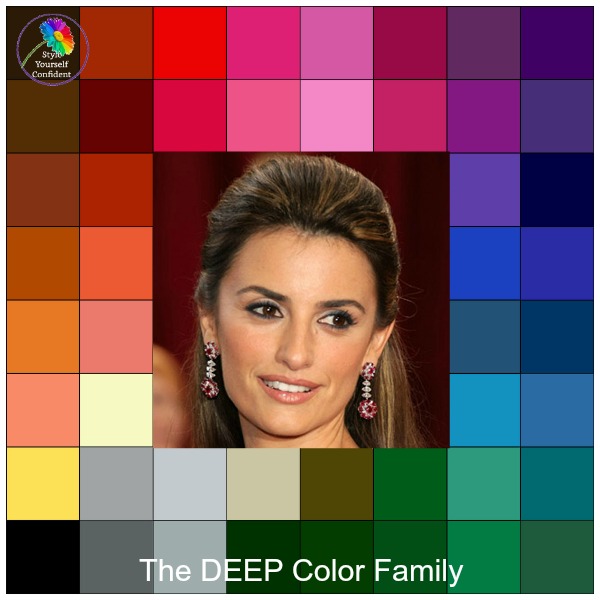 Deep tonal coloring is very strong almost exotic
Your hair, eyes and skin tone are all well defined creating high contrast between your hair, eyebrows and skin tone
Your skin tone can be from mid beige through to olive or bronze
Your eyes may be green, hazel or the deepest brown / black, always deep toned

Your best colors

You will probably feel an affinity with your new Color Family or, at least, with some of the colors because your natural coloring and your instincts are connected.
Wearing these colors will allow you to look your best and avoid wasting money on clothes that don't do you justice.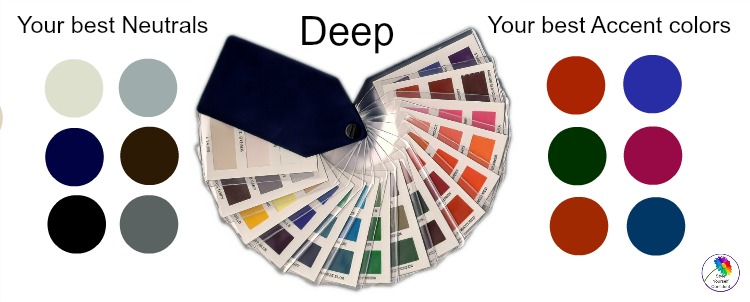 Carrying colors in your head is difficult and a fabric Color Swatch makes organizing a breeze and shopping a pleasure. Your choice won't be limited, on the contrary, between each color there are literally hundreds of shades and tones just like an artist's palette.
Why you should choose to wear DEEP colors
This harmony allows your coloring to shine and your coloring will come to life!

You can use this color palette to create a co-ordinated wardrobe
The DEEP color palette includes some Warm and Cool shades just as your own natural coloring

It includes just the TRUE DEEP shades from both the Autumn and Winter palettes eliminating the elements that are not needed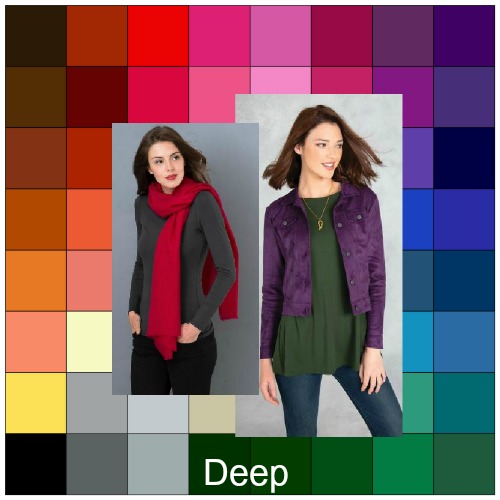 This doesn't mean that all the colors are 'dark' just that they have an intense color pigment
Colors that are pale, dull or wishy washy will not do your justice
Choose deep true red and tomato red; strong Royal blue and cobalt
Hot turquoise through to deep teal; emerald green and pine green
Magenta and deep burgundy; terracotta and deep pumpkin

Some familiar faces with DEEP tonal coloring

Neutrals

Neutrals form the backbone of your wardrobe - the investment pieces such as coats jackets, trousers etc. which take you from season to season

These colors are great for accessories too

Neutrals create the perfect foil for your strong accent colors
Your best neutrals are the strongest; black and charcoal gray
Darkest brown and deep navy blue
You can also effectively wear a light gray and the beautiful and classic taupe for warmer weather
How to wear your DEEP colors
It's difficult to visualize how an outfit should look. But your primary consideration is DEEP whether it is Warm or Cool. You can wear and enjoy all the colors in the DEEP color palette. 
You may recognize some of the colors in this palette as the TRUE DEEP colors from the Autumn palette.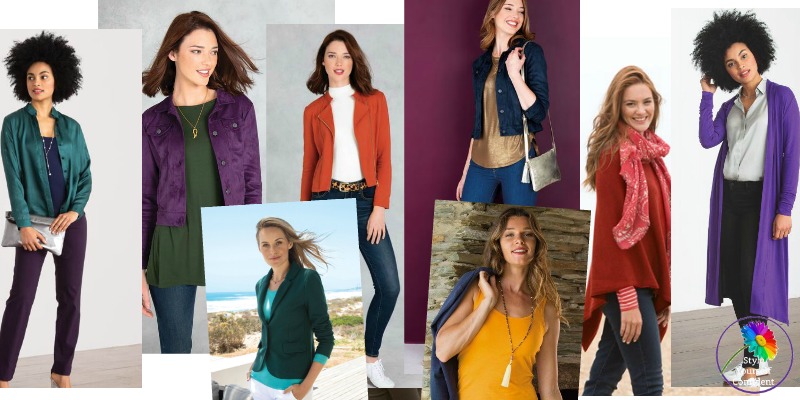 DEEP colors from the Autumn palette at Kettlewell Colours

If colors with more contrast appeal to you, you may recognize some of the TRUE DEEP colors from the Winter palette.
You are, however, able to wear and enjoy both. The most important characteristic is the intensity and saturation of the pigment to complement the depth of your natural coloring.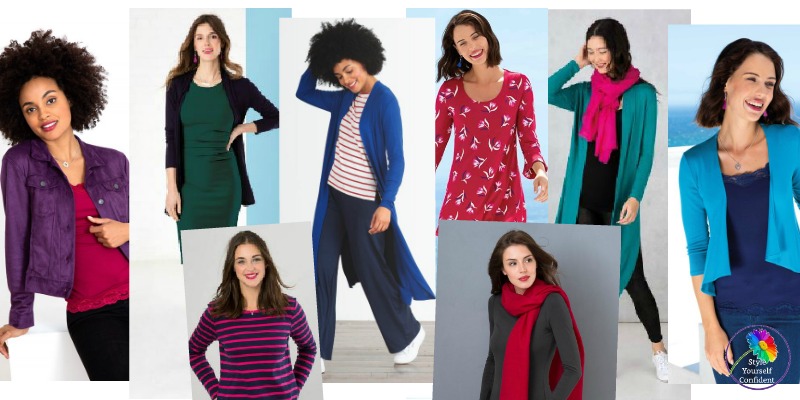 DEEP colors from the Winter palette at Kettlewell Colours

Makeup hair and jewelry

Most Deeps can wear both silver and gold tones effectively, whichever is kinder to your complexion.  Pearls are complementary to every complexion

All you need to enjoy your DEEP colors...

The DEEP Color Brief £3.00
Ready to download and print with all the information you need to wear and enjoy your Color Family - colors, makeup hair etc.
15 pages of information includes FREE DIGITAL COLOR SWATCH that can be on your Iphone or Ipad for shopping. Or you can make it into a mirror image of the fabric color swatch.
The TONAL Color Brief   £9.00

6 Tonal color families + swatches for the price of 3
You'll discover an easy wasy to identify your colors along with a concise and comprehensive reference to Tonal Color Analysis. 
A starting point into the magical world of Color!
There are 60 pages in all with 45 colors for each Color Family - ready to download and print.
In the UK? Please use this button to purchase, post & packing £1.95
Outside the UK? Please use this button to purchase, p & p £5.45
Homepage >> Color Analysis >> Deep color family >> Deep tonal coloring