Casual to Party wear real fast!

Life is hectic, need to take your usual look from casual to party real fast?

Whether you're celebrating at home this year, visiting family or just meeting friends straight from the office it's easy to crank up your style a notch with just a few simple changes or accessories.   

I've got some tips from a real expert - Claire Kennedy of Sewing Artistry - who offers her brilliant ideas on how to take plain to fancy - real fast!
Claire is an expert in sewing, fashion and design and teaches her very logical and straightforward methods both in person and online.
If you want to really learn about 'fit' or anything to do with creating your own 'couture' check out Sewing Artistry.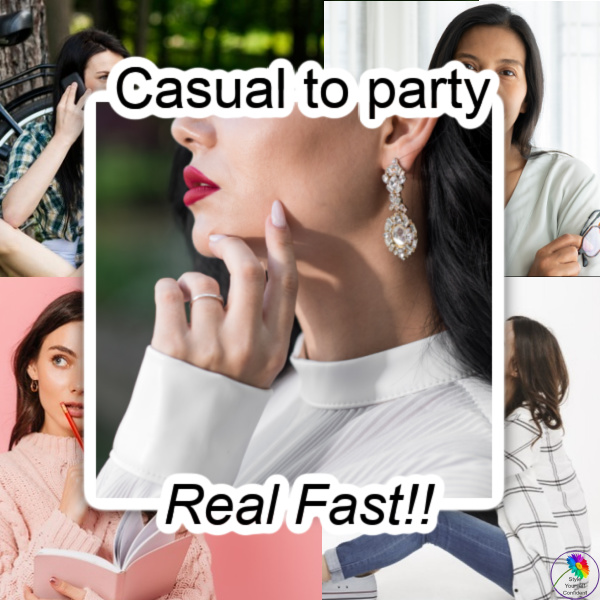 Casual to Party - Plain to fancy - real fast!

1  The LBD

Everyone needs a Little Black dress! It doesn't have to be black, of course, any simple classic dress in a solid color that suits you will do the trick. 

Wear a jacket or cardigan to the office and you're totally appropriate. Come 6 o'clock off comes the jacket, change your shoes and bag and you're ready to add some sparkle. A glamorous scarf, glitzy necklace and/or earrings or just a sparkly jacket and you're all set.
2  Changing out a co-ordinate

Wearing separates is so freeing - you can wear a classic top and bottom to work (skirt or pants) then exchange the top for a glitzy piece or a bright seasonal color. Choose a classic or more on-trend top - this year it's red, burgundy or a sumptuous velvet.  
Alternatively, you could just add a sparkly cardigan or jacket over the classics. 

3  Classic white shirt

A classic white shirt goes with everything during the day.
For evening work it as a longer top with pants - only if it's really long enough can you wear appropriately with leggings. 
White looks particularly good with shiny silver jewelry, dangly earrings or a long silver toned pendant; a special belt or even a beautiful velvet vest.

4  Soften your look

It's easy to change out a work top for one that's frilly or softer and show a little more skin. This always sets a more festive and party feeling to an outfit.
5  Add jewelry

Visit your local department store to do a Chanel-type search - longer chains with pearls; chokers (the older we get the clunkier we can get) and earrings that shine and are long. 
Whatever you do keep all your jewelry in proportion and follow style - that means if you elect to have a more demure necklace don't do chandelier earrings. If you have a clunky necklace go just as bold with the earrings (and I like clunky bracelets with this look too).  Allow your jewelry to balance.
6  Accessories 

Accessories, Accessories, Accessories - changing from the classic pump at work (or errand-running) to a great pair of red or other bright jewel-toned shoe (or even leopard skin) is a great way to dress up an outfit.
This goes for scarves and belts too, a change of purses and you're casual to party in no time.

Like this Website?
Please share your Comments...
Homepage >> Winter and Christmas Season >> Casual to party