Work Your Wardrobe 2

In Work Your Wardrobe Part 2, I'm taking it a stage further to show you all the 129 outfits I created with just 25 garments!
I surprised myself because it's a very small wardrobe of clothes in anyone's book! I could keep going with this all Summer long unless there was a very dressy occasion.    
The items I've tackled so far are obviously those I pull out time and time again. They're comfortable and they're appropriate for my lifestyle. I've avoided anything that's completely out of season and anything that I don't like. 
It's amazing how easy this is once you get going. Tackle your wardrobe one piece at a time and see how you can fit your outfits together to suit you and your lifestyle.
You can Work Your Wardrobe in the same way whatever the season.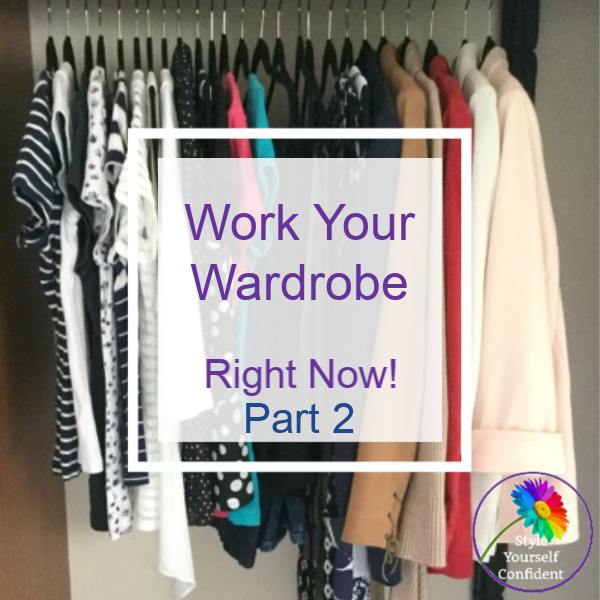 This is only the beginning...

Oh my... now I see that those colored tops look lovely with the black pants too - and I've just found an old black linen jacket that could use new buttons! 
In fact I can see a couple of things here that I haven't used to advantage! I don't have a huge wardrobe and certainly not an exciting one but I do have other things that I could pull out to see if and where they fit.
This is only the beginning, it's not a plan I have to work to but it does show me what I have to work with. We don't have great weather in the UK and I have dresses and cut-off pants that I really only use on vacation. I could certainly wear them more. 

Tidying up and organizing is easy when it's done one item at a time. Pull a garment out and see if you can find where it might fit. If it's something you don't like, doesn't fit you or is past it's sell-by-date, then don't include it. 
This plan shows me, not only where there's a gap, but that I need to add far more color into the mix. 

Wardrobe for the Retired
I've often been asked to put together a Wardrobe Plan for a retired or home-based lady - this actually is the answer to finding your own style!
Work with your current closet, you'll soon be aware of things that really don't fit in with the way you like to dress. And you'll quickly discover what's missing. 
Do you need accessories to brighten up your 'daily uniform'? Or a coat that will cover everything?

Do you know your Color Direction? 
If you don't know your Color Direction, consider COLOR ANALYSIS and discover the palette of colors which allow you to always look your best. 

If you really need a plan to go forward, then check out the Classic Chic Capsule Wardrobe that works for the office or for us slightly older ladies that don't want to live in shorts and jeans! 

Whether your wardrobe is wild or skinny...
Whether your wardrobe is wildly out of control or missing lots of the basics you can do this too. 
Your wardrobe may not be as simplistic or neutral as mine. If you favor lots of color, more dresses and less separates then you probably won't have as many easy to assemble outfits. But on the other hand your mix could be far more exciting than mine.
Remember, that your wardrobe doesn't have to be the archetypal collection that includes a white shirt, a little black dress and a trench coat. It only has to be a few items that work for you and your lifestyle.
Take things one at a time, see if you can find a fit. Every single item does not have to work with every other one to earn it's place in your wardrobe.
If you're buying new then ensure that you get your money's worth by trying to fit it in with at least a couple of other things you already have. But that won't always work because you may need to breathe new life into the scheme of things.
And as you work your wardrobe, you are allowed to just fall in LOVE with something really special that doesn't have to justify itself!

Allow 'Your Style' to visit you!
The latest features on Color Analysis, Body Shape and Style to your Inbox, twice monthly.
Plus a Free copy of my book 'Shortcut to Style', it works for you, whatever your age shape or size! 
Pamela x
Sitemap or locate all features relating to...
Homepage >> Wardrobe Makeover >> Work Your Wardrobe Part 2