What are Wardrobe Essentials?

Wardrobe Essentials are the practical and functional items that form the backbone of a wardrobe.
They should be timeless classic quality pieces in neutral shades that fit you perfectly and flatter your coloring.
With the addition of link items and accessories, they create the opportunity to mix, match and co-ordinate into any amount of outfits.
The basics will be a mix of jackets, trousers (pants), and skirts, a basic white shirt and a coat. A dress is often  included as a basic as it can stand alone or be teamed with a jacket to create a more dressy look.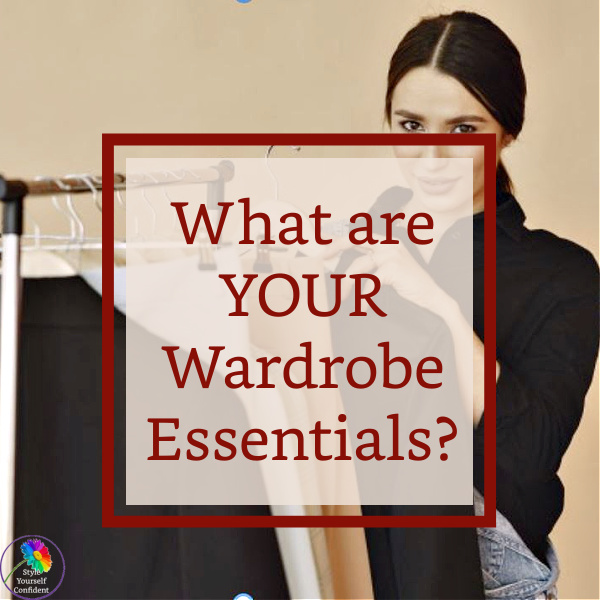 What are your Wardrobe Essentials?

Everyone's needs are different! Are you a Mother running around after the kids all day? Are you a retired lady doing the lunch circuit in town? Are you a professional high flyer with a hectic social life? Each of these women will require a different set of clothes - one that works for each of their individual lifestyles. 
You will often see a suggested list of Wardrobe Essentials but only you know the pieces that will be most appropriate for your own lifestyle. Everyone's collection and choice of style will be different. 

Choose neutral colors for versatility
Neutral colors don't change with fashion so by choosing neutrals for your Wardrobe Essentials you will have the backbone of an outfit for every season. Choose the best neutrals from your own Color Family. Bright and fashionable colors change every few months and can be added as cheaper 'link' items to ring the changes.

Neutral colors are shades of...

white
ivory or cream
beige, taupe
brown, bronze
all shades of navy

all shades of grey
burgundy, aubergine
olive green

charcoal and black

Then you add 'Link' items to bring them to life...

Add a few 'link' items to seamlessly bring your wardrobe essentials to life!

All I've added here to link them together are basic black and white tee-shirts, a white shirt and one top for color.
I've also added the minimum of accessories:  2 scarves, 2 necklaces, 1 bag, 1 pair of shoes and 1 pair of boots.
See how easy it is to begin making a capsule wardrobe work!
It doesn't have to be formal...
Although you will usually see this type of wardrobe plan put together ready for the Corporate market, it doesn't have to be formal and on the right I show you my idea of a Capsule Wardrobe on a budget. The styles and colors can be adjusted to suit any taste and any lifestyle.

The Advantages of a Capsule Wardrobe?  You will...
Feel more confident
With the base of an outfit always at your fingertips, you'll feel far more confident and in control. Your collection of garments are chosen to make you look good and work for your lifestyle, no-one else!
Avoid frustration and panic
De-cluttering your closet is like de-cluttering your mind. I've got 'nothing to wear' is a negative approach - now it's time to go forward. An organized collection of clothes will save you frustration in the morning and won't panic when you receive a last minute invitation.
Save time and money
Choose classic pieces in neutral colors so your look won't date. Select only shapes and styles that flatter your face and figure and you'll avoid unnecessary mistakes which are a waste of money.
Buy fewer but better
Aim towards buying fewer but better quality garments to form the backbone of your wardrobe. If you buy the best you can afford, the quality will be obvious in the fabric and the cut; and the garment will retain it's good looks over a longer wear period. This will be far more economical than a wardrobe stuffed with lots of clothes but 'nothing to wear'!
Add to this mix with confidence

When you know your Wardrobe Essentials make you look good, you can add to this mix with confidence introducing color and your own style. 
Homepage >> Wardrobe Makeover >> What are Wardrobe Essentials?