Tomato and Red Lentil Soup

Tomato and Red Lentil soup looks as good as it tastes!
A 'no chopping' chuck it in kind of soup, that impresses my husband - so it must have some mileage! He's not always appreciative of my cooking by the way!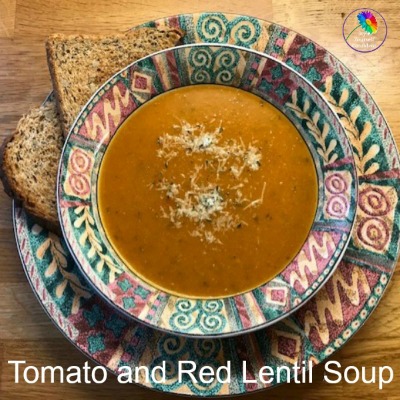 Tomato and Red Lentil Soup
Ingredients

1 small onion
2 medium carrots
2 celery sticks
7 oz split red lentils
1 tin chopped tomatoes
2 Tbsp tomato pure
3 pints vegetable stock
1 Tbsp balsamic vinegar
salt and blk pepper to taste
Method
Peel and roughly chop onion, carrots and celery. They are going to be blitzed so don't worry about them.
Saute in oil or low calorie spray for about 5 minutes, stir in lentils, tomato puree, tinned tomatoes and vegetable stock. Bring to the boil, reduce heat and add balsamic vinegar. 
Cover and simmer for 35 – 40 mins. Whizz with hand blender and season to taste.
** Options: I spice it up and add 1 tspn cumin and 1 tspn chilli flakes when sauteeing. Add herbs (basil is good) and grated parmesan to top of soup.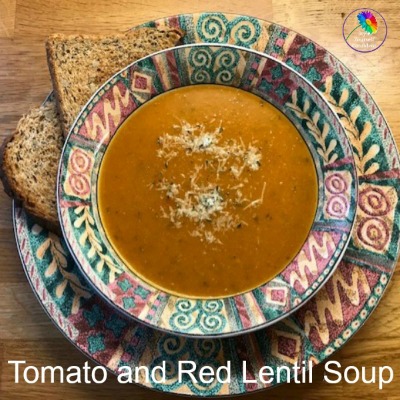 More Low Fat High Fibre recipes
Allow 'Your Style' to visit you!
The latest features on Color Analysis, Body Shape and Style to your Inbox, twice monthly.
Plus a Free copy of my book 'Shortcut to Style', it works for you, whatever your age shape or size! 
Pamela x
Sitemap or locate all features relating to...
Homepage - Low Fat High Fibre - Tomato and Red Lentil Soup