How to prevent hair damage...

Is it bad to blow dry your hair every day? If so, how can we prevent hair damage?
According to the experts at the Pierre Michel Salon in New York City, yes it is damaging to use heat every day.  You're going to get split ends and have hair with no life... no elasticity. The more heat you use the more you're exposing your hair to the 'burn'. 
But if we adopt a few damage limitation tips we can do our best to prevent hair damage. 
There's no doubt that hair makes or breaks the way we look and feel. You can invest in a good hair cut but it's still necessary to be able to handle it at home.  
The best way to take care of your hair between salon visits is to keep it in tip top condition. If you can prevent hair damage it's easier for the stylist to work with and easier for you to style yourself.

1 Choose the right hairstyle...

Choose the most suitable hairstyle for your type of hair and your lifestyle. Don't be unrealistic! If you have to get up early every morning then don't choose a high maintenance fussy style that takes an hour to wash and style. If you're a 'wash-and-go' sort of girl make sure your hairstyle matches!
Find a hairdresser you can trust and discuss the best style for you in advance of having it cut. Whether it's fine or thick hair, curly or straight, the way and direction it grows; it all influences the way hair should be cut. 
2 Assess your hair type

and use the most appropriate shampoo with natural cleansers if possible and of course conditioner. It doesn't have to be the most expensive, many sensibly priced brands will do the job.

Oily, fine or limp hair
Use a clear shampoo that prevents build-up and won't add extra weight. It will cut through dirt and oil and help to increase the thickness of the hair. Use a light weight conditioner and don't be over heavy when massaging the scalp.
Dry, coarse or frizzy hair
Moisturize with a creamy shampoo adding oils and fats to add shine and reduce frizz. Vitamin E is an excellent moisturizer for protection and will take care of your hair. 
Colored or damaged hair
This type of hair needs moisture for strength and to rebuild internal structure. A mild shampoo will help to repair and rehydrate.  Keratin is particularly good at helping to bond the hair back together, avoiding split ends and helping the hair to feel smooth and shiny.  
3 Handle it carefully

Treat your hair very carefully when wet particularly if it's long. Use a wide-toothed comb, a natural bristle or large vent brush to gently comb conditioner through your hair.
Cool down the water to give your hair a final rinse - this helps to close down the scalp pores for protection.

After shampooing squeeze the moisture out of your hair with a towel or wear a drying turban to reduce drying time. Allow it to dry naturally occasionally. 
Hot styling tools are slightly less harmful than blow drying but you should still limit the amount of heat you apply to prevent damage.
4  Damage limitation to prevent hair damage

Have to style every day? Make it as quick as possible, keep temperature to a minimum and keep the blow nozzle at a distance from the hair - the closer it is the more damaging. 
Use a 'heat protect' spray on small smooth sections of hair then move on to another section. Repitition in the same spot is harmful. 

Take some days off from styling - wrap it, braid it, put it in a pony tail, set it with Velcro rollers - even hot rollers are less damaging than blow drying. 
If your hair is dry and brittle try one of the very natural rich conditioning treatments shown above every couple of weeks.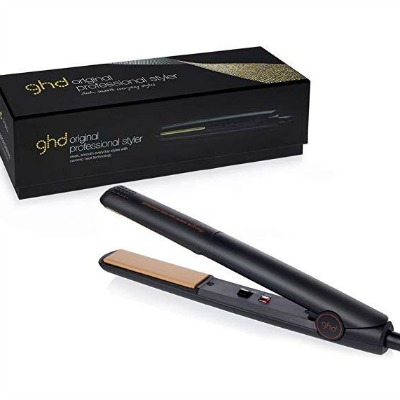 5  Good dryers and stylers

There's always something new in the world of hair dryers and styling tools.

These are 2 of my favorites (above) - but whatever you choose it's sensible to limit the usage.
The Remington D5216 Shine Therapy 2300 Watt Dryer is small, lightweight but very powerful at an excellent price. My hair's very fine and the 'cool' shot works to tame my fine hair and keeps it smooth. Found it at my hairdressers' - good enough for her, good enough for me!
If you want smooth shiny curvy hair, there is nothing to beat a GHD Classic Styler. It works well on hair down to shoulder length and whether you want curves or dead-straight it does the trick! All stylers will take practice to perfect it the way you want.  
6  Long hair can be easier...

In some respects long hair can be easier to manage and it's really not necessary to cut it at a certain age.
I only grew my very fine hair in late middle age because I was fed up with using heated products every day and it was difficult to prevent hair damage.

Long hair doesn't need to be washed every single day and it could be a very positive option if you: 

want to cutdown on styling time
you lack time to spend on hair
have fine or difficult hair
like to ring the changes with styles
Like this Website?
Please share your Comments...