Summer Roses
My palette of Summer Roses shows that rarely is a color out of bounds whatever your color direction. 
I've always considered ROSE PINK to be a cool color and yet, the more I break color into palettes the more I realize that nature has it's own agenda!
As I've discovered in the past with landscapes, nature has an uncanny way of linking color families together.  
A color palette of Summer Roses
Although we tend to think that Cool rose pink is only found in the Summer and the Winter palettes, that's not really the case.
The Spring palette is generally thought to be completely Warm and only has peachy pinks, but it actually has some very bright clear and pure pinks as well. 
We consider the Autumn palette to be all about orange and pumpkins, but actually the softest shade of rose pink fits completely with this palette.
As you can see, I've found a shade or every color family although none of them actually stray into the Warm side of the spectrum. 
Summer Roses for Summer and Spring
Looking at the two lighter Seasons of color, there are lots of beautiful cool Summer pinks as you would expect but also really bright pretty pinks in the Spring palette. 
Spring is a complex mix of Warm, Light and Bright but the clear bright pinks are the one or two colors that don't quite tip into Warm!  
Summer Roses for Autumn and Winter
You would expect plenty of cool Winter pinks in your palette of Summer Roses, but you wouldn't really expect to see these roses connected to the Autumn palette. 
Autumn is a complex mix of Warm, Deep and Muted but these couple of rose shades don't quite stray into the Warm side of the spectrum.  
So many shades of Pink
According to rose specialists, Pink is the colour we most associate with roses. As I've shown in only one palette of Summer roses, shades range from softest blush pink, to pure rose pink, right through to bright magenta pink.
Many pink varieties are tinged with other colours such as apricot, peach or lilac. There is no other colour in roses that offers the possibility of so much variation as in the various shades of pink.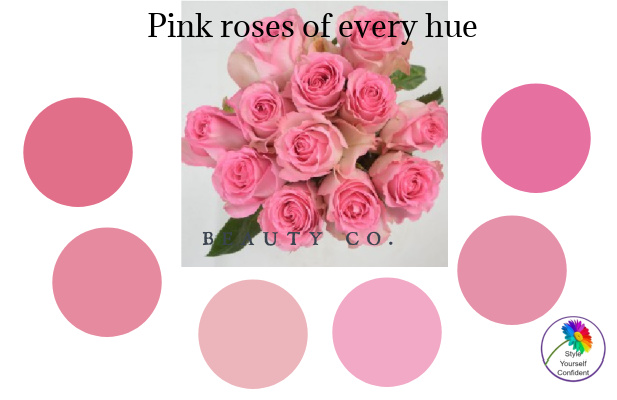 Meaning of Pink Roses
A light rosy tone is often associated with femininity, so, naturally, the pink rose meaning is that of grace and sweetness. Other interpretations include gentleness, appreciation, joy, thankfulness, and elegance.
The variety of meanings make giving pink roses appropriate for so many occasions. 

Homepage >> Dress your OWN Body Shape >> Flatter a Large bust