COOL makeup to flatter COOL skin

You may belong to the COOL Color Family be SUMMER or WINTER, all of these have a Cool/blue undertone. If so you should choose Cool makeup shades to flatter your natural coloring.

If you look and feel good in the fabulous Cool shades I show below - blues, pinks, mauves, turquoise, soft sea greens and greys - then you probably have a Cool skin.
You should complement this natural coloring by wearing similar shades on your face and you'll be amazed at how your coloring comes to life - brighter eyes, clearer skin and more intense hair color.
Whatever your age if you follow the color palette shades when choosing cosmetics you'll never go far wrong.
This is how nature designed you to look your best!
Makeup and Mature skin

However, once we reach middle age skin pigment begins to fade a little and it's even more important to make sure you choose the best colors for your complexion so that your color isn't completely flattened.
Cool skins will always look their best when wearing a foundation that complements their Cool/blue undertone, that is a foundation with a slightly pink tone that flatters your Cool skin.
Older skin acts a bit like blotting paper and it can be uneven in tone which makes it difficult to achieve the look you want. 
By choosing makeup that's specifically designed for mature skins you'll find products that smooth and even the skin tone - extra coverage that lasts longer but never looks heavy.
A primer worn under foundation will smooth the skin filling in open pores and fine lines leaving the skin looking soft and matte. It also ensure that your makeup stays on and looks fresh for longer.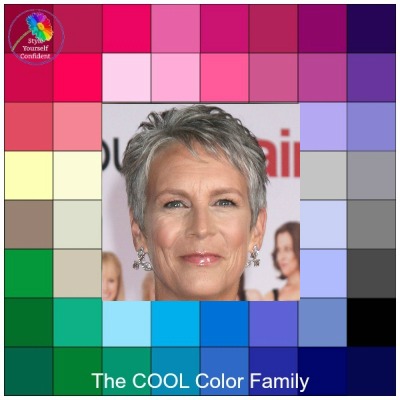 How to choose Cool makeup shades

This lady belongs to the Cool Color Family and by wearing Cool makeup shades her complexion is complemented and her natural coloring comes to life. 

I'm featuring Michelle Pfeiffer (below left) with lighter pink toned Cool coloring and Jamie Lee Curtis who has deeper toned but still a Cool undertone. They're both surrounded by COOL tones, all perfect shades to choose to complement a Cool complexion. 

FOUNDATION: should be matched to your skin tone as closely as possible and once you get the right tone you can wear it all year round. If you take a tan you can always add a little tint of color to the mix to achieve a deeper shade. Avoid a too 'flat' beige which will flatten your coloring - a touch of pink works.   

LIPSTICK: Natural or clear pinks, rose through to dusky pinks, plum, burgundy or damson, depending on how deep your coloring is and how comfortable you feel. If your lipstick changes color, then choose a more natural pinky brown. If you like to wear a light shade then consider wearing a slightly deeper lip liner for definition. 

EYES: Neutral tones of taupe, cool beige or smokey grey for shaping and creamy highlighter for the lid. For added color subtle shades of teal, dusky blues, smudgy purple or a soft blue green.
BLUSH: Choose soft pink or plum undertone. A pinky peach or pinkish brown would also work.
If your coloring is fair you'll probably want to choose the lighter and more gentle tones from this selection of colors. If you have darker hair with stronger coloring, you can take a stronger contrast on both your lips and eyes even though your skin may be only mid-toned.
Look Fabulous Forever, who have designed makeup specifically for mature skin, have put together the basics to flatter a Cool skin - the Cool Collection.
Nature shows us how it's done

The cool pink rose is complemented by it's cool green leaf just as the natural coloring of Liz Hurley 'sits' happily creating balance with the cool colors.  

Wearing clothes and makeup in shades that echo your natural coloring creates COLOR BALANCE so you can look your best. In fact Nature designed us to get our 'foliage' right too!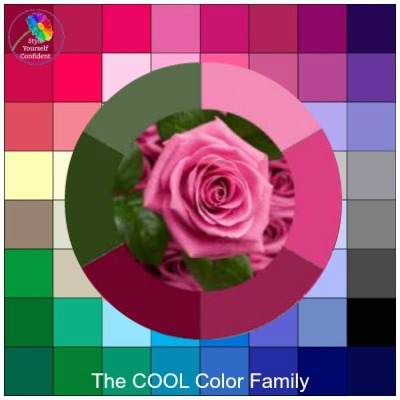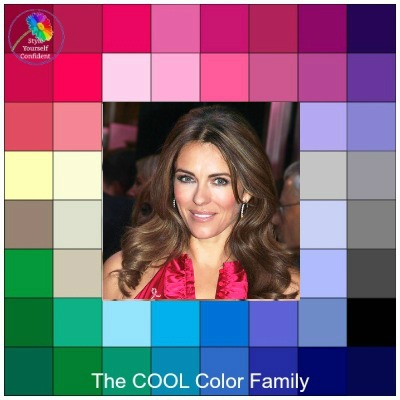 Like this Website?
Please share your Comments...
Homepage >> Makeup tips >> Cool makeup