COOL makeup to flatter COOL skin

If you have a COOL skin tone then, to look your best, you need Cool toned makeup.
Have you been determined SUMMER or WINTER? Or perhaps you belong to the COOL Color Family? In all cases, you're on the Cool side of the spectrum and will have a Cool/blue undertone to your skin. 
You might be fair or have much stronger coloring but your look is cool. Although it's not always obvious, to some degeee, you have a pink toned complexion.   

When you 'dress' and echo your natural cool with complementary shades you'll bring your coloring to life. Brighter eyes, clearer skin, even your hair color will look more intense!
If you look good in these...
If you look and feel good in the fabulous Cool shades I show below - blues, pinks, mauves, turquoise, soft sea greens and greys - then you probably have a Cool skin.
You should complement this natural coloring by wearing similar shades on your face and you'll be amazed at how your coloring comes to life - you're creating Color Balance. 
Whatever your age, this is how nature designed you to look your best!
How to choose Cool makeup to flatter

It's easy to choose Cool makeup colors just follow the colors from the color palettes - they are all influenced by blue and therefore have a Cool undertone. Choose your favorites whether you are fair like the lovely Michelle Pfeiffer or have stronger coloring like Jamie Lee Curtis whose coloring is more dramatic.  
I've put lighter colors with Michelle and stronger colors with Jamie Lee, but the choice is yours.

Ready to complement your skin
When you choose makeup colors with the same Cool undertone as your own, they will complement your cool pink toned skin. 

FOUNDATION: should be matched to your skin tone as closely as possible. Avoid a too 'flat' beige which will dull your coloring - a touch of pink works.     

LIPSTICK: Natural or clear pinks, rose through to dusky pinks, plum, burgundy or damson, depending on how deep your coloring is and how comfortable you feel. If your lipstick changes color, then choose a more natural pinky brown. If you like to wear a light shade then consider wearing a slightly deeper lip liner for definition. 
EYES: Neutral tones of taupe, cool beige or smokey grey for shaping and ivory highlighter for the lid. For added color subtle shades of teal, dusky blues, smudgy purple or a soft blue green.
BLUSH: Choose the most natural tone you can - it's often said to copy the color of from the inside of your lip! A pinky peach or pinkish brown would work as too pink can look clownish.

Cool makeup collection

Look Fabulous Forever, who make cosmetics to suit a more mature skin, have made it easy and put together the Cool toned Makeup Collection to specifically flatter a Cool skin. You can choose your favorite shades for your makeup bag.

What a difference the right makeup makes...

When we reach middle age, skin pigment begins to fade a little and it's even more important to choose the best colors for your complexion so that your color isn't completely flattened.
To enhance a Cool complexion, try the fabulous L'Oreal Age Perfect Rosy Glow moisturiser which helps to restore the skin's natural healthy color. Choose foundation with a Cool undertone i.e. a slightly pink toned beige.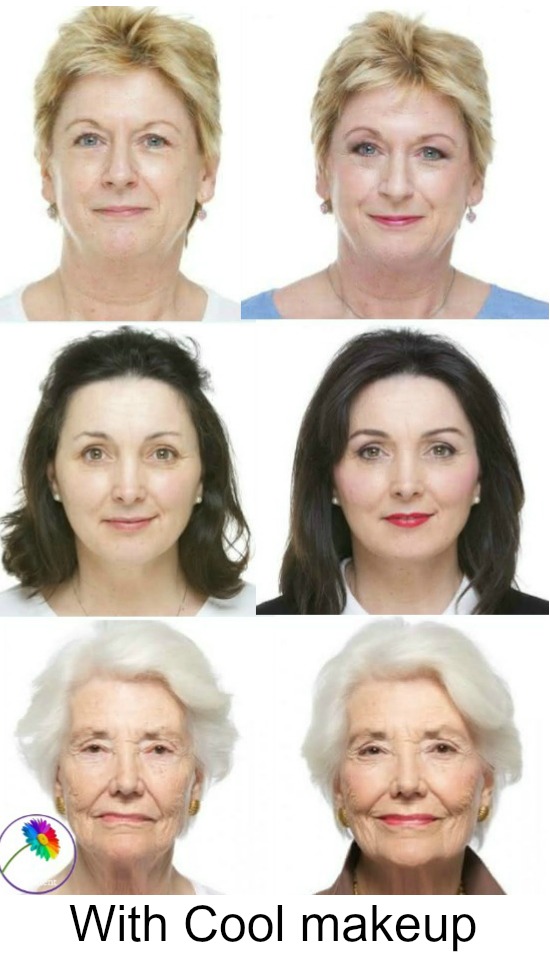 Nature shows us how it's done

Color Analysis in Nature shows us how the natural world works.
Every leaf complements the flower and the surroundings. Look at how the colors of the flower and the leaves of the beautiful pink rose (left) come from the same Cool Color Family.
Color families create balance and natural harmony.   
Natural harmony...
This is natural harmony and Color Analysis works in exactly the same way.  
The natural coloring of Elizabeth Hurley is echoed and complemented by the Cool color family. Wearing clothes and makeup in shades from your own color family ensures that you're creating Color Balance and will always look your best.  
In fact, Nature designed us so we could always get our 'foliage' right too!
Allow 'Your Style' to visit you!
The latest features on Color Analysis, Body Shape and Style to your Inbox, twice monthly.
Plus a Free copy of my book 'Shortcut to Style', it works for you, whatever your age shape or size! 
Pamela x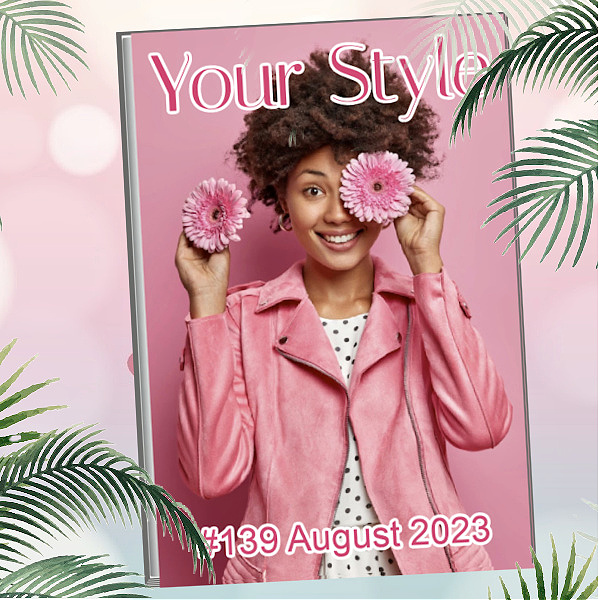 Sitemap or locate all features relating to...
Homepage >> Makeup tips >> Cool makeup