Seasonal Color Analysis WINTER...

A true Seasonal Color Analysis Winter is the most stunning of the Seasonal color palettes.
As the dewy, warmth of Autumn color gives way to the keen winds of the year's end, the colors become CLEAR and BOLD - STRONG and ICY!
The Winter palette is made up of 3 color families - COOL DEEP and BRIGHT. 
You will always have a blue undertone to your skin and strong clarity to your coloring, i.e. high contrast. 

Beautiful Megan Fox (pictured right) has almost a porcelain complexion and a very obvious blue undertone to her skin giving a pink toned complexion.

Match your natural coloring...

Because the Winter season is made up of 3 different color families every person does not have the elements of COOL, DEEP and BRIGHT in exactly the same quantities.
Your hair is always strongly colored but it could be from mid to dark brown even black. 
Your skin is always Cool but it could be very fair like Megan Fox or it could be beige through to bronze or dark brown.
Your eyes are always clear and strongly colored. 

The fact that they are Cool is not always immediately obvious - they could be blue, grey/blue, grey/green, brown hazel even black brown - and you will have well defined eyebrows providing a strong contrast against your skin.
Seasonal color analysis Winter
- a glorious mix of DEEP, COOL and BRIGHT

If you fit comfortably into this category your natural coloring is beautiful  and you have a wonderful mix of these 3 color characteristics.
However, sadly, Seasonal Color Analysis Winter is often not determined correctly.
If you've been analyzed as a Deep Winter, Cool Winter or Bright Winter then your color palette has been diluted.
It probably means that you lean more directly towards Deep, Cool or Bright, rather than having a good mix of them all.
If this is the case you might not really be a true WINTER! Most importantly, you might be missing out on additional colors to wear and enjoy.

Check out 12 Seasonal Color Analysis if this relates to you.

WINTER colors create balance with your natural coloring..

Your most flattering colors are:
Cool with a blue undertone, Deep and Clear (Bright)

the deepest and coolest. Winter is the only palette that Black and White as the highest contrast. 

the clearest strongest, coolest shades - royal blue, emerald green, rich true red, strong magenta, bold hot turquoise
all your colors are just as perfect for vacation wear as for the coldest days of the year

team these strong tones with the iciest shades of the winter landscape - pure snow white, icy pink, icy blue, icy turquoise, icy aqua
all the glorious colors we see streaked across the wintry skies will enhance your bright eyes

OK there is one strong yellow in there and it might not be good for everyone
Your most flattering Neutrals:
Black, charcoal and cool silver greys - they provide the sharpness needed to show off your brilliant color palette
As one of our leading actresses Catherine Zeta Jones shares her dramatic Winter coloring with two former icons of the silver screen.
Both Audrey Hepburn and Elizabeth Taylor had similar striking looks and looked their best when wearing high contrast colors.

Bring your color swatch to life

The colors of the WINTER palette allow you to re-create your natural coloring in the clothes and makeup you wear creating COLOR BALANCE.
Holding your brand new color swatch in your hand is exciting - but the next thought often engenders panic as you wonder what on earth you're going to do next.

It's difficult to visualize how the beautiful color shades will actually transform themselves into an outfit and find their way into your wardrobe.

Well wonder no more because we're going to bring Seasonal Color Analysis Winter to life.

Over 100 colors, from all the Seasonal palettes, come to life in a beautiful range of jersey separates and dresses from Kettlewell Colours.
Outfits are photographed and displayed according to Season so you can easily see how the different shades of Seasonal Color Analysis Winter harmonize and work together.
You'll find all your wardrobe basics in flattering shapes and sizes.
In fact all the hard work is done for you!
Colors to avoid and how to cope with them...

Avoid dusky or muted shades, wishy-washy pastels - they will flatten your brightness
Avoid anything with a yellow (warm) undertone - it will make your skin look yellow and you look ill!
that is anything creamy, yellow/orange, yellow/greens, ginger browns, rusts, brick red
If you are Seasonal Color Analysis Winter then it is better to avoid warm golden tones, yellows and oranges, tan and mustard, light pastel colors and warm shades like salmon or coral. These  will never be your best shades but if you must wear them, team them with a cooler color near to your face to create a crisp contrast.
Pure white will always be your best contrast and you can introduce a scarf near to your face, a collar over a jacket, silver or white pearl earrings will introduce COOLER tones. 
All you need to enjoy your WINTER Color Family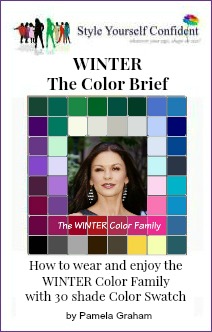 The WINTER Color Brief £3.00
The WINTER color Brief is ready to download and print out with all the concise information you need to start wearing and enjoying your own Color Family - colors, makeup, hair etc.  
15 pages of information including DIGITAL COLOR SWATCH that can be on your Iphone or Ipad for shopping. Or you can make it into a mirror image of the fabric color swatch.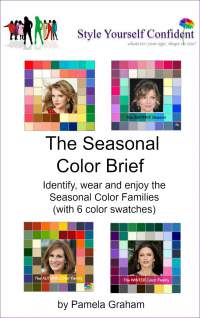 The Seasonal Color Brief - £6.00
4 Seasonal Briefs + swatches 1/2 the price
Enjoy all 4 Seasonal Color Briefs - Spring, Summer, Autumn and Winter - for the price of 2 plus 4 digital color swatches.
It also shows you a simple way to identify your own 'best' Season and how to wear and enjoy your Color Family.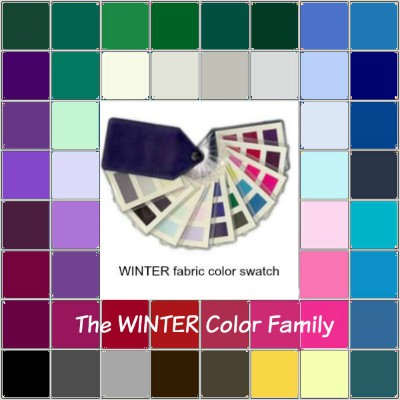 The WINTER color fan holds 30 precision dyed fabric color swatches which fan out to show the whole range of harmonizing shades (shown in the square).
The fan is practical and easy to use, 12.5cm x 6.5cm, finished in a suede style cover and comes with a wealth of information about co-ordination, cosmetics, accessories etc. Don't think that your choice is now limited, between these colors there are literally hundreds of shades and tones just like an artist's palette.
ALSO INCLUDED: When I acknowledge purchase of your swatch I will send you a FREE DIGITAL COLOR SWATCH so you can always have your colors to hand on your Ipad or phone.
In the UK? Use this button to purchase p & p £1.50
Outside the UK? Use this to purchase p & p £4.95
Discover the strong Cool tones in makeup to flatter your natural coloring.

Flowing from one Season into another?

If you've been analyzed as 'flowing' from one season into another then you may not be a Season at all!




"It was magical

this snow globe

world!"

Find all articles relating to

Please share your COMMENTS
Homepage > Color Analysis > Seasonal Color Analysis Winter