Think you can't wear RED!

Think you can't wear RED?
Sure you can, just choose the shade that best flatters your natural coloring so you're not over powered.
Maybe you're not quite ready to dazzle in red this Valentine's Day but even a new lipstick or nail polish means that you need to know the shades that make you look your best.
There is a shade of red in every color palette. If you don't know your Color Family yet then try the Free Color Analysis Quiz.   Or if you want a shortcut an Online Color Analysis 
Red - what is it?

It's the strongest and longest ray in the visible spectrum.  It quickens the pulse and increases the rate of breathing.  It's the color of EXCITEMENT and DANGER - parties and balloons, passion and sexy red hearts but also blood and fire!
What about the big red M in McDonalds - red stimulates the appetite and promotes impatience, ideal for a quick turnover of customers! Phew...
But it doesn't have to be dramatic...

Everyone can enjoy this delightfully cheerful color once you find the best shade to flatter your natural coloring.
And did you know that your natural coloring influences the choices you make? So when you're making color choices for your home, the shampoo you buy and especially the flowers you choose your choice is likely to be instinctive. 
So would either of these roses for example be a natural choice for you over the other?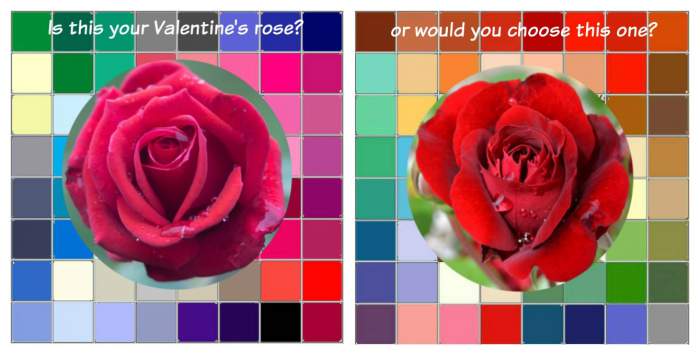 How you can wear red...

Yes you can wear red! It doesn't have to be overpowering! A Light red means that it has a lighter amount of pigment and you can still have beautiful brights – Coral red, bright clear red, Watermelon and Bittersweet.  Nothing that will flatten your delicate coloring. Avoid heavy blue reds and deep tomato. 
The strongest boldest reds are all yours - nothing wishy washy here!  These have a heavy amount of pigment which your deep exotic coloring demands. True Red through to Bright Burgundy and beautiful mahogany.   
RED doesn't have to be overpowering!  You have beautifully rich blended coloring and softened or 'greyed down' tones give you the most classic and classy shades.  Elegance that allows your beautiful color to shine without harshness.  Avoid heavy burgundy and purply plums.
Your reds are the brightest and clearest.  Your natural coloring has such complete clarity with no apparent undertone that only the true reds will do.  True Red, Bright Clear Red and glorious Scarlet - through to Bright Burgundy.

You have warm golden coloring and you need reds with a warm golden undertone to harmonize.  Your best reds are Orange toned, brilliant Pillar Box through to Dark Tomato Red and into the Rich Rusts.  Avoid Blue reds which will look cold against your skin.
You have a blue undertone to your natural coloring and will be flattered by reds with a Blue undertone - Scarlet, Crimson, Blue Red, Burgundy and the beautiful Berry shades. Avoid pillar box red and anything with an orangey tone as they will react against your cool complexion and may give a yellow or sickly glow.

Find all articles relating to

Please share your COMMENTS
Homepage >> Understand your Colors >> You can wear RED