A Capsule Work Wardrobe!

This is the most basic way that a Capsule Work Wardrobe functions.
Taking just 9 garments that fit you well, are versatile and in neutral shades, they'll happily mix and match to take you to the office every week day for a whole month.
Once you've done the initial planning it takes away the morning stress of what to wear and gives completely effortless dressing. 
This is just a simple exercise - few of us would want to exist like this for too long - but it's a useful concept whether you go out to work, are home based or even retired.
---
Instead of regarding this as a hardship, treat it as a style challenge and begin to develop ideas for when you're in the position to enlarge your collection.
So if you're...

limited with a student's collection of clothes
back in the workplace after raising a family
getting the 'nothing to wear' feeling!
This is the way to go. Few of us can think about going out to buy a whole new range of clothes so first of all you need to see what you have to work with. 
Where to start...

1  Be your own Wardrobe Consultant, have a really good sort out and see what you can find in the way of neutral items to form the basis of a few outfits. Then identify the minimum amount of items you'll need to put together something like this. Add in some inspiration, a few accessories and your Capsule Work Wardrobe is ready to go!
If you have to buy any new items make sure you get your money's worth - choose clothes that fit your Body Type in Colors that suit you. 

2  Choose versatile garments: a tunic as top or dress; use a blouse as a jacket; a cardigan as a jumper. 

3  Ensure that all the items are appropriate for the workplace or your own lifestyle! Low-cut tops, over-short skirts or see-through fabrics will limit where you're able to wear them - overtly sexy clothes are only suitable for playtime! 
4  Once you've got your items to mix and match, look at accessories to stretch this very limited choice of clothes into a multitude of outfits.
5  I've chosen very classic items but your choice depends on your own Style Personality and your workplace culture.
A Capsule Work Wardrobe - a month of effortless dressing!

Choosing your basics...

Wow! A whole month, 20 busy mornings, of effortless dressing! When your first or next payday comes around, even if you can only afford to buy a couple of very basic t-shirts you will be able to add far more outfits into the mix.
Choose basic neutrals that will flatter your coloring and mix and match for more co-ordination. The amount of outfits you can create will take on another dimension!
Kettlewell Colours make a great range of quality jersey separates that wash well and keep their good looks. They are grouped in Seasonal colors so if you've had Color Analysis you'll know your color palette and get lots of inspiration.  

If your colors don't match e.g. jacket and trousers, jacket and skirt, don't try to pretend that they do. Mix a textured jacket with smooth fabrics to accentuate the difference.
Substitute the grey tunic top with a button through blouse and you can use it as an additional jacket.
Striped tunic can be dressed up with fine hose and heels, cosy with thick tights, more casual with long boots.
Take a closer look at the ones I've highlighted...

Accessories are King!

All of these outfits are already completely different but just look at how the addition of a few accessories brings them to life. Assemble all the accessories you've collected over the years and you'll be amazed at how you can put them to use.  A scarf here, a belt there, every little change creates a new look.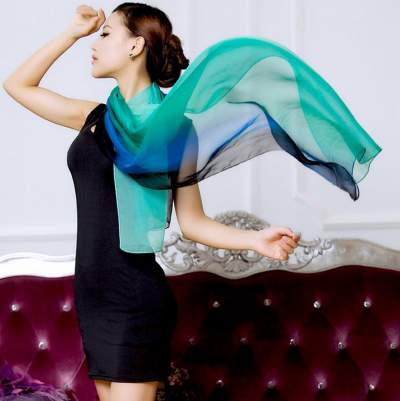 One quality item can lift an inexpensive outfit into something special. This beautiful Mulberry scarf looks a million dollars but it's actually very inexpensive.
Team your High Street bargains with one beautiful accessory to create high-end chic!
A touch of color with a beautiful silk scarf
can completely change the look of an outfit particularly when you can tie it in several different ways.
A quality leather bag
is an obvious investment - but if you have to stick to a budget buy the best you can and something that's versatile. Leather bags don't have to be expensive.
Simple classic jewelry looks more expensive than anything over fussy or trendy.
Take care of your accessories and they will repay you with years of wear.
New! Comments Box...
Do you have any queries or comments about what you've read on this page or perhaps you could share your own ideas for a Capsule Wardrobe!
Please share your COMMENTS
Homepage >> Wardrobe Makeover >> A Capsule Work Wardrobe