It's Christmas sparkle time!

We all love a bit of Christmas sparkle and, this year, we're quite desperate for it!
We may not be able to celebrate in the usual way but let's not forego the positive feelings we can promote at home with the tree and the trimmings. Even if you're pulling out the decorations of years past like me, we tend to fall into two different groups!
What's your taste SILVER or GOLD?
It's your natural coloring that influences your instinctive decisions when choosing colors and Christmas sparkle is no exception. If you know your Color Family you already know which suits you best!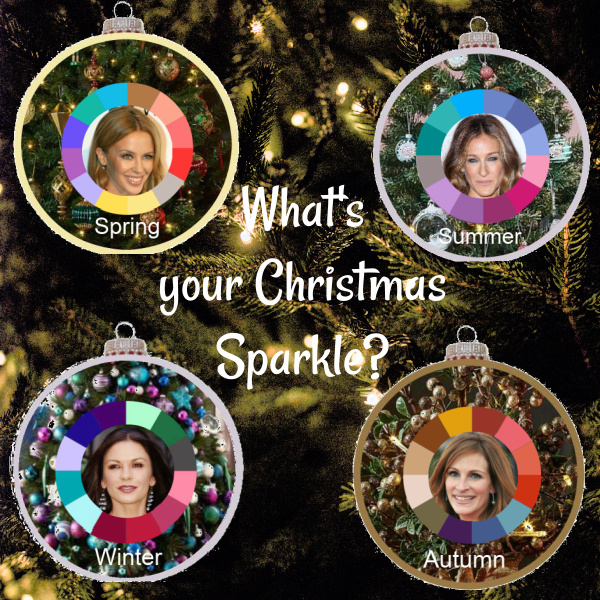 Spring and Autumn, with a warm undertone to their skin, will always look their best in GOLD tones and other colors from the same palette. Summer and Winter, with a cool undertone to their skin, will always look their best in SILVER tones and other colors that harmonize.
The colors that suit you best are usually instinctive so it's very likely that you extend your best and favorite colors into home decor and the Holiday decorations. 

Don't know your Color Family? Then take a look around your home, your Holiday decs and your Christmas tree and see if it gives you a clue! 
The new kid on the block ROSE GOLD!

Well - Christmas sparkle is usually based around silver or gold - but over the last few years we've had a new kid on the block - and it's become a standard very quickly.

ROSE GOLD, a delicate mix of pink, rose and ivory, has taken the market by storm and is appearing absolutely everywhere not just for decorations and jewelry, but the whole gamut of home decor.
It's soft, it's pretty and more especially it bridges the gap between Warm and Cool shades.
This appears to be following on from the beautiful BLUSH PINK which has been at the forefront of fashion for a couple of seasons and is, actually, one of the Universal Colors which means it suits just about everyone. 
Staying traditional? Does your tree echo your Season?
Spring? Your colors are bright and vibrant

SPRING is a mix of the WARM, LIGHT and BRIGHT color families and the skin tone is Warm. 
With a yellow undertone to your skin you'll invariably be drawn to the brightest or palest Golds.

Kylie Minogue may be drawn to the delicate light golds and ivories pictured above. 
Alternatively, if she's more traditional she might choose a tree with yellow toned greenery and introduce some of the vibrant fresh tones of Spring - turquoise, aqua and bright orange red - to add light.
All these beautiful tones from the Spring color palette echo this natural coloring.

Summer - your Christmas sparkle is gentle...

SUMMER is a mix of COOL, LIGHT and MUTED (Soft) and you have a Cool undertone to your skin.
With a Cool skin you will invariably be drawn to Silver as your Christmas sparkle.
Your overall appearance is gentle and soft and your choice of colors is equally delicate.
Sarah Jessica Parker with her soft Summer coloring may well choose a tree with a blue green foliage and decorate with all the  colors of an English country garden.
Soft blues, dusky pinks and and sea greens sit just as prettily on a Christmas tree.

Autumn - rich warm natural and earthy

AUTUMN is a mix of Warm, Deep and Muted (Soft) and always comes with a Warm undertone to the skin.
Your complexion is flattered by tones of Gold and you are instinctively drawn to the warm, richly blended and sumptuous colors of the Autumn color palette.
Actress Julia Roberts may well choose natural textures and seasonal dried arrangements to reflect these earthy tones but subtly highlighted and brought to life with the luxury tones of rich gold and pumpkin.

Winter - flamboyant and dramatic

WINTER is a mix of DEEP, COOL and BRIGHT with a Cool skin tone.
You will invariably choose Silver as your Christmas sparkle echoing your cool blue undertones.
How might Catherine Zeta Jones decorate her tree? Probably with strong bold tones of purple, magenta and hot turquoise re-creating the icy contrast and drama of the Winter color palette.
Or perhaps the deepest tones of true red and plum to offset the deep pine green.
A COOL skintone, light or deep, will instinctively choose Silver rather than Gold and the strongest of the cool color palette for contrast.

Homepage >> Winter and Christmas Season >> Christmas sparkle