You have MUTED tonal coloring
according to the Free Color Analysis Quiz

That means that your primary color characteristic is MUTED and you belong to the MUTED / SOFT Color Family
Your natural coloring:


can be overall quite confusing

Your coloring has elements of both Warm and Cool tones - unrelated characteristics


Because of contradictory tones you'll find it difficult to analyze yourself 


Your hair is usually a light to medium brown, even mousey, can be ash or golden tone

Eyes are likely to be deeper - hazel, teal, deep green or deep amber.

Your skin tone will be neutral; somewhere between warm and cool.

To look your best...


Your natural coloring is soft but has strength...

MUTED tonal coloring has unrelated color characteristics and there is some strength to this coloring

There is usually a medium contrast between your features and your coloring can look rich and blended

Bright and intense colors will look harsh and garish. 
You have elements of WARM and COOL and you need to strike a balance between the two. Blue undertones appear cold while yellow undertones may create an unhealthy glow.

Your prettiest colors are...

Deep turquoise and soft teal blue
Watermelon red and deep tomato
Your best neutrals are...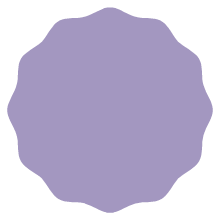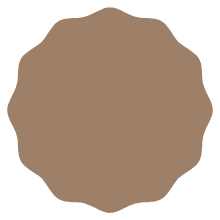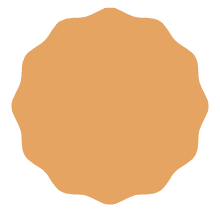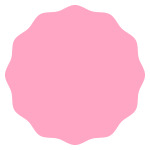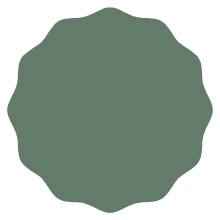 Neutrals always form...

the backbone of your wardrobe - the investment pieces such as coats, jackets, trousers etc. shoes and bag, which will take you from season to season. Your brighter and lighter colors will co-ordinate with these basic garments.
Your best neutrals are Rose Beige, Grey beige, Cocoa, Coffee Brown and Charcoal Blue Grey.  
Choose soft white and oyster white rather than pure white which is too cold for your soft coloring.
A monochromatic look - subtle shades of one main color - will look particularly elegant with splashes of accent color.

How to visualize your MUTED colors...
It can be difficult to visualize how the colors from your swatch come together in an outfit. So for real visual inspiration, take a look at a beautiful range of jersey separates and dresses which bring your Color Swatch to life from Kettlewell Colours.
It's sometimes said that MUTED is half way between Summer and Autumn but that's not strictly true. Although both of these seasons have an element of softness, the MUTED color palette takes the TRUE MUTED colors and excludes other non-related elements.
If your skin tone leans towards Cool then you will find many of your most flattering shades in the SUMMER palette.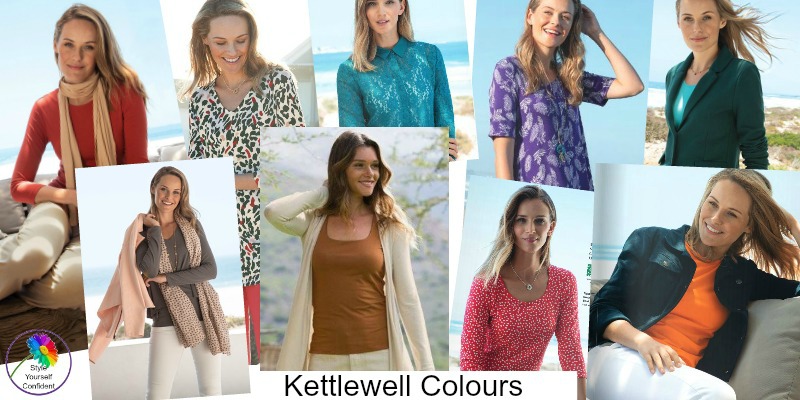 If your skin tone or hair shows more warmth then you may find that the deeper warmer shades are kinder to your complexion like many of those featured in the Autumn palette. 
But there is no reason why you shouldn't happily wear and enjoy all of these colors. 

Makeup and hair suggestions...

Lip color should be a neutral/natural tone, perhaps a browny pink, nothing too cool/too warm
Always ensure that your hair shades are not too strident. If your hair is mouse to cool then highlights will add a subtle brightness. Avoid anything too golden or colors that are too cold and ash - a pearl or champagne color is flattering to most.  
All you need to enjoy your MUTED/SOFT colors...

The MUTED Color Brief £3.00
The Muted Color Brief is ready to download and print with all the concise information you need to start wearing and enjoying your own Color Family - colors, makeup hair etc.
15 pages of information including FREE DIGITAL COLOR SWATCH that can be on your Iphone or Ipad for shopping. Or you can make it into a mirror image of the fabric color swatch.
The TONAL Color Brief
All 6 Tonal color families + 6 swatches for the price of 3 - £9
Like to know more about how Color Analysis works? I show you all the 6 Tonal Color Families and how to identify your primary color characteristic. 

Of course this isn't equivalent to a professional Color Analysis but it's a concise reference for anyone interested in the subject and comprehensive enough to be a starting point into the magical world of Color!
There are 60 pages in all with 45 colors for each Color Family.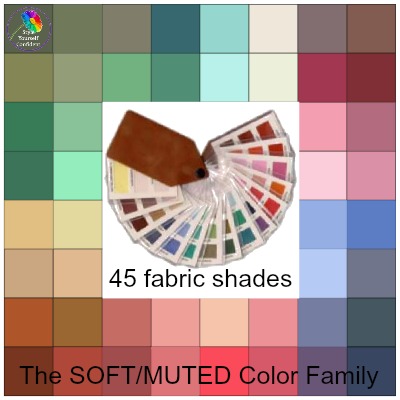 MUTED color swatch £38.50

45 fabulous fabric shades come with a wealth of information about how to wear and co-ordinate your colors.
It's impossible to carry a color shade in your head so a color fan is perfect for shopping/wardrobe planning. No more mistakes - save TIME and MONEY!
In the UK? Please use this button to purchase, post & packing £1.95
Outside the UK? Please use this button to purchase, post & packing £5.45
The Free Color Analysis Quiz is a good guide
BUT if you'd like an indepth professional analysis choose Online Color Analysis for just £65.00
Finding all articles relating to:

Like this Website?
Please share your Comments...
Homepage >> Color Analysis >> Free Color Analysis >> Muted tonal coloring