High Fibre Soups - easy peasy!

High fibre soups - quick, easy, delicious, filling, healthy, warming, good for the figure, impressive to serve and cheap to make! What's not to like?
Healthy eating is part of looking and feeling good about yourself. But time and ease is also of the essence!
Soups are rarely off the menu here: winter warmers, a quick lunch, dinner party starter, lazy holiday time, even a picnic! There's nothing easier, more inviting and, yes, even impressive to put on the table than a bowl of warming home-made soup. Add some tasty bread, a sprinkle of parmesan or herbs and it's a feast for the eyes too. 
Make high fibre easy...
HIGH FIBRE foods are vital to the digestive system adding bulk and promoting a 'healthy gut'. They help to 'despatch' food quickly through the body eliminating constipation and benefiting weight loss. 
Soups using vegetables, lentils and beans are a quick and easy way to add fibre content to your menu. I like uncomplicated, so my high fibre soups are quick and easy with little chopping needed. 
Oh, and they all freeze brilliantly so you've got another meal ready for the off!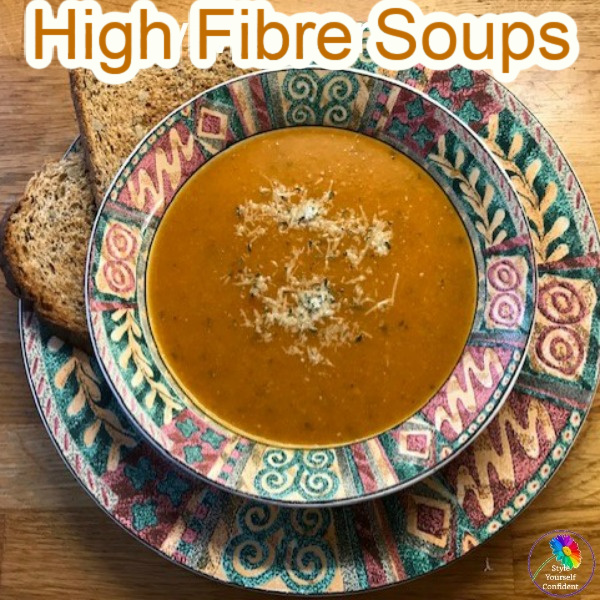 And... now you're here it would be great if you'd like to look around at COLOR MAGIC, SHAPES, and STYLES that help you to Style Yourself Confident.
Allow 'Your Style' to visit you!
The latest features on Color Analysis, Body Shape and Style to your Inbox, twice monthly.
Plus a Free copy of my book 'Shortcut to Style', it works for you, whatever your age shape or size! 
Pamela x
Sitemap or locate all features relating to...
Homepage - Low Fat High Fibre - High fibre soups