Who needs 50 Shades of Grey?
Who needs 50 Shades of Grey?
All you need is to know the best shades to flatter your own complexion and harmonize with all the other shades in your Color Family.

Grey is a very versatile and useful neutral and perfect for every wardrobe but some shades will suit you better than others.
Grey can be a bit of a chameleon so look at it in different lights to see how it blends with other colors. 

Why is Grey one of the most used colors in modern home interiors? Because it works with every other color.

True Grey is a mix of BLACK and WHITE and, therefore, it's safe to say that Black, White and Grey are the only TRUE NEUTRALS!

Which shades of grey for you?

True grey is a mix of black and white but most greys have a hint of color in them, a hint of BLUE makes it COOL and a hint of YELLOW makes it WARM. This helps you to choose the most flattering shade for you and your existing wardrobe.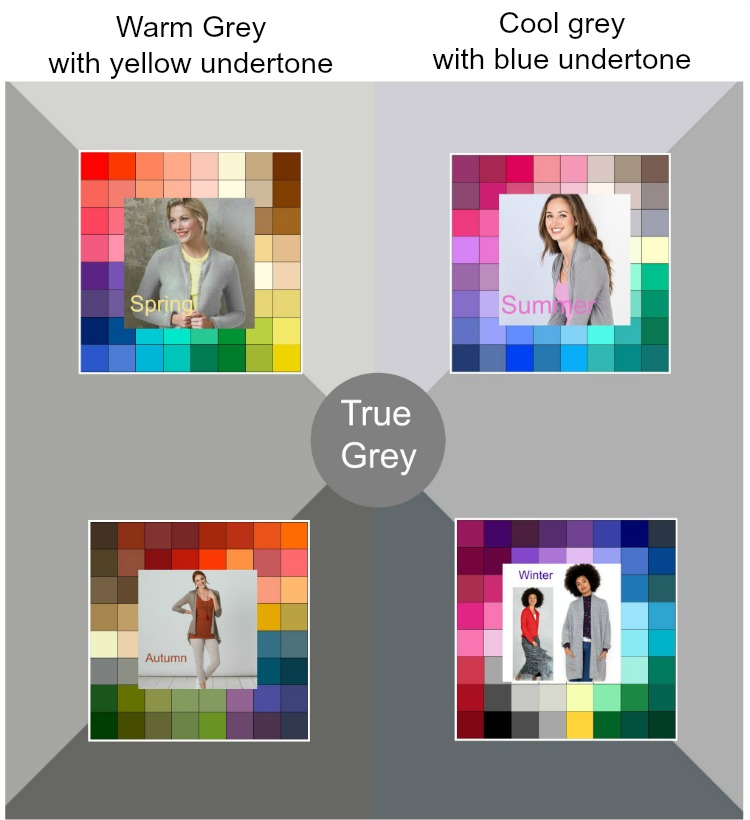 Don't know whether you have a WARM or COOL undertone? It's easy to identify your skin tone here ...
If you don't know your color palette, then choose a light, medium or deeper shade of grey according to your own coloring.

If your coloring is Warm then choose the Warm Greys
The Warm shades of grey all have a yellow undertone with an innate softness. They will flatter all warm skin tones and harmonize with all Warm toned or yellow toned colors.

Depending on the strength of your natural coloring choose a Light, Medium or Deep Warm Grey.
If your coloring is Cool then choose Cool Greys
The Cool shades of Grey all have a Cool or Blue undertone and a certain crispness. They will flatter a Cool complexion and work with all the Cool or blue toned colors.
Depending on the strength of your natural coloring choose a Light, Medium or Deep Cool Grey.
There's always a perfect grey...

Grey is the perfect color for basics in your Capsule Wardrobe. It's classic, classy and will give you lots of mix and match opportunities to create many different outfits for every occasion.
Create a column of grey, casual or dressy, for lots of mix and match opportunities for many different outfits and occasions.
Alternatively, a grey coat or jacket topping a colorful dress or separates will bring any outfit together.
and particularly for accessories...

Choose your favorite colors and accessories to bring your grey to life.
Whichever way you choose to wear your shades of grey they will serve you well and mix and match as part of many different outfits.
Whether you're Seasonal or Tonal...
SOFT/MUTED has elements of both Warm and Cool tones with a medium contrast. Choose medium toned greys, either Warm or Cool, although you will find more softness for your gentle coloring with the Warm greys.

Homepage >> Understand your colors >> Who needs 50 Shades of Grey