Makeup Class video for the older woman

A makeup class video for the older woman with budget friendly products. Sounds good to me. 
Yes it certainly is so put your feet up and feast on this great step-by-step from beautiful New York makeup artist Kerry-Lou who shows us how to look our best for the Holiday season without breaking the bank!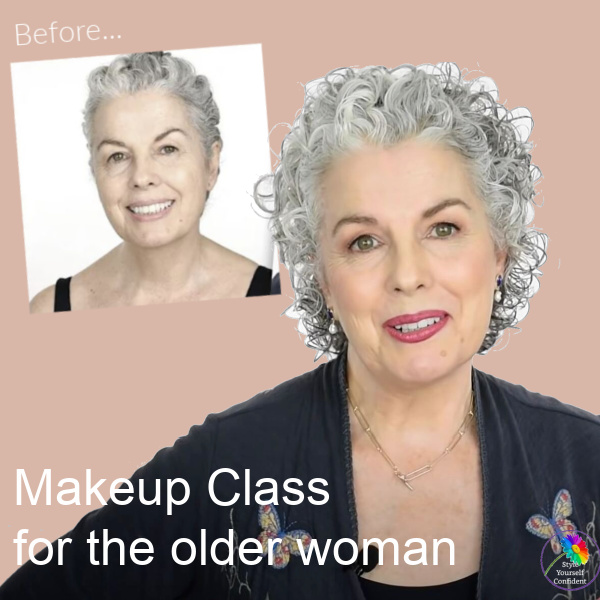 Daytime or party Kerry-Lou shows you how...
Whether you want to create a quick natural look or up the glamor stakes, follow the makeup class video to achieve your perfect look.
You can adjust the amount of product you choose but good tips and techniques for application will always achieve a natural appearance and stay put! 
As I've always advocated you don't have to use expensive cosmetics, there are many really good and sensibly priced products around. Kerry-Lou chooses drugstore priced products that are suitable for a mature skin and non-drying. 
A good set of makeup brushes is an excellent investment - you'll be able to blend your makeup and achieve a professional finish with no harsh lines.

Products used in the Makeup Class Video 
Start with a fresh canvas, a clean and healthy skin is important.
Apply moisturizer at least 5 or 10 minutes before you apply foundation so that it's thoroughly absorbed.  This prevents your foundation from 'sliding' off. Moisturize before breakfast, makeup after is a good rule.  
Most of the products used in the video are listed below. 
Allow 'Your Style' to visit you!
The latest features on Color Analysis, Body Shape and Style to your Inbox, twice monthly.
Plus a Free copy of my book 'Shortcut to Style', it works for you, whatever your age shape or size! 
Pamela x
Sitemap or locate all features relating to...
Homepage >> Makeup Application Tips >> Makeup Class for older women