Velvet pants for Christmas! All you need!

If you buy just one thing this season make it a pair of VELVET PANTS for Christmas! It's all you need to carry you through the entire festive season and beyond - looking fabulous along the way!
Separates are the most incredibly useful items for the Holiday period and you'll find that they will serve you for years as you mix and match them to infinity! 
I've just replaced some black velvet pants that I've had for about 15 years. The knees have finally got a bit baggy but boy have they earned their keep!  
Velvet is luxurious, velvet is sumptuous, velvet is pure class! How come then that there are so many inexpensive pairs of velvet pants around today?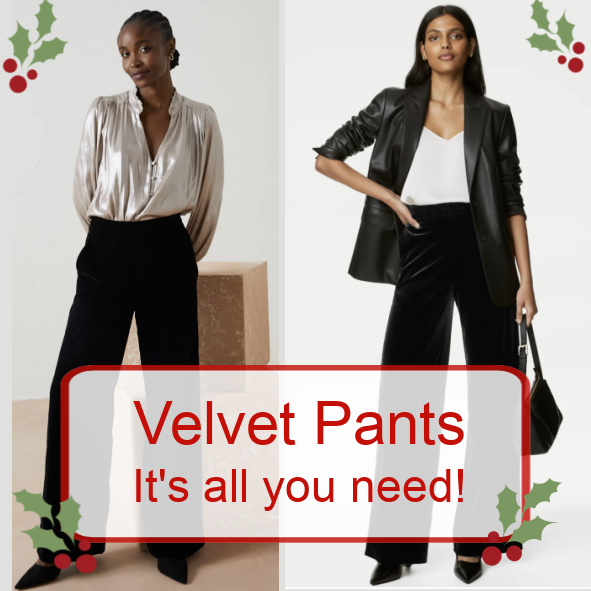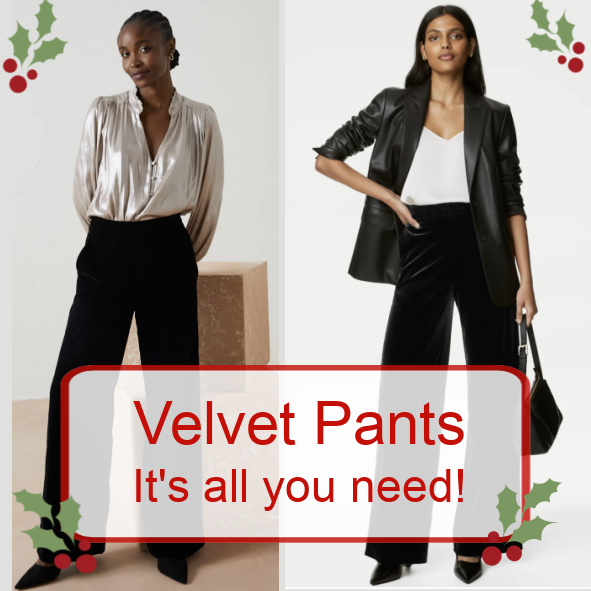 Velvet or Velour? 
Velvet was traditionally a silk based natural fibre and for hundreds of years was the favorite of Royalty and the upper classes. It has a glossy sheen, a pile weave with depth and a delicious softness. Not only expensive to buy but also to maintain as it demands dry cleaning.  
Velour or velveteen are man made fabrics which allow us to enjoy the softness and luxury feel of velvet but it stretches, it washes and it's incredibly affordable.
If you're looking for durability and an expensive look for a tailored jacket (or curtains!!) then I would suggest velvet as it's a firmer fabric. But for a dress or pants then my choice would be velour everytime for comfort and ease of movement.   
What's your Christmas style? 
So what's your style? Velvet pants for Christmas can be dressed up or dressed down, they can be cosy or chic! They work for after-work drinks, a family dinner, cocktail hour, an intimate dinner or even curling up at home hygge style!  
'Velvet' really makes a statement when you team it with other luxurious fabrics like glossy silk or satin; lurex knits and sequins. But if you prefer a more relaxed or smart casual look you'll look right on trend whether you choose a t-shirt or turtle neck and trainers. 
A wide leg pant is trending right now and, as well as looking glamorous, it gives the ultimate in comfort whatever your shape. Slim cut pants are just as popular or you can find leggings or jeggings!  
Whichever your choice of style I would encourage you to sift through your closet to find casual or dressy tops so that you can enjoy creating many varied outfits with your essential Holiday pants.    
Although traditionally black, you can now find velvet pants available in some beautifully rich tones like burgundy, navy, teal and deep green.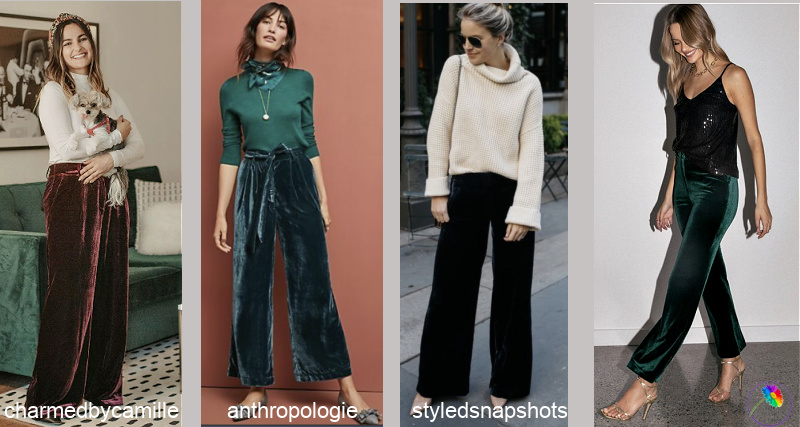 Chicos quality 
If I lived in the US my choice would be
Chicos Velvet Pants.
They are seven different styles; wide legs, slim fit and jogger types; a slimming no-tummy cut in regular sizes and petite. The colors are gorgeously rich and there's a stunning print velvet for jacket and pants.
Chicos share the looks! 

As with most of their items
Chicos Velvet Pants
are shown in sometimes 5 or 6 ways so that you can see the versatility of the garment.
But don't forget you may have items in your own close that will mirror some of those featured.
You may find some cheaper version of the velour pants in Walmart or other stores.

In the UK it has to be Marks & Spencer's!
As I live in the UK I am more than content with the excellent quality of
Marks and Spencer's Velvet Pants
which come in a variety of stunning colorways - navy, emerald, burgundy even bright pink!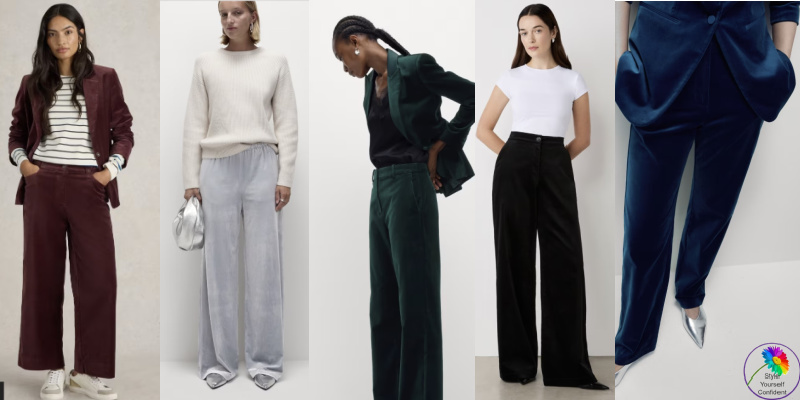 Marks & Spencer's also show outfits!
Marks and Spencer's Velvet Pants
are also well displayed to show their versatility although not quite as cleverly as Chicos. They show 3 different ways with velvet leggings here.
If you look around you will find a cheaper version in Peacocks in the UK where a pair of black velour pants is half the price, but not the same quality.
So you pays your money and takes your pick. In any case Velvet Pants for Christmas are the way to go!! 
Pictures: Pinterest
If I have failed to acknowledge any copyright on photos please contact me and it will be immediately corrected
Allow 'Your Style' to visit you!
The latest features on Color Analysis, Body Shape and Style to your Inbox, twice monthly.
Plus a Free copy of my book 'Shortcut to Style', it works for you, whatever your age shape or size! 
Pamela x
Sitemap or locate all features relating to...
Homepage >> Lifestyle >> The Christmas Season >> Velvet pants for Christmas