6 steps to wearing Autumn colors

It's difficult to imagine a wardrobe from a color swatch. So let's take 6 steps to wearing Autumn colors.
Once your color direction is confirmed, I'm positive that many of you will feel instinctively drawn to this rich burnished palette and feel instantly at home.
Not sure? Then take a slower look through these lovely colors and I bet you'll find something that rings a bell; perhaps the color of a t-shirt or a top that receives compliments.
It's amazing how nature will usually point you in the right direction 'naturally' so you know what to choose.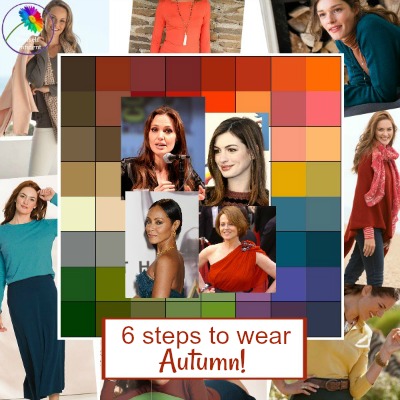 So where to begin...
Even so, liking the look of the palette doesn't show you where to begin. Many consultants will determine your color palette and yet give you no idea of how to translate your color swatch into a wardrobe. 
First of all don't worry about whether you're WARM AUTUMN, SOFT AUTUMN or DEEP AUTUMN that just causes frustration and dilutes your palette. If you're a TRUE AUTUMN you need all these variations to do you justice.
Time for a bit of clarification and a step by step guide!
6 steps to wearing Autumn
1  All Autumn colors are Warm toned

Every color in the Autumn color swatch has a warm undertone - but it's a rich golden glow of sunset rather than a bright lemon yellow.

Your pinks are mellow apricot or brilliant coral, your greens are olive and moss, your blues are rich turquoise and teal and even your beige has the warmth of camel rather than being a cold stoney shade. All will flatter your beautiful Autumn coloring. 

Your colors are as much a Carribbean sunset as they are a display of Autumn foliage - they work for all seasons of the year. 

BUT you don't need to get hung up on matching exact shades in your palette. What you're looking for is colors that harmonize, blend and 'sit happily' with the entire palette as shown in the right hand picture above.  There are hundreds of shades that fall between the colors in your color swatch - just like an artist's palette!

2  Are these colors fashionable?

All colors come and go on the fashion scene but once you get used to the shades you will find that there are versions of your colors around every season.
Although initially the Autumn palette appears to be lacking in deep toned neutrals you will quickly see that many of the stronger colors can be used for your wardrobe essentials.
Currently, it's probably easier to find versions of grey or navy than dark brown, but a beautiful rust, chestnut or bronze are bang up to the minute. Marine navy or navy with a hint of teal are more stylish than a flat navy; and lizard or mole bring more interest than a plain charcoal grey.
Apart from the neutrals, mustards, teals and coral shades are making a huge statement at the moment. 

3  Variations of one color are sublime!

Autumn coloring looks amazing when you wear several variations of one color together rather than completely opposing colors.

Don't be afraid of wearing these color variations from top to toe. 
If you're already wearing a couple of Autumn colors - try adding in a third tonal shade with a jacket or scarf to see the magic happen. Think of a tree with it's Autumn foliage, every leaf may be a different tone but the 'whole' is a work of art!
4  Accent colors

Your brighter accent colors are ready to bring you to life. It may be a top, scarf or statement necklace that brings a glow to your complexion.  However simply you choose to dress, a brightly colored scarf to jeans and a t-shirt will always add a touch of confidence. 
All accessories can add another layer of texture and pop of color to an otherwise subtle outfit.

You will see that in all these pictues there's probably very little difference to the way you would normally choose to dress.  Just that when you think about it, it all becomes far more complicated. So don't complicate it, just enjoy!
5 Wearing Autumn colors in prints

Wearing a print may be an easier way to mix colors. But what if you're looking at a print and some of the colors don't appear to be in your palette?
As a rule of thumb, if the style is perfect and the majority of the colors are 'your colors' then trust your judgement. Hold your color swatch over the print and unless any of the colors really 'shout' then it will work. Just a splash of the wrong pink for example isn't going to detract from a great print. 
Autumn coloring looks it's best when the shades of blended, therefore when choosing a print avoid any colors that will really jar against your palette.

5 Does everything I wear need to match my palette?
Color shouldn't be inflexible but, certainly, you need to think initially about the colors that surround your face. That's your tops, tees, scarves and jumpers, and getting the makeup colors that flatter your skin tone; all these will really will make your skin and eyes sparkle and bring you to life.
Long term, if you aim for the colors in your color swatch you'll achieve an effortlessly easy mix and match wardrobe. It doesn't need to be a massive changeover, just gradually replace clothes with better colors as they wear out or budget allows.  Accessories are your friend and you can add splashes of color to an otherwise neutral outfit.
6 Wear Autumn colors but still feel like YOU!
It's important, once you've found your color palette, that you still feel like YOU!
Color Analysis is not the old inflexible and rigid tool it once was and a color swatch is only the beginning. Don't get too fixated on matching an elusive shade  that you forget your own taste and own personal style.
Most people find instinctively that your color palette will include lots of your favorites and you can afford to take your time and enjoy the process.
Easy ways to begin
Begin by identifying your best neutral shades of brown, camel and navy.


Enjoy wearing variations on the tonal theme together - they will all blend

 Add a splash of color to your outfit with inexpensive t-shirts and scarves
Makeup in your best shades makes a big difference
Homepage >> Autumn Seasonal Color >> How to wear Autumn colors