You have WARM tonal coloring
Your primary color characteristic is WARM which means that you belong to the WARM Color Family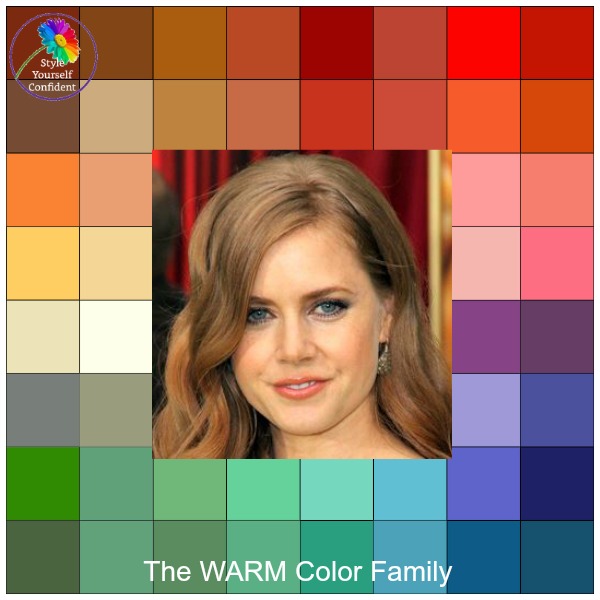 A WARM undertone is a Yellow undertone to your skin and it never changes

That is not the same as the color of your complexion which may be light or dark, and may change if you acquire a tan
The yellow undertone always gives a golden warmth to your appearance
Your eyes will be: golden brown, olive green, blue, teal or turquoise, even hazel - there will probably be flecks of gold or orange that indicate warmth
Your hair will be a rich color; golden brown, red, auburn or a strong chestnut
All the shades in this palette have the same characteristics as your own and will harmonize with and complement your coloring and complexion

Your best colors

You will probably feel an affinity with your new Color Family or, at least, with some of the colors because your natural coloring and your instincts are connected.
Wearing these colors will allow you to look your best and avoid wasting money on clothes that don't do you justice. 
Carrying colors in your head is difficult and a Color Swatch makes organizing a breeze and shopping a pleasure. Your choice won't be limited, on the contrary, between each color there are literally hundreds of shades and tones just like an artist's palette.
Why you should choose to wear WARM colors

You can use this color palette to create a a co-ordinated wardrobe
The WARM color palette includes just the TRUE WARM shades from both SPRING and AUTUMN
Choose peach, apricot, coral and salmon through to deepest pumpkin
Yellow-toned greens, lime through to moss and olive green
Beautiful yellow toned aquas, turquoise through to deep soft teal blues
Clear blues and the gorgeous light and deep periwinkle, also deep warm purple
Some familiar faces with WARM coloring

Neutrals
Neutrals form the backbone of your wardrobe - the investment pieces such as coats jackets, trousers etc. which take you from season to season

These colors are great for accessories too

Neutrals create the perfect foil for your strong accent colors
Your best neutrals are all WARM, camel and browns, warmer shades of navy and gray, and classy classic olive green

Choose to wear rich creams and ivory next to the face rather than pure white

Avoid Cool colors which will drain your complexion and black which is very harsh. 

How to wear your WARM colors
It's difficult to visualize how an outfit should look. But your primary consideration is a WARM undertone. You can wear and enjoy all the colors in the WARM color palette. 
If your coloring is quite light you may be drawn towards some of the shades from the Spring palette.  
WARM shades from the Spring palette at Kettlewell Colors

If your coloring is slightly stronger you may prefer the softer more muted tones of the Autumn palette.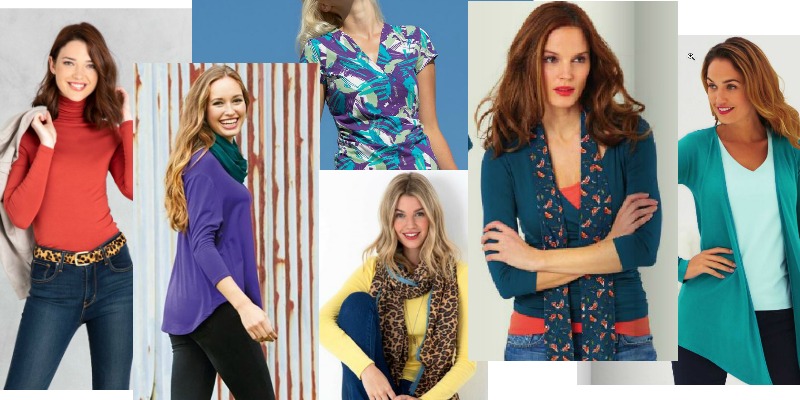 WARM shades from the Autumn palette at Kettlewell Colours

Makeup, Hair and Jewelry

Bronze, sludgy greens or dusky turquoise for drama

Warm lipsticks: peach, coral, copper, bronze and rust
A natural peachy/brown blusher
All you need to wear and enjoy your WARM colors

The WARM Color Brief £3.00

Ready to download and print with all the information you need to wear and enjoy your Color Family - colors, makeup hair etc.
15 pages of information includes FREE DIGITAL COLOR SWATCH that can be on your Iphone or Ipad for shopping. Or you can make it into a mirror image of the fabric color swatch.
The TONAL Color Brief £9.00
6 Tonal Color Briefs/swatches for the price of 3
You'll discover an easy wasy to identify your colors along with a concise and comprehensive reference to Tonal Color Analysis. 
A starting point into the magical world of Color!
There are 60 pages in all with 45 colors for each Color Family - ready to download and print.
WARM swatch £38.50

45 fabulous fabric shades in an attractive suedette covered fan, handbag size 12.5 x 6.5 cm. With a wealth of information about how to wear and co-ordinate your colors.
No more mistakes - save TIME and MONEY!
In the UK? Please use this button, post & packing £1.95
Outside the UK? Please use this button, post & packing £5.45
Homepage >> Color Analysis >> Free Color Analysis >> Warm tonal coloring