A Closet Cleanout!

Give yourself the gift of a Closet Cleanout!

If you can't see it you can't wear it




A few items that fit and flatter are worth more than a full closet with nothing to wear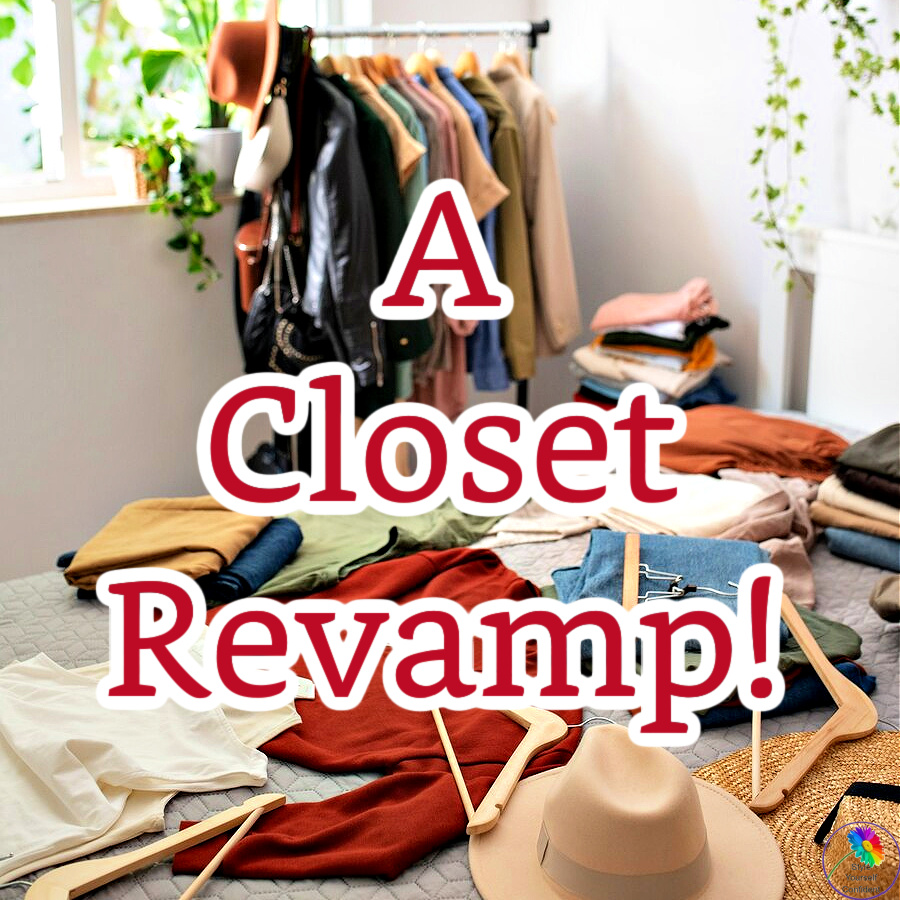 Solve your space problems

If you're short of wardrobe space decide how you might add space or streamline.
A set of matching hangers will beautify your space instantly! I love the pretty hanging rail below. As well as giving you extra space, you could sort your outfits for the entire week plus accessories so you're ready to go.  

You don't need a huge space for an inexpensive canvas wardrobe or a set of hanging shelves to store knitwear and free up hanging space.

Your aim is to...

tidy and sort your wardrobe to make it all visible
weed out things that don't work for your lifestyle or you don't like
establish what fits, what does you justice and what you will happily wear
try on, appraise and decide whether it's IN, OUT or it needs some work! 
You are

NOT GOING TO GET RID

of anything unless you're very sure!

Don't take longer than an hour or two or you'll get completely fed up! You can always reconsider items at a later time!

3 steps to a Closet Cleanout
1  Clear OUT make space

2  They fit, You like! IN

Sort through your trousers and skirts and decide whether they fit and flatter you. If so they are IN. 

Do the same for jackets and cardigans ready to co-ordinate with the bottoms. Separate any suits so that you can make more outfits - if they fit and you feel happy with them they're IN. 
Work logically through the rest of your items: shirts, blouses, t-shirts, tanks etc. these are the important LINK items that tie the tops and bottoms together.  Important items to be IN.
Hang them IN logical sets - skirts, pants, tops, jackets etc.

3  Reconsider/Plan ahead

When a garment is tailored to fit you properly the whole look will change. Do you like it enough?  RECONSIDER.
Anything that needs attention like a simple sewing job (hem or buttons) should be put to one side and attended to. Will you do it?  RECONSIDER
Don't know why it doesn't suit you? Check out your Body Type to  understand the shapes that suit your figure. If it's completely wrong you can justifiably get rid of it and be more aware in the future  RECONSIDER
Looking a bit bare?

If the wardrobe looks a bit bare now, don't worry, you've managed your Closet Cleanout so give yourself some credit.
It's better to have a few things that look good, fit and flatter than a wardrobe full of clothes that you never wear!
Now you're ready to go forward step by step and fill in the gaps with things that DO work!

What to do with the OUT pile

Tidy up, sort out by all means - but it's not necessary to actually get rid of anything until you are certain that it's right to do so.
Put them to one side; stick them in the spare bedroom; push them into the loft; even hide them in the car boot - but never get rid of anything on the spur on the moment.
When you have time you can always RECONSIDER! 

Well done on completing your Closet Cleanout
Time to think about a Capsule or perhaps it's not for you?

Allow 'Your Style' to visit you!
The latest features on Color Analysis, Body Shape and Style to your Inbox, twice monthly.
Plus a Free copy of my book 'Shortcut to Style', it works for you, whatever your age shape or size! 
Pamela x
Sitemap or locate all features relating to...
Homepage >> Wardrobe Makeover >> Closet Cleanout