Ebooks and Gift Vouchers

NEW! Create a Capsule Wardrobe on a Budget - £5
How to edit your own wardrobe and find the 'backbone'
The easy way to co-ordination
How to build and multiply your outfits
Includes templates to use at home
Instant download via Paypal

Tonal Color Analysis E.books
The Tonal Color Brief £9.00  


6 Color Families for the price of 3


A FULLY ILLUSTRATED digital download clearly explaining Tonal Color Analysis. How to identify your primary color characteristic and translate it into a complementary group of colors i.e. your most obvious Color Family.

15 pages of concise information for each Color Family; how your natural coloring works and how you are linked to a Color Family; how to wear and enjoy your best colors, neutrals and accent shades; makeup, hair; jewelry etc. celebrity images and fashion shots.

6 COLOR BRIEFS & 6 DIGITAL COLOR SWATCHES

or individually £3.00 each

Seasonal Color Analysis E.books
The SEASONAL COLOR BRIEF

£6  
4 color families for the price of 2


A FULLY ILLUSTRATED digital download clearly explaining Seasonal Color Analysis. How to identify your best Season and translate it into a complementary group of colors i.e. your Color Family.

15 pages of concise information for each Color Family; explains how your natural coloring works and how you are linked to a particular Color Family; how to wear and enjoy your best colors, neutrals and accent shades; makeup, hair; jewelry etc. celebrity images and fashion shots. 


4 COLOR BRIEFS & 4 DIGITAL COLOR SWATCHES

or individually £3.00 each

Color Analysis & the Warm Color Family £4.00
For anyone with a Warm skin tone including Spring and Autumn. 
A brief walk through color theory before launching into a thorough explanation with examples of how you can use WARM colors to flatter your coloring whatever your lifestyle. Lavishly illustrated with real women; how to co-ordinate; capsules, color combinations and a 45 shade Color Swatch.(110 pages)

Capsule Wardrobe E.books
A year-round CAPSULE WARDROBE of stylish and versatile casual clothes. A shopping list of 43 pieces covers all 4 Seasons with 64 days of mix/match outfit ideas created from pieces on the list, that's 15 per season!
100% classics so they'll never go out of style and they're reused across multiple seasons so you'll get the best bang for your buck!
If you're looking to rebuild your wardrobe or just refresh your basics and create mix and match outfits, this is the perfect choice.
Gift Vouchers for Color and Style
Online Color Analysis - £60.00

A personal Online Color Analysis can be delivered to anywhere in the world.
Following contact from the lucky recipient she will complete a short questionnaire and forward some photographs. Within a week she will receive a personal Color Analysis, a full Color Profile (30 pages), a digital Color Swatch (either Seasonal or Tonal) and at least 10 or 12 personalized color images direct to her Inbox.

An online visual personal styling program that analyzes your unique body shape and individually tailors advice - top to toe - no matter age shape or size.

For the lucky recipient, the results are available online 24/7. From necklines to hems, shapes and textures, accessories and hairstyles - all the style secrets she ever wanted to know. Click through for more information - £60.00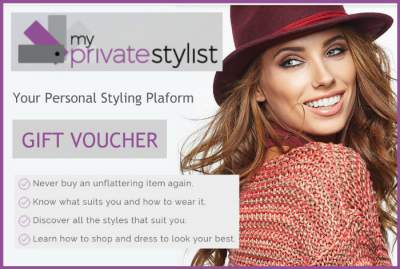 Like this Website?
Please share your Comments...
Homepage >> Books and Ebooks