Your Style 069 - November 2018

Hi there!
I'm shortly off on vacation to find some sun! 
You may submit Online Color Analysis while I'm away to be completed on my return. Numbers must be limited but once accepted I will confirm completion prior to Christmas.
GIFT VOUCHERS - While I'm away it's the perfect time to buy vouchers to be redeemed from January 1st 2019.

With a £10 reduction (that's 16.5%) it's a great gift or treat for yourself and I can complete, with no rush, in the New Year!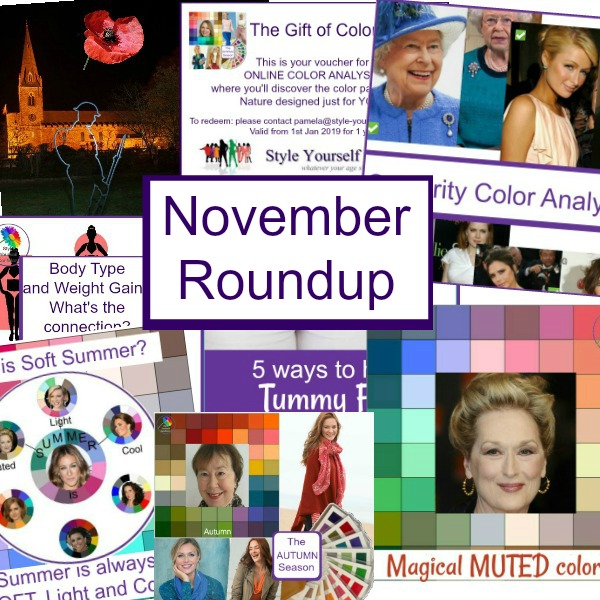 I'd like to share some beautiful photos with you taken at my local church as we celebrated the Centenary of the ceasefire at the end of World War I.  (read more..)
I don't mean to sound mean but it can be reassuring to realize that, with all the availability of money and stylists, some of the world's most famous faces don't always get it right either.
See if you can recognize your coloring from these famous faces. 

Each month I show web visitors and their Online Color Analysis results. 

This month it's Sue McGinlay who's an expat currently residing in Spain and a fellow blogger!  She's been searching for a color direction she feels happy with for quite a while. I'm pleased to say that, without using any complicated methods, she is a gloriously beautiful AUTUMN! And the right hand photo below shows how Sue has been using the Autumn colors quite instinctively.
Thank you Sue for your very kind feature - Over60andoverhere.blogspot.com

Take care I'll be thinking of you all
See you in December

Pamela x

Not receiving this Ezine regularly?

Like to keep up to date with the latest Color features, access free quizzes and exclusive downloads? However you've found us, please stay... pop your email address below.

And all your regular resources and free downloads...
Please share your comments with us...

Come and join the Style Yourself Confident Group Board on Pinterest?

To be included just Contact Me with your email address...


Return to Top of Page
Homepage >> Your Style Newsletter #069