Your Style 062 - May 2018

Hi there!
Back from holiday - but I haven't got time to tell you about that yet - because we're in the middle of a right Royal rave-up! What's better than a wedding - only a ROYAL WEDDING! If you're able to tune in Prince Harry and Meghan Markle will be tying the knot at St George's Chapel, Windsor, at midday (GMT) on Saturday 19th May.
This is girl friend chill out time in my house with the requisite bottle of fizz!  
There's a brand new baby in the family too so all eyes, no doubt, will be on Kate, Duchess of Cambridge with, I'm sure, only the most flattering comments on her post partum figure.  
Take advantage and download the sumptuous ROYAL WEDDING STYLE BOOK, it's absolutely FREE for everyone (see below).
Discover the background to the traditions that we all take for granted. If you haven't got a wedding coming up, it would be a thoughtful gift to pass on to any bride or bride's mother. 
Well beautiful lady, you won't actually be a Princess (which is how we'd really like the fairy tale to be) but you will be our new 'Duchess Meghan' - and that's a pretty darned cool title!
We all love a wedding particularly when it's a Royal event. I'm taking a look at Meghan's natural coloring and wondering what she might be wearing!

Flower for the month of May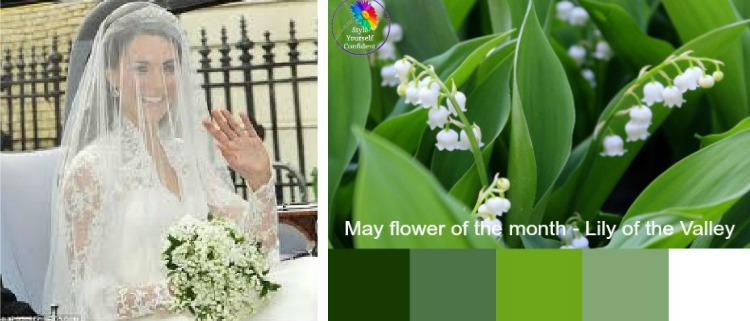 The Lily of the valley is a fragrant flowering plant often used in religious ceremonies and celebrations throughout the world as well as in perfumes and gardens.
It's meaning and symbolism are very apt this month as it means 'return to happiness' and most often symbolizes chastity, purity, happiness, luck and humility - particularly suitable when included in a WEDDING bouquet.
The Duchess of Cambridge's wedding bouquet was predominantly Lily of the valley with Sweet William (gallantry), Hyacinth (constancy of love), Ivy (fidelity in marriage), and Myrtle (symbolizing bridal love and beauty).

If you think pearls are dated and only worn by 'grandmothers' think again!
As well as being a personal favorite, this gorgeous jewellery staple has often been in and out of fashion and is currently one of the hottest jewellery trends - particularly for brides. 
A fascinating full color insight into the wedding of William and Kate gives you 30 pages of details - the dress, veil, flowers, bridesmaids, jewelry as well as the Groom's uniform.
Discover the background to the traditions that the Royal Family love just as much as we do. How will Meghan and Harry make their special day their own?     
Two color palettes with Cool undertones. SUMMER is a mix of Cool, Light and Muted; while dramatic WINTER is a mix of Cool, Deep and Bright. Both these ladies have recently found their color palettes with Online Color Analysis and given me permission to show their photos. Are you ready to find yours? 

Not already part of my Email group? add your name here..

Opt in to receive a monthly Newsletter with the latest features and access to Free Color Analysis, Free Color Personality and exclusive downloads. However you've found us, please stay... pop your email address below.

Click into Facebook and CLICK the LIKE button

Cheers to Harry and Meghan!

Pamela x

Please share your comments with us...

Come and join the Style Yourself Confident Group Board on Pinterest?

To be included just Contact Me with your email address...


Return to Top of Page
Homepage >> Your Style Newsletter #060